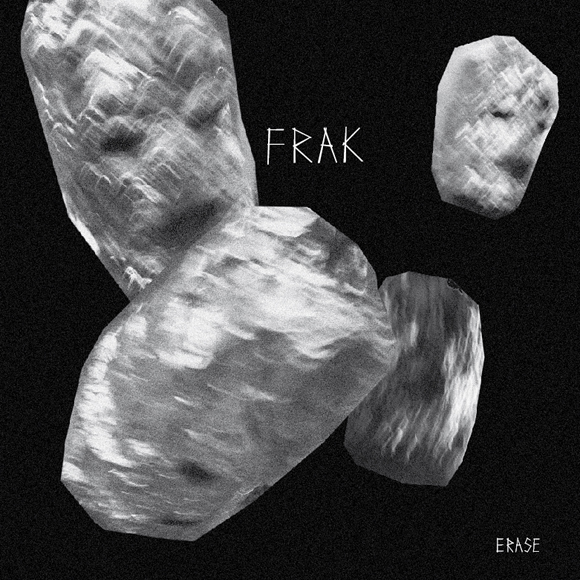 We all know by now about the (re)emergence of Sweden's Frak in 2012, a trio of strange fish who had managed to fly under the radar of most of the world up until a string of releases last year, most notably on Digitalis and Kontra. So after such a high profile year it was odd to find their new mini album, "Erase" in the back of a shelf in a record store here in Dublin a few weeks, one I had no idea existed and at the time it didn't seem to be knocking about online too much either – this has thus changed – even though Discogs stated that it had a February release. I'm figuring this is down to it coming out on Psychic Malmo, a small Swedish label with less clout than the other labels.
There is nothing complex about what Frak do and this simplicity can sometimes lead to moments of tedium but when they get those direct, monotonous hooks right it can all be rather wonderful and the "Erase" release is just that. The stark drums and uncomfortable vocal drones of the opening title track slowly but surely drag you into their murky mind-set, either wearing you down with the groove or maybe putting you right off (it was the former for me). They ease off with the near whimsical electro bumpin' on "Talk On Answer". While not as grinding as the opener they are still all about pulling you slowly along, layering jolting notes and acid over each other, though in a much lighter fashion. It can feel like it goes on forever, though maybe not this time in the best manner possible, but hey, plenty reading this are Djs so get to work on it. The A-side closes off with the "Bonga-Dance", an industrial-tinged slow mo banger. One gets the feeling that Frak sometimes get a perverse kick out of making you feel like you've taken some horrible mongy drug. I'd like them to take this as a compliment btw.
The B-side starts off with "Classic Bass (do the Frak)", it's title creating an image of the trio teaching their fans some sort of weirdo dance to go along with their weirdo techno. It's bouncing bass, flowing hi-hats and murky vocals calling us to do the frak is in contrast to the throbbing a-side cuts and then they amusingly cut it off early while before it was all about seeing things to the bitter end. After bringing us into the light with the Lps shortest cut, it's time for the centerpiece of "RZA", all quirky jumping assonance and skipping 808s, with what sounds like a playful melodica riff (though i'm half-guessing it isn't that either, but another equally cheap bit of gear) plus another semi-atonal keyboard line. It's pretty much everything Frak does in one track, raw kicks, those loose hi-hats and relentless riffs that beat you over the head. It's fantastic. They close off proceedings with the house-centric "Controlled tie", once again utilising their knack for an off-kilter, unsettling riff with an acid line coming at you from a distance, this time backed with some classic 707 rhythms. The synths sound like they are coming from afar too, on one hand creating a spacious sound yet it feels like the cavern they've invited you into has no way out. Frak don't often deal in pleasantries and things are so simple with them at times it's interesting how they've managed to carve out a sound so individual, but after 20 odd years at it maybe shouldn't be all that surprising either. Sometimes playful, sometimes ardent and most of the time  downright odd, when they are on form like with "Erase" it's all worth it.