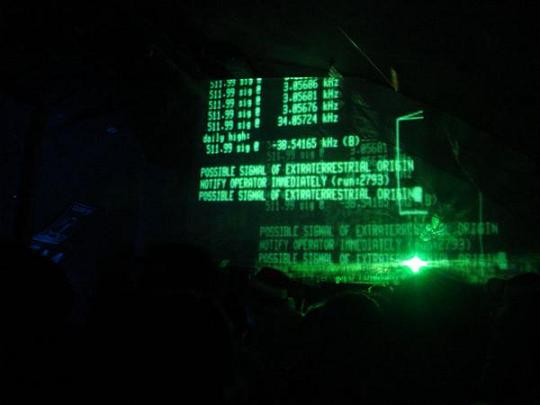 The ISM Mix Machine has been in high gear all year, and today we hit you with yet another dope selection. This one is by our man Richard Carnage over at the TAPE blog, whose coverage of techno, house and nu-disco (check their detailed "Top 100(!) of 2007" post!) make them a favorite of mine (and of course their hosting of my recent 412 Deep Mixx makes me love them even more ;). I was quite pleased to see he included the Cornelius track I had him ID for me from one of his web radio shows, that one is especially nice! But I will let Richard describe the mix himself:
For this mix I guess the underlying theme was to go for a late night post-club style – something you can stick on at about 6am and let your mind unfurl to. The first hour just keeps building and building before ending on a groovesome downbeat tip.

Things start off with my favourite cut from Vangelis' Blade Runner soundtrack running alongside CV313's 'Subtraktion', which only got released on extremely limited mini-CD through the Smallfish label/shop which is sadly going through a bit of a rough patch at the moment. Vangelis' yearningly beautiful synth work fits perfectly with CV313's paranoid echo chamber workout before its beat finally drops about ten minutes in. Quince's acid-laced dub techno injects a bit of kick before dropping back down into Peter Grummich's soothingly abrasive 'You Don't Know', which is a bit of a forgotten classic in my eyes. Sven Weisemann's 'Slices' injects a bit of pump with its stabby tribal groove before shimmying into Lee Jones' majestically melodious 'Aria'. The melody is one thing, but beats on this are sparse and sharp but they've just got this irresistable wiggly oomph behind them. The same could be said about Prof Delacroix's 'Build Her', probably my favourite of Deeply Rooted House's techier excursions last year. Olga Poliakov's 'Back To My Fear' is a bumping modern house cut that you wouldn't usually associate with the sound of France's Circus Company, but it's pretty fucking good for his debut release – expect good things to come from him later this year, but don't blame me if his next 12″s are rubbish!

I'm pretty sure that The Mole has blatantly sampled some shuffly Metro Area percussion on 'Border Times', but just listen to the way he rides it out over those sustained chords and then brings in the plinky synth motif – pure magic. Juan Maclean's 'Happy House' is going to be massive when it finally comes out, and rightly so, but I also really like the uncharacteristically acidic mix from Lee Douglas on the flipside. Seriously, that acid line is going to decimate dancefloors later this year. The mix peaks with Ron Hardy's storming dub of 'Sensation', something which I'd love to own on wax but can't really push to spending 75 Euros on… and that's for the '98 reissue! If someone wants to sort me out with a copy for a sensible price then drop me a line. Lovebirds' 'Behind You' is euphorically loopy disco house to die for, and I'll let Theo Parrish's 'Anansies Dance' speak for itself. Things finish with a track from Japan's favourite stadium sound designer, Cornelius. 'Drop' is one of my favourite of his works, a track where all of the elements just bounce off each other in such a perfectly rhythmic fashion, from the water drops to the acoustic guitar that pans all over the place.

Finally, I've got to give big thanks to Tom for asking me to do this mix for ISM. He did one for us a few months back and I can honestly say that it's one of the best guest mixes that we've been privileged to have on our pages, so I hope this one lives up to his high standards!

Oh! Also, cheers to my ever enduring girlfriend for the above photo which was taken during Redshape's set at the Cuisine night at the end of last year. Those guys sure know how to throw a party!
Indeed, I am quite pleased with the results. And I am even more pleased to be able to host this for him. Check this one out!
Download the mix here.
Tracklist:
Vangelis – Blade Runner Blues // Eastwest Brazil
CV313 – Subtraktion // Smallfish
Quince – So Far // Music Man
Peter Grummich – You Don't Know // Shitkatapult
Sven Weissmann – Slices // Liebe*Detail
Don Williams – Exhibition (Intro) // a.r.t.less
Lee Jones – Aria // Aus
Prof Delacroix – Build Her // Deeply Rooted House
Olga Poliakov – Back To My Fear // Circus Company
The Mole – Border Times // Musique Risquee
The Juan Maclean – Happy House (Lee Douglas Remix) // DFA
Ron Hardy – Sensation (Dub) // Trax
Lovebirds – Behind You // Winding Road
Theo Parrish – Anansies Dances // Ubiquity
Cornelius – Drop // Matador