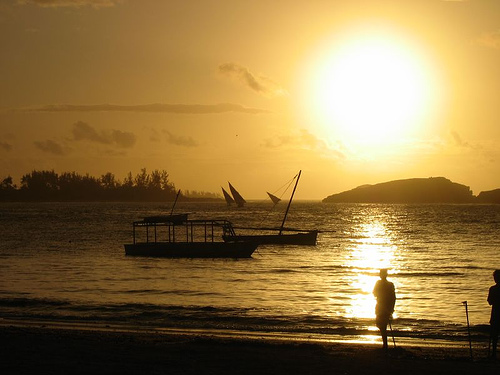 As I've been doing quite a bit of music shopping recently, I got to thinking that so far 2008's been a pretty good–if not to say excellent–year for techno. Using the term as broadly as we do here at Infinitestatemachine, I can only say that some of the records released this year to date are quickly making this one of the best 21st century vintages for techno. That's saying a lot, given last year's releases such as the Maurizio remix of Tony Allen, or the many others which we've reviewed here.
If all the Basic Channel/dub techno fans out there thought that this is all we could expect from Mr. Von Oswald for a while after the prolific run of Burial Mix releases, performances and the remix just mentioned, he hits us once again with a mind-blowing remix of a track that samples… Basic Channel! Watamu Beach by Sebbo features a riff from one of the tracks from the BC back catalogue. Von Oswald's remix of the track really sounds like a new Rhythm & Sound release, as it unravels into a deep and sluggish dub towards the end, allowing for the sound elements to meander and decay. The whole track is underscored by a nice, thick, and familiar kodo thump reminiscent of the one featured on Maurizio's M series.
Another return to form that I've been enjoying recently is the new Sterac record, released on Delsin. Rond/Bot is a masterful execution of a variation on a theme. Both tracks share a nice, analog-sounding bassline, with Rond being the softer, more melancholy and melodic–such as Steve Rachmad used to make on such masterpieces as the well-liked in these parts Secret Life of Machines–while Bot, the b-side, is more dancefloor oriented–the theme bassline being more distorted and prominent–and is backed by a more pronounced beat. The high quality of both tracks on this release makes it worth buying two copies of this fine piece of wax.
Somewhat less known, but equally as noteworthy is the return of Joshua Brent, formerly–and still–known as Schatrax. His hot-off-the-presses record is a reissue of solid tracks from this (now priced for diehard collectors only) triple 12″. To top off his return from the techno netherworld, he also remixed a Detroit-leaning track by Daso and Pawas on Spectral, which is a nice, reverbed affair, done in his signature style.
Pepe Bradock is also making a welcome appearance with his summery remix of an old Pete Namlook track, giving us two fairly similar but still awesome and funk-drenched remixes of the spacey original track, Subharmonic Atoms.
Last but far from least, the Detroit factory of Oliverwho has a new record that comes close to spanning the full gamut of this city's broad EDM style. It's a four-track release that features heavy percussion on all and light melodies on a couple of the tracks. All four are excellent, however, with both home listening and club appeal. Who could ask for more out of an already great four track EP? Tip!!!
More reviews to follow…