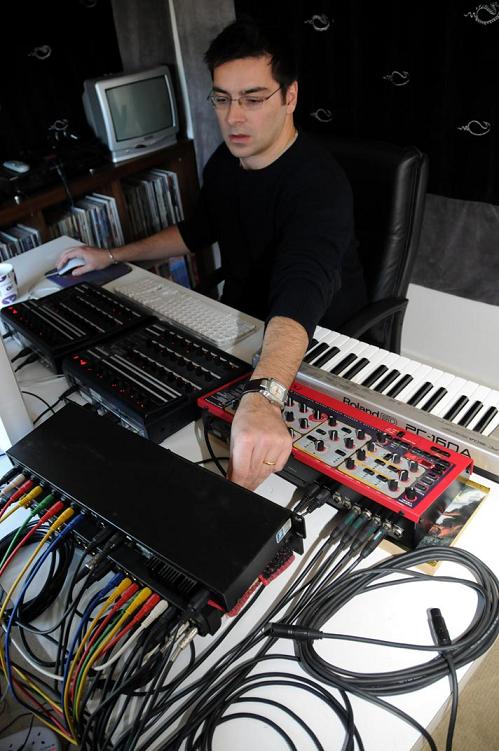 Leopoldo Rosa, more commonly known as Lerosa, is an ISM favourite for some time, releasing quirky, original house on labels such as D1 Recordings and Millions of Moments since 2005. A while back I had a chat with Leo talking about everything from his musical beginnings in Italy, nearly packing it all in to been gently forced into playing live…

ISM: So was it over in Italy that you originally discovered electronic music?
Lerosa: It was mostly by radio, like I'm 35 this year, so when I was  a teenager I sort of picked up on the radio, when I was probably about 13 or 14. First things I would have heard would have been  Hip Hop. Run DMC, that kinda stuff. I was too small to go to clubs,  there was only afternoon clubs when you were 14, so I mostly listened to radio shows, really good shows late at night, that would play hip hop, later on on the same kinda programs they would play House Nation and the early Trax stuff and acid. Probably techno was a bit later. At that time it wasn't really clear what was what to be honest. They were just playing loads of stuff, they were playing Mantronix, sort of faster hip hop with lots of edits. From then, I remember going to see a gig, Public Enemy, DMC and Derek B, playing the one gig in Rome, 86-87. I was really into that. And after seeing Derek B djing, I remember he stood up on the table, started scratching like that, I'd never seen that sort of djing before, I got completely blown away by that so I looked into getting a record player, I got these really cheap – they were called Lenko – turntables, 2nd hand. I kinda of djed for a while, djing at private parties with a  friend of mine, that's how I originally got the bug, back in Italy.
ISM: Was it hip-hop that you would play when djing?
Lerosa: Well if you wanted to dj in clubs at that time you had to play more commercial stuff, you couldn't go in and just play techno. I would have been into playing labels like R&S but you couldn't do that. To play in the clubs you would have had to start off with something like Soul 2 Soul and then into cheesy house like Crystal Waters and then MARRS. You couldn't go very deep, and it was disappointing because there was so much new stuff coming out that I was excited about. So I lost interest in djing, because I was buying tonnes of records but I could only play like 10% of them out.
ISM: Were there any sort of smaller, more underground clubs to play at?
Lerosa: There was, but they were really cliquey. I went to one rave – that wasn't really a rave – with Lory D, who was one of the few people doing underground stuff who was able to pull it off, but I was still young, only 16 and I didn't really know that crowd to get gigs with them. I had other friends who could get me gigs in more respectable places but I only played until I was about 19 or 20.  I got a couple of nice gigs here n' there, but the music I liked I couldn't play, and then it actually became hard to find stuff in Italy. I stopped buying records about 91-92, probably when the good electronica stuff was coming out. I stopped listening to techno and sold my records and my decks and started listening to Led Zeppelin and Nirvana, I had just got bored by the other stuff. To play it became more like a job.  So I started listening to Led Zep and blues, and I ended up playing  blues harmonica in a band.
So my last few years in Italy, before I came over here in '95 I was playing with this band, we were all friends in college, we focused on blues, stuff like Muddy Waters.
ISM:Was it when you moved to Ireland that you rediscovered more electronic based music?
Lerosa: Well before I left Italy a friend introduced me to dub, and I'd never really heard heavy 70's  Jamaican dub and then that led me to another different group of friends, who were more into that sound and then from there I listened to The Orb, Aphex Twin, Polygon Window, some really early UK ambient. They had these tapes, I don't know where they were getting them from, and I really got into that, the really spaced out sounds of techno, without being banging. It was far out. But then  I moved over here (Dublin)  and lost contact with those guys.
Next after that  I think someone in Glasnevin, where i was living for the first few years had Goldie's first album Timeless, and that fucking blew my head off. When I heard that I was like "What the fuck is this!?" I had heard jungle in Italy, but I'd never heard something like that. So from then on, I got into going to Freebird (shop in Dublin) when it was still open, and buying loads of 2nd hand stuff and that's how I got back into it.
I'd also be going into Big Brother, when it was under Road Records, and I met this guy that runs Psychonavigation whose show I'd been listening to on the radio for  a couple of years, as there wasn't many others playing stuff like that. There was pirates but they were playing mostly banging fucking knacker house, what do you call it, hard house or something close to that. This guy was one of the few people playing different stuff. So I went to the radio station and played a couple of records now and then. Then I met Graham O Sullivan who started D1's record shop and was one of the main djs when they were doing the D1 nights in The Funnel that were mental.  Bringing people like James Pennington over.
ISM: They were the first people to bring over people like that, Dj Bone and other Detroit artists over…
Lerosa: Yeah, and they had been over to Detroit and the shop was one of the first places getting the SID's and stuff like that. They kept in good connection with what was happening over there. So anyway, I met Graham and we just became friends and then I saw he had this huge record collection. You don't want to see how many records Graham has. It's ridiculous. His walls are just full. He's obsessed. You go to a section of say Octave One or Drexciya and its this long (stretches out arms), all the Detroit stuff and more, old funk and stuff  I hadn't heard of. And he had a studio as he and others (D1) had gone to Detroit and saw the studios over there of Mike (Banks) and others and got into what they were doing, so he had  an MPC, JP8000 etc. I'd never seen a studio proper and he gave me this Nord synth he had. I thought "What the hell is this!" I was just pressing buttons and instant ambient! He gave me a lend of it and I had a four-track from when I was with the band in Italy and I started recording all these over-dubs and did that for a whole year, just recording small things. I then bought a Yamaha Groove Box that was a mini sequencer. I hooked up the Nord and was able to make beats and I just kept recording little things to Minidisc, this is now around 2000.
ISM:Was it all ambient?
Lerosa: Well before I had the sequencer, yeah, it was mostly like that because when I wanted to do the beats I would have to tap the kick for like 5 minutes y'know? It sounded like something Omar S used to do. But it wasn't that exciting ha! It was mostly pretty shit, but I was just learning how to use the machines, to be more coherent. I was playing all this to Graham, who was always my confident. He hooked me up with Eamonn (Doyle, D1) and we sat down and listened to some tracks and that's how the first EP "Maike" came about. I'd like to think that Eamonn honestly liked the tracks and that it wasn't a just favour between mates.
ISM:Well it still stands up as a good EP.
Lerosa: I think it's a good EP, I liked the tracks. There was a good mix of styles, which is like most of my releases. They are all fairly incoherent. I like a lot of different stuff, I see myself as a record buyer, not a musician. I like different things, be it from jungle to Carl Craig.
ISM: There was a gap then for a bout two years between releases, was this on purpose in anyway?
Lerosa: No ha! I wish anything to do with this was on purpose! Though maybe in the last few months there is more purpose. That EP came out but D1 doesn't really do promotion, not in a bad way, they are just really underground. Eamonn doesn't need it to be economically viable, well that's the impression I get, its more he likes doing it, he likes doing it for the passion.  It was released and I got a little bit of feedback, but not much. What happened after that first release; the distributor folded and Eamonn said from now on he was going all digital and I was a bit disappointed. That was 2005,  I think they had just lost a ton of money with the distributor folding  and decided that that was it with vinyl.
ISM: I remember the Dave Donohoe album on D1 – "Statuesque" seemed to disappear around then…
Lerosa: I don't know how that went. Y'know, I like D1 and Rob Rowland, especially his Freestate records.  I think its some of the best techno that's come out of this country. But you see, I came back into this through ambient and weird electronica as techno had died a bit for me when I'd stopped djing so I wasn't a huge follower of the label. And when I found out Eamonn was going digital I thought, OK, this is a bit of a cop out.
ISM: So did you send music off to other labels after that?
Lerosa: I went to Delsin, who at the time were releasing early Aardvark, Nubian Mindz; more broken beat, and challenging stuff than what they do now.  They were all a bit weird; the demos, I can't just do a normal demo.  But I had met Marcel from Delsin in London a couple of years earlier for something else so I sent him stuff, to see what he thought. And also to  some other labels, who obviously didn't give a shit! But I also sent it to Real Soon, whose first EP I'd gotten in the 2nd hand segment in Spin Dizzy. I'd originally recognised the name because I had  a remix CD on Blanco y Negro with Ultramarine on it (also signed to Real Soon) so I picked up this 12" and I really liked it. It was slow and I was listening to  KDJ and Theo Parrish back then  and it had that similar sound, though it was an English record. So I sent them a couple things,stuff that were my KDJ tributes ha! and there was also some techno and electro on it. In there was "Ruski" and "Russell" that would appear on the first EP. They flipped out when they heard the first track which was all broken beats, not really house and they got back to me and asked me for more house that I had recorded. Just 2 days after that came out I got contacted by Andy Vaz – who runs A Touch of Class,  then Uzuri, and it took off from that point onwards. It was funny, 3 days before the Real Soon release I was packing up my stuff, I got fed up and I thought my stuff was shit. It was taking up a lot of time, time I could have been spending with my wife, and it takes up a whole room in my house  that could have been used for other purposes. So I had nearly locked up everything, and thought "fuck this".
Around the time of the interest from Real Soon Scott Logan wanted to start his own label as he was pissed off that D1 had gone digital also and he asked me for music. Real Soon was going through my demo and I didn't have many more tracks to give him, so they were both listening to the same things but Real Soon picked up on different tracks. I wasn't actually too happy with the tracks Enclave picked up. I still cant really tell which are my good tracks. I've sort of given up trying to second guess this thing. Like when I listen to others' music I may wonder what they are doing/thinking at the time, where they are but with my own I was there and I know exactly what I was doing, so it's not as exciting to listen to.
ISM: Regards wondering what others are doing at the time – or where are they – you have one EP called "Killester", which is named after a pretty nondescript suburb of Dublin. How much  of the city and your environment shows in your music?
Lerosa: I dunno if it shows in the music, but all the music I've made was made here so  obviously it sounds a certain way because of this, so I don't know what it would have sounded like if I was still in Rome. My first EP is named after my wife, so each track is named after something that has effected me in some way. And y'know Killester is where I live, so it's hard not to be influenced by whats happening, if you had a fight that day or had a good day, it all kind of seeps in. I'm not a musician, I can't play an instrument – except maybe a little blues guitar. I really cant play by ear, so I improvise. I don't have a full musical understanding  of everything I'm doing, so some of it may just be emulation of what I'm listening to at the time.
ISM: As you said yourself you are a record buyer first and foremost, so because you keep on buying music and not switching yourself off from it, do you find yourself being constantly re-influenced? I know you're a fan of Drexciya, and there was an interview with James Stinson before where he talked about how he didn't listen to other music at all when making music. You wouldn't take that attitude?
Lerosa: I read a lot about Drexciya 'cause I liked their whole thing, I really loved their music and as they'd say, you have to be yourself. I  appreciate that they would isolate themselves and maybe that might work, but for me sometimes I listen to their stuff and it will be get me off the couch and I'll want to make something. Or it will be something new I'm listening to. With "Ruski" I was listening to the first dubstep, I bought some stuff off the net and thought it was mental! Now its washed out, but when I first heard that wobbly bass, "Ruski" was me being influenced by that… Some others are Jamal Moss, Flying Lotus or JuJu and Jordash. I think they are amazing. They are not famous but the first couple of things they did was mental. They aren't dj friendly but they take a leaf from Theo and psychedelic stuff. What comes out will end up sounding different after listening to those guys or others. But it may also be as simple as listening to some old Chicago track like Tyree – that I grew up with – that gives you a real kick up the arse. They really capture energy,  they have it inbuilt in them. And also going back to Drexciya or some stuff laid down by Detroit artists, who'd try to maintain the freshness of the recording session and try to do the mix on the spot so as not getting lost in the arrangement, I try to do that. I work with computers and something like Ableton is very flexible and I will use it in my studio, jumping from it and my old sequencer. I will set an audio track to resample and then I'll start jamming for ten minutes and I'll go back to that and cut and edit it and condense it down to maybe 5 or 6 minutes.
ISM: In your tracks it does sound like there is a a sense of randomness  that stems from those jamming sessions.
Lerosa: Ableton is clever  like that. I can record a jam session on to it and it will break it up into separate MIDI tracks. With the jamming session recorded then you can go in to the separate tracks and chop what you want out, and go in and move the bits around. "Russell" was recorded like that, like a MIDI jamming session. Most of of what I do was learned from reading about how Drexciya or Autehcre produced and learning principals from the likes of Carl Craig who'd say you don't have to use a 909 or whatever to make techno. It's more about the emotion than what instruments you use. So I don't stick to any particular dogma.
ISM: You've said that you are not a musician, so do you rely heavily on samples?
Lerosa: It depends, I try not to use obvious samples. Like I use a Mac, that has some random free plug in of piano sounds and maybe I'll take something off that. Sometimes I'll do it like Theo Parrish where he has used a fraction of a sample, from say Marvin Gaye, and then creates a texture that goes in the background. I may try and use chunks and maybe pitch them down, so  it's less obvious. I don't use many clean samples, but on the Touch of Class release there is a tiny trumpet sample from (coughs) M***s D***s, just a small little "dada".  I also sample a lot of (coughs) H***** H*****k. It's just cause I have these tracks lying about and to start a  track I'll just take a small sample and loop it and see if that noise kinda makes sense, and they might end up staying there. Or Ableton has a lot of little drum machines and I may take a single hit from them, of say a  sample kick off an 808, mix it into some kind of  virtual analogue/digital thing. Like I'm not going to buy an 808 or a 606 cause they are fucking expensive and they don't really fit into how I like to work. I like those sounds though, a Chicago track, I really like its 606s, so I like to use those samples. I like samples when they are interesting. KDJ is a bit more cheeky, he just uses full bars! He is clever, he uses big samples but then pitches them and plays with them. And the first Theo stuff baffled me! The beauty of house and techno was the oddness, the alien-ness of it like the first acid things that blew my head off, It was just a drum track and this "thing" with some some reverb, and Theo was just reinventing this "thing". That's why it's good to listen to new stuff and not isolate yourself, because every so often someone comes along and just fucking shows you what  it could be like.
ISM: You've also done some remixes now, and they sound radically different to the originals, one that comes to mind is the version of TR-One's "Inner Thoughts". When compared with so many remixes that sound more like simple re-edits, it's refreshing.
Lerosa: I approach the remix as a record buyer. I hate those EPs with the original track and 3 or 4 mixes that sound like the original just tweaked a bit. I prefer Autechre or AFX where it ends up more like a new track. It ads to the whole release. Carl Craig  would be another one, though I don't really like what he has done since that Theo Parrish remix (Falling up).
ISM: Yeah, some of his have become very formulaic.
Lerosa: I don't mind so much if they are formulaic as long as the are fucking rocking 'cause he did a lot of formulaic remixes but you knew what kinda to expect and it was funky. They are now more synth laden, a bit too aimed at the big clubs. Once the Theo one worked for the big deejays in Berlin……but I'm not gonna judge, because, for example, people show more interest in my house. I do a lot of electro and techno that hasn't seen the light of day.
To be honest  I was surprised I was asked to do remixes. As I said there was no plan, I was packing things up then people asked me for more music, and then they asked me to remix them! Like for Tr-One the original "Inner Thoughts" was a big acid number which I didn't actually like that much, I preferred others. I think they only had that to remix, and cause I didn't like it that much I just took some of the parts like Autechre would, take the original parts of the songs and rebuild them. You see if I really like the track I won't want to touch it either. For that one, I think what I did worked. But I think it's only coming out on Mp3 now, which is a shame.
ISM: You also have a remix for Ikeaboy that was nuts
Lerosa: Yeah, that was the first one I did. The original of it is nuts, Ikeaboy doesn't give a shit. It's different to a lot of D1 which is more Detroit-centric, influences like early Octave One. He is more punky. Anyway, what I do is I try and give two versions; one weird and one that's maybe more 4/4. So for him I gave him a really weird one and one more acid and he went with the first one. If someone asks if you for a remix its nice to be able to give them a couple of choices, if they are committing to put you on a release.
ISM: You expressed regret that a remix is not getting a vinyl release. Is it important for you that your stuff comes out on vinyl, or would you be happy with just digital?
Lerosa: Well as a music buyer, I collect vinyl.  I have all my own releases on vinyl and I keep them in my own proud little way. If something new comes out, I buy the record. I dunno, MP3 is something that doesn't click with me. I have bought some bits and bobs. For years I was trying to get Drexciya –  The Journey Home but at the time wasn't going to pay 90 fucking euro on eBay or however much they wanted, but when Bleep appeared it was one of the first things I bought, as I wasn't on file sharing sites. Then a few years later I bought it for like 60e and later I bought a couple more for that price. I spent lots of money. I dunno, its one of those things, if I can afford it I'll buy it.  Because of how I buy music, I'd rather have the vinyl.  I just like it, there's something about a record on vinyl. Like if I new that a remix I was doing was only going to be on mp3 I probably wouldn't do it. But things are tightening up, I don't know how long this can go on for. But as long as I can, I will keep working with labels that will continue to release vinyl. But it's good that they cater for both. Mp3s are a good channel for people just to get aware of your music. I don't really see the revenue from mp3s yet though, personally. Maybe 'cause its early but I sat down with a couple of labels to look at income from mp3 sales, its low. The problem is it's just too easy to fucking upload MP3s on to torrent sites. If you go to any torrent site you put any name of a label in and you can get a whole back catalogue, why go and download it from Whatpeopleplay or iTunes?
There is also this argument – and I'm no audiophile, if you saw my stereo and record player at home, a fucking Sony piece of shit –  I buy a record and I listen to them, I dunno, that's how I do it, and put it back in their sleeve and they are there for ever – unless you scratch it, and its not there for ever – but you buy an mp3 file its just a cut down version of whats been mastered on vinyl or whats been mastered to CD, it just feels like your getting a bit of a raw deal. And on Beatport now it costs about 8 quid to buy a full EP, so where's the saving?
Y'know if I was a dj I could understand. I used to be a dj and it was a pain, carrying that on your back. If I was a dj I would consider digital, cause you know I use Ableton on a laptop for my gigs.
ISM: Finally, how has it been playing live, was it something that came out of requests, or was it something you wanted to do?
Lerosa: I didn't want to do that, I made it clear with all the labels I work with not to be bother me about it. I really really didn't want to do it as I don't like clubs that much anymore. Like I used to enjoy going to places like Temple Bar Music Centre and The Funnel, but after a while it becomes about getting shitfaced and having to listen to music on terrible fucking soundsystems, they are really brutal in Ireland. And I probably got a bit fussy too as I got older.
Anyway, one thing I didn't want to figure out was how to do a live thing. My set up at home was a pain to set up and just the thought of taking that out, I wasn't really interested. I didn't think I was making really club music either. You know if I listen to a Basic Channel record I put it on at home and listen to it all the way through. It was never really about E and clubbing for me. Even when I was a kid it was lying in my bed late at night with the headphones on listening to the radio. It was about really listening, so I wasn't that interested in taking it to the clubs. It was Scott Logan who turned it around for me, he really wanted to do an Enclave night and he kept on going on to me…and he's…stubborn! He fucking wanted to get me to play and I didn't want to. So I said if you get me two grands worth of a laptop, ill do it 'cause I thought "this will fucking tell him, fuck off!" And then he calls me  a week later "oh my sister had this laptop she uses at work, it's a Sony Vaio and she's gonna lend it to us for 3 weeks" I was just stunned by this dog fucking stubbornness. So I said yes, OK, ill do this for you, just get off my fecking case. Then I said to Uzuri and the other labels that I'm doing this, and I was brought over to London for a gig, and was asked if I needed a booking agent. So that London gig was fun – but terrifying – so it seems to be going good since then.
————————————————————————————————–
Check out Leo's Myspace page here and his Discogs page here.
Leo also hooked us up with an exclusive unreleased track "diecow" for everyone to download, in .WAV format no less. Much thanks to him for this one, enjoy!
Photo courtesy of Giita Hammond.