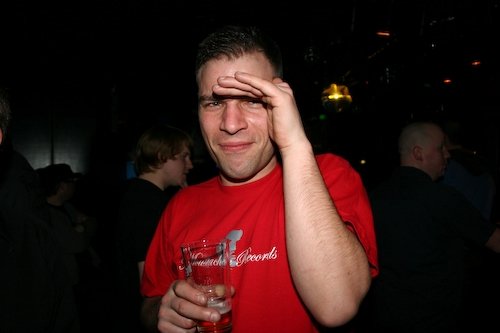 David Vunk's Moustache Records has only been running since 2007 but in it's short life has clocked up some stellar releases featuring the talents of producers such as Alden Tyrell and Sneak Thief with the influential collector Flemming Dalum and legendary Italo Disco singer Fred Ventura also appearing. David has been around for a little bit longer than that with little recognition outside of his home country of Holland and we're more than happy to run his first English-language interview on the net for y'all. Also, in the not too distant future we will be following this up with an exclusive mix from David.
Could you give us a little background on yourself, as up until the start of Moustache Records many may not have been aware of you.
When I was young and living with my parents, there was always music around. My dad is a musician from the rock and roll era, he plays various instruments and writes his own songs. He's an excellent pianist. When younger he made a lot of records, which were released on labels like Polydor. His hit song 'Spooky's day off' was No. 1 in the hit parades back in the 80s for over 14 weeks in a row. So I grew up with The Rolling Stones and Frank Zappa. Two of the first records I owned myself at the time were Michael Jackson & the first Beastie Boys release.
My first concert ever were The Rolling Stones when they played at de Kuip and my parents took me with them.
At home my dad had a Roland TR-909 drum machine and several synthesizers. He let me touch the knobs every once and a while but at the age of 9 I was more interested in records.  A few years later my dad had sold the 909 by then for 150 euro thinking it was just an old machine! After watching Technotronic on MTV, I started to like the House music that became popular during that time. I started to record the radio shows that played house music every weekend on tape and soon I owned the biggest tape-collection in the neighbourhood.
Around 1991 the gabber house period started to kick in and I went to the first raves that took place in the 'Energiehal'. A short while started buying records at MIDTOWN record shop. Mainly house records, techno, some acid and some Chicago and Detroit occasionally. Those days Midtown was the best record store in Rotterdam. My dad gave me 2 Technics and a mixer and I started practising mixing. It took me about half a year to learn some mixing and people started to ask me for their small parties. That was big fun off course and I earned some money to buy more records.
Around 1994 I spend my weekends at Parkzicht, most controversial and notorious club ever opened their doors in Rotterdam. I came in touch with the resident DJ there, Ricky da Dragon, who has had a big influence on me as a dj and producer. A year later I got involved in organizations like Stricty Techno and Matika who where organizing techno and acid & tekno parties. As Matika soundsystem we did some nice parties together with Spiral Tribe and Mononom. During that period I was dj-ing on several techno parties and illegal raves. But after a while that sound didn't do it for me anymore and I turned to electro stuff more. One night I was at a party in cafe DE HEMEL where Adult and I-F were playing. A whole new world opened up for me and electro was my new thing from then on.
In 1996 Clone started their shop in Rotterdam, really small shop but with so much good music. I was there 3 times a week if not more.
Later on we started Brainstorm, that name changed into Electrorock and we were dropping electro parties in various clubs in Rotterdam. In 1998 we booked I-F for the first time and was I playing before him. When he played Doctor's Cat – Feel the Drive, that record blew my mind, I couldn't believe how good it was. With Electrorock we were booking nearly every one of the Dutch electro scene as well as a lot of big artists from abroad and that way made a lot of contacts. On NYE 1998/1999 we organized a Matika rave and Mark du Mosch was playing there too, so that's how we met. Later on I wanted to start producing myself so I asked Remco from Elitechnique which machine to buy: he told me to get a MPC2000. When I started I got a lot of help from two good friends of mine, David Spaans and Ricky da Dragon, both already very serious music producers at that time. In 2002 the first Pussycat record was coming out on Crème label. I started hanging out with Tako and Loud-E who told me I should give a mix to the CBS. So I did. Later on I became friends with Alden Tyrell.
In the summer of 2006 I heard a track from Mauno Kalevi. I just mailed him and said I wanted to do a vinyl release and he said YES GREAT! I knew that Mark du Mosch had some good tracks lying around and asked him to do the other side. Moustache Records was born!
The Rotterdam/Hague/Dutch scene is recognised mostly for its disco and italo influenced music, though the scene up there started differently in the early 90s, with heavier techno/house sounds from Detroit and Chicago along with a lot of acid music. Could you give us an insight into how it evolved the way it did?

When I started dj-ing in 1993 most people around here were into really hard industrial acid & tekno and also sound of Detroit and some Chicago house.
There were a few guys from Rotterdam/The Hague that where already into italo, like Erwin Kleynjan (he gave me my first italo record), Fer & Marcello from Iventi D' azzuro, Lex van Coeverden (from radiostad Den Haag playing only italo) and I-G and Ferenc.
I think that monotone 'straight on' sound bored lot of dj's eventually so they started listening to other stuff. Also the scene kind of downgraded over the years. Taking drugs and getting wasted became more important then the music so the spirit that got it al started kind of died eventually. Electro was the new thing after this; it had to be funky and sexy. It was only a small step from there to disco and italo.
Sometimes when people are looking from the outside in, influential scenes can become romanticised. How do things look like from the inside, regards what is going on in Rotterdam?
I think we have a lot of really good producers and dj's over here. Some of them are absolutely pioneers in today's dance scene. It's probably a good thing that there is kind of a competition between the dj's, everybody tries to top each other when it comes to records. Keeps you sharp, you know.
Besides that many good record labels are based here like Clone, Moustache records, Frustrated funk, SD records and not to forget the Clone distribution and shop. Rotterdam always had a good scene for all kinds of music. I see it as a healthy scene but off course there is also a lot of crap music, labels and artists who do manage to play a lot in clubs here, you have that in every city.
It's also weird to see that though there are many serious artists there are only few people picking it up. The Club scene isn't all that good compared to Amsterdam for example. It's also not under the attention of the larger public or some of the bigger clubs here. Though I have the feeling it's starting to change for the better and we have some good parties like: Nikola Tesla were I have a residency, the Conclub, Magical Body, Clone label-nights and off course the CBS/ IFM parties last couple years.
It's really nice the Rotterdam electro scene has gotten a lot closer last few years.  Before dj's / producers didn't knew each other much but now most of the guys are friends and hanging out together.
Outside of what went on within Holland over the last 15-20yrs what else has been a major influence on you as a dj/producer and label runner?
Probably most of all my dad, one of the best rock pianists in Holland, he made lots of records on labels as Polydor and Ariola ever since I was a kid. He also did tours with Percy Sledge and Tina Turner. He told me a lot about the music business and what's it's like to be a musician, he talked about the good parts but also about the downside.
How did the Moustache label come about, do you have a specific aim for it and why did you decide to hook up with the artists on it?
I knew some great tracks that weren't on vinyl so I thought; I must press it!
Easy as that and nothing more, I started Moustache records just for the love of the music and vinyl. I play records for quite some time so I know almost whole Dutch music scene and I already knew which artists I wanted to release. Besides that I like it to release tracks from friends, I think it's very important to support the local scene.
Along with new material from the likes of Mr Pauli and Sneak Thief you've had Flemming Dalum involved with some re-edits of old italo tracks. How did that come about and can we expect more in the future?
I heard the Paul Ray edit in the CBS top 100. That gave me the idea to ask him to release on Moustache. It took about a year and 1000+ emails to discuss what we wanted to release for the Flemming Dalum italo edits. In that time we became very good friend.
Flemming is a very nice guy and just like me only in it for the love for this music. And yes, you can expect more in future but what that will be is still a secret for now! I can only tell you the next record gonna be ultra obscure like only Flemming can come up it! Here I say cheers to my mate Flemming!!

On the topic of Italo In the last couple of years there has been a big increase in the bootlegging of old Italo. While some labels such as Radius have made the effort to re-issue material legitimately many aren't, what's your feeling on the subject, as many of the originals can be hard to come by.
Just by the original record and eat bread with peanut butter until next pay check. The last 15 years I've put all my money into records. I don't really have a problem spending a bit more money for that one record if I really want it. I rather have 1 insane good record for 80 euro then to buy 10 records that are only average. But it's also a sport to get it as cheap as possible. As for bootlegs: it's happened to me so many times that I bought original and within a month a bootleg shows up. That absolutely sucks cause nearly any bootleg will bring down the price of the original, this also means anybody can and will play it, takes away part of the cult status of a record.
Being a dj is more than just putting on some records, especially with the kind of music we play. The idea that so much incredible records were made more then 2 decades ago and there are still undiscovered pieces that are just catching dust somewhere, it adds something to the music I think, maybe a little magic. I believe a dj should spend time and effort looking for stuff; you have to work for it. It's also about being original and doing your best to be one step ahead of the rest. Bootlegs are just to easy it's just not the same feeling. The set a dj plays is not only a product of his taste but also of his devotion, effort he put in plus his passion. By the way I can see why somebody would buy a bootleg occasionally, if you're crazy about the song and there's very little chance of finding the original, or the original is only released on 7" or has really bad sound quality, I get that. But there are at the moment so many labels releasing mostly or only bootlegs, which happen to be the highly obscure songs everybody is after at the moment, and most of the time the sound quality is bad to really awful.
Some labels have been bootlegging many classic italo masterpieces for the last two years. One after another, 4 at a time, nothing is sacred no more, I don't know but I just think that's wrong and I will never play them. If you don't have enough money to buy expansive, go and search for more unknown (disco) stuff, there is so much good music undiscovered out there that isn't a discogs or ebay hit so you can find them for a reasonable price. Last summer me and my girlfriend Slick Chick (she is also a dj) drove through Italy and France to search for old records, spend 2 ½ week looking for record shops and flea markets in the area gambling on sleeves hoping to find good disco and italo. Sometimes we were lucky, sometimes bad luck, it's part of the deal.
From what I can gather, in the past your production work has been collaborations, up to and including the Lord Of The Cockrings release. Is it something you feel more comfortable with, or can we expect some solo work in the future?
It's not necessarily that I feel more comfortable with it, it happened to be so. Alden and me were jamming together some night and that eventually ended up in this ep. For the last year I've been spending more and more time working in my studio where I have a lot of analogue equipment. I started to buy drum machines and synthesizers around 2000. I'm proud of what I've gathered on gear during these years. Some solo stuff is coming out on Lunar Disko Records from Dublin somewhere in the near future, it will be a split ep with a very good friend of mine, Mark du Mosch, another really talented producer from Rotterdam.
As I mentioned earlier, you didn't get as much notice until the label kicked off. Years ago there was a distinction between producers and Dj's, now it seems that unless you have something to back yourself up its increasingly difficult for Dj's to play outside of their own local scene. What's your opinion on this?
Yeah, seems like you need to either make your own tracks or run a label to stand out. I think one of the reasons is that there are so many dj's nowadays, you have to get your name out there to be noticed even if you are an excellent dj. I have to say that running Moustache records has had positive influence on my work as a dj and producer. Records go abroad and end up in peoples home and in clubs in various countries. People get to know your name, that's crucial cause you could be the best dj, if nobody knows besides your roommates, you don't get booked.
The sort of music yourself and others in Holland have been plugging at for last number of years has recently had it's profile raised in cities such as London. Are you afraid of this music becoming too cool, and that it could turn into a fad for many people, diluting what has been going on?
I'm waiting for that! Let it be as cool as it can get, we will see what happens if the majority moves on after a while to chase the next best hype. I'm convinced there will be people who will stay with it for a long time because they truly are touched by the music. Those people would have probably had never had the chance to get to know italo and other streams of disco music if it wasn't the next big thing for the moment. I believe in the sound I play and are crazy about it myself, so I'm convinced that at least part of the people will get it if they open up to it.
I think another part may not be really that interested in music or maybe just in another way. Here in Holland the minimal sound is kind of big as well as looped-techno has been for a while, for example. My opinion is that there is no creativity whatsoever in that kind of music it's the same drum loop over and over again. There's no funk, hardly any variety, no ups and downs and feels just empty but I can imagine it's easy for people to dance on it cause it has a steady beat with a short break every once and a while so people go crazy when the beat falls back in. I don't want to be to degrading but it's just a pity that there are so few people that really seem to get it, it's really depressing sometimes. So yes man, I'm definitely happy more and more people are coming to appreciate it.
We at ISM have a very strong love for Vinyl and hope that the format never dies out, and while your label is connected with a distribution company – Clone – that still seems to be doing well, is the closure of many other distributors something that worries you massively, or eventually will you not care about what format the music appears in?
Moustache records will always press vinyl every release!! It's the main thing and I think pressing vinyl will never stop entirely, but it will become more and more a collector's thing I can imagine. Well like I said, you can't stop the future. Nobody's is handing out mixtapes anymore, that's because audio software programs like Ableton or Wavelab have so much more possibilities.
But yeah, if you ask my personal opinion I'm still a vinyl junkie and I hope the format will be around for a very long time and survives the digital variant. But I expect the eventual shift towards digital formats to go gradually, along with the increase of the quality of digital media with the development of technology. I know with Moustache records as my label, I'm planning to continue pressing on vinyl for as long as possible. But besides records, I do sell digital as well. Why not? For me I would not buy digital releases. I have high quality wav's that I play now and then in between my records. Using also a cd player in your set gives you the possibility to make your own edits of a track, to make it just a bit more dancefloor minded or more dj friendly.