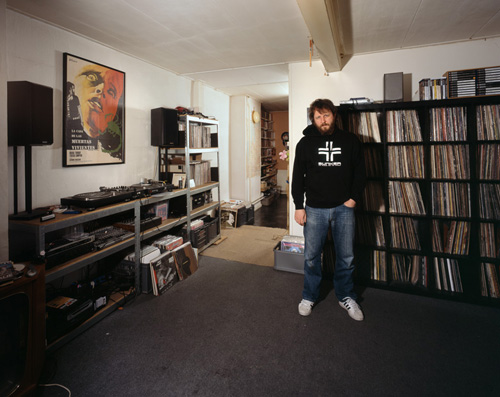 Interview by Lina Goldberg, photo by Paul Langlade
TLR's mountain-man beard and baggy hoodies hint at his past life as a squatter, but they don't give away quite how ambitious this Dutch DJ-cum-record-promoter-cum-radio-personality really is.
TLR, known to his schoolteachers as Jeroen van der Star, now 38, went from organizing grimy squat parties in the '90s called Global Darkness, to creating a web portal and community for the Dutch West Coast electro scene under the same name. He also runs Holland's notorious Crème Organization record label which has over fifty Chicago, acid, disco and soundtrack-esque releases on the main label, plus additional releases on Crème Jak, a sub-label for the jackin' Chicago sound and another sub-label, Crème Eclipse, for more experimental & electro releases. And although you may hear TLR lashing "Skydiver" into his sets, he has his fingers in many musical pies, from punk to cosmic to Chicago house to disco. 
TLR's also been doing a radio show, Back to Music, on Intergalactic FM. Back to Music features about as much wit as Dutch radio can stand, horror movie soundtracks, synthesizer music, Italo disco and a lot of tracks that even TLR doesn't seem to know the names to. The musically eclectic show is infused with van der Star's unique brand of black humor, which is also stamped across all of his projects, from the Crème Organization releases to his The Hague record shop, Cobra Nero, whose motto is "where the only good customer is a dead one."
Infinite State Machine badgered TLR for an exclusive mix and then caught up with him via email to try and find out what the hell cosmic actually is.
What can you tell us about the Cobra Nero mix?
Its a mix I did a little while ago with some new/old stuff that came into Cobra Nero, a little record shop I run in The Hague. Mostly 2nd hand stuff and domestic West Coast related releases, but also some import things I get through Clone and various other channels. 
I have a little line open with NYC through Speculator who irregularly sends me stuff he digs up there in odd corners and I place ads sometimes to buy out people's basements. This mix is pretty representative of what floats around there: oddball disco, Chicago house, electro, Italo, obscuriosa, etc. Not so much a dance floor mix, but just some stuff I've been digging. I've been meaning to do a whole series with the new shop additions every month or so, but of course I'm too lazy…err busy.
 
What's the history behind the Creme label? What was your inspiration?
Creme started out somewhere in 2000 in the Bunker Basement when I was hanging out with Guy Tavares (the head of Bunker) and Danny Wolfers, better known as Legowelt. Danny and I made some tracks as Mr. Clavio and I wanted to release them myself. I wanted to create something lasting, and a record seemed fitting.
Around the same time I got a couple of really good demos from Bangkok Impact & It & My Computer, so the first four releases came in rapid succession. Apparently the timing was right, because they did very well. So things went more or less from a joke to a serious operation within a year.

The Creme artwork is very distinctive–not like what we are used to seeing on many electro releases. What's the story behind it?
Well, for one, everything is made by the amazing Godspill. We ran into each other pretty early on and things clicked. He is just a great artist and since we share some of the same neuroses and anxieties its easy for us to bounce ideas around and stuff. 
But even before I met Godspill I never wanted the label to look like a "Dance" label, because I never liked all their pretentiousness, especially in the late 90's–the glory days of badly rendered eggs on chess boards and unimaginative "future" stuff with amazing 468 technology and blahdiblah. Also, I didn't want to be as dark, minimal and menacing as the OG The Hague labels, Bunker and Viewlexx, a style they had already perfected. I think the artwork reflected the music, which was often a bit more lighthearted, but with a desperate edge. Euphoric Nihilism, if you will.

I see from your rarely-used Last.fm profile that you listen to a lot of early punk. Do you have a punk rock past? How does this influence what you are doing musically now?
That Last.fm thing is pretty skewered, but yeah, I grew up with Punk & 80's hip hop (if you don't count my glam-rock/arbeidsvitaminen childhood) and I still have an unhealthy obsession with hyper obscure and silly priced 1st wave punk and hardcore 7″s. There's a mystique around it, perhaps because most of it came deep from the underground way before the internet made everything easy. Some of those records used to be truly mythical, never seen, impossible to hear, the subject of rumors… maybe you'd find an Xth generation cassette copy of it… 
Not anymore of course, the internet has busted a lot of those myths. So there's the Indiana Jones-factor, but its also about the content. It's raw, angsty, angry, confused, unreasonable, impatient, cynical .. all emotions i can easily relate too. But at the same time it also has a great D.I.Y attitude. You can create your own thing outside of all the mainstream, and you are gonna do it better than them. And they can fuck off with their shit. Let's call that the teenage pregnancy factor. 
So I guess that's the main connection with what I do, and its a tangent that always ran deep in the West Coast scene. I think most of the labels in and around The Hague (especially Bunker Records) are a lot like old school punk labels, of course not so much in music, but certainly in spirit.
Global Darkness just celebrated its 10 year anniversary (by having a savage party on the Stubnitz). What's the history of Global Darkness and how has it changed over the years? What's in store for the future?
Global Darkness was a name we used for squat parties in the mid-'90s–mostly Jungle–as we were into that for a little while. When everything fell apart I kept the name and used it for a website and as a company name (great fun registering at the Chamber of Commerce). I just wanted to make a site with some info and stuff that I found interesting, about electro, early house, Detroit, etc. so I put together a bunch of articles and stuff, threw up some mixes, audio clips and opened a forum. 
At the time there was almost nothing out there like that–not for that kind of music anyway, so people from all walks flocked to it and some of them never left. It's pretty awesome to see how some of these people are still involved in projects in and around the West-Coast scene and it was great to have so many of them play and hang out at the Stubnitz party. For the future I will probably work together more closely with others, and focus a bit more on the news and shop aspect since parts of the site have become a bit obsolete with so many great resources around these days like Discogs or IFM.
My experience with squat scenes in the States is that it very often ends up being really messy and depressing. I assume if you were having parties it must have been a bit of a buzz. Can you tell me a little bit more about the squatting scene in Holland? 
That's not something that is easy to answer. Let's say that my experience was pretty mixed and schizophrenic and quite (in)tense. A lot of the places in my hometown ended up as bombed out drug infested shitholes around the mid '90s, which I was glad to escape. 
Most notably an 11 story street long towerblock next to Central Station proved impossible to manage. Each floor was occupied by different groups. Some floors had teenagers on them that just left home and whose idea of cleaning up was to throw all their garbage in one room and then just to seal the door shut. Another floor had no water and was inhabited by junkies who threw plastic bags with piss and shit 11 stories down on the streets, another had some UK soundsystem flower pickers that only wanted to party and do drugs and some others had more or less "regular" people that struggled to keep the place going. Then there were 3 floors of the worst student frat boys that were supposed to be anti-squat that hated our guts because we tried to steal their power and phonelines… Dunno if you ever read Ballard's High Rise, but this was a pretty close approximation…warring tribes in a 70 metre high concrete bunker…utopia gone mad.
Only the smaller places with 4 or 5 people lasted and remained ok… I don't know what it's like these days though, but it's more sectarian I think, squatting is all but outlawed and the city is much richer now. Anyway, my experience is really not representative on the whole of Holland or even The Hague, just in the bubble in my region in '93-'96, which had the odd combination of some very large squats in a relatively small town (which always had a notorious housing shortage because of the large student population looking for rooms), the British Criminal Justice Act (that more or less banned dance parties in the UK) and a high number of unskilled but highly-paid seasonal jobs in the flower industry (which led to an influx of techno crusties). 
It gave me an aversion towards techno (including the stuff from The Hague) that lasted almost a decade. One of my fondest memories is some dude walking up to the DJ on the floor above him one night and just smashing the turntable with a baseball bat so he could finally get some sleep. Anyway, that shit's some 15 years ago so it's kinda far behind me, as soon as I found something for myself I was out.
What's the deal with cosmic? I don't get it–I hear people in London talking about it all the time, but I have no idea what they are talking about. It's like "wave." Just a word that people like to say a lot because it's cool. But since you're all into it, I suspect that maybe there's actually some foundation behind it and you're not just trying to impress London dickheads. So let's say you were trying to explain cosmic to a retard (you are)–what would you say? …also, any idea what "wave" is?
Hmm…I don't know if I qualify as an expert on the subject, and I never go to parties, but here's my two cents. Historically, New Wave was a scheme from the Major labels in the late 70's to take the raw edges off Punk and present it as a concept more marketable to a mainstream audience. The days of excruciating 1″ leather ties and abominations like The Police and Roxy Music. These days it's more closely associated with minimal wave I think, an umbrella term that can span anything from toe bending early 80's Synth Punk to ultra cool and desperate Bahnhof-zoo heroin obscurities. So basically anything old with a synthesizer.
Afro/Cosmic is a Tiroler (Austria/North Italy) party scene where a bunch of hippies in African dresses would get drugged out of their minds in the Alps to get all spiritual and jiggy with it. They slowed their music down because they were all on acid and smack. Pretty much the predecessor of Psy-Trance. It doesn't seem to fall into the hipster canon at all, but I guess they romanticised it and made it into something of their own.
Cosmic now seems to mean blogging and impressing your friends by finding 3rd tier bargain bin records and presenting them as rare lost tracks. Its closely linked to the edit scene, where people re-sequence this music on their shiny Macbooks and illegally re-release it as their own. A pretty shady sub scene if you ask me. I wouldn't really care if these people just made edits for the hell of it or to play out, because its part of the Disco/Chicago heritage after all. But I can't stomach that they take credit for themselves and cash in on that stuff. I mean, at least the old school dudes (Larry Levan, Ron Hardy, Frankie Knuckles etc) just played their mixes in clubs, and if it was released, it was released as a remix or something like that, under the original artists name. Then again, aforementioned Tirolers (led by Stefan Egger, look him up, its a laugh) already edited and bootlegged the hell out of everything in the 80's so I guess it runs in the family. 
Anyway, in both genres there is some really cool stuff made and there's some genuinely interested (and interesting) people too. In the end it's just about music, you either like it or you don't.

What new projects are you working on and what's coming out in the future?
Keep doing what I'm doing and of course, the Back To Music radio show on IFM (the thing I'm most into at the moment).