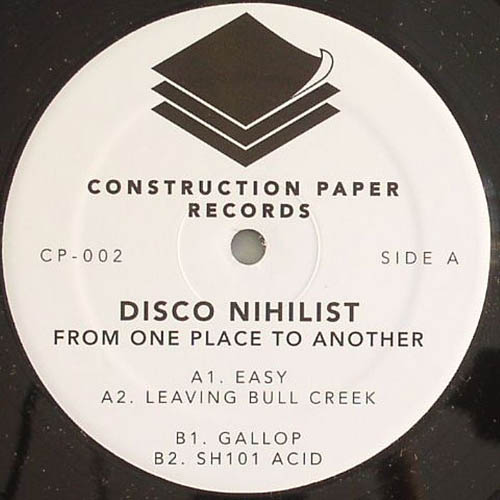 As you most likely know by now, it was my label's debut release that unleashed this maniac who calls himself "Disco Nihilist" on the record buying world. Since that 12″ dropped, he has put out two more records on the Construction Paper label, including one that is just dropping now worldwide called "From One Place To Another".
I've personally been banging all four cuts from this one out in the months since I got the white label in the mail. "Easy" is kind of the obvious dancefloor killer, and I'll forgive everyone for banging it out as long as they check the other cuts as well, each of which is dope in its own way. "Leaving Bull Creek" is the cousin of "Easy", a deeply submerged and repetitive house joint. "Gallop", if you couldn't already guess, is a more hard-edged yet still atmospheric tribute to the greatest acid producer of all time, Armando Gallop. Possibly my favorite (and a cut that almost made LWYF-001!) is "SH101 Acid" which does exactly what it says on the tin: a pummeling acid jam based around a thick 101 riff.
Since it seemed like a kind of weird to interview the Nihilist myself, I enlisted my favorite music blogger, Jacob Arnold from the excellent Gridface blog, to do the business. This interview was done in late 2009, as some issues popped up early this year in getting the new record out in the shops. Now that it is out there, we're happy to finally drop this interview! Jacob will take it from here…

Mike Taylor, aka Disco Nihilist, is a relatively new producer. His first, self-titled, 12-inch kicked off pipecock's label Love What You Feel. His latest release is a split EP with Daetron Vargas on Daetron's label Construction Paper. I interviewed Mike via email over the past month or so.
Jacob: Where did you grow up?
Mike: I grew up in Livonia, a suburb of Detroit.
Jacob: Where are you located now?
Mike: I just moved to Portland, Maine with my wife about a month ago. Our first child is due in April. We just moved from Austin, Texas.
Jacob: When did you move to Austin? Was there a house scene there?
Mike: I moved to Texas on March 9th, 2004. Five days before my 27th Birthday.
There was a house scene there, but I wasn't a part of it or terribly interested in being a part of it. I had been involved in dance music for about nine years by the time I left Detroit. By that time I had been distancing myself from the scene and I only really went to Wednesday Nights at The Lager House when Mike Clark and the Beatdown Sounds guys would play. I also hit up house gigs at The Johansen Charles Gallery and a few lofts and galleries whose names escape me.
Interestingly enough, I had arranged to buy an Akai S3000xl sampler from a guy in Austin just before I left Detroit. It turned out to be Jim Carlyle from Submersible Machines. We talked about music for awhile and decided to check out the only dance record store in town. It was pretty piss poor. They had a Starski and Clutch record and a copy of Force Universelle on Purpose Maker and those were the only close to good records in the store. The rest of it was breaks, bad west coast house, a little jungle and whatever else. At that point I pretty much decided that Austin sucked and that I was going to tune the scene out.
For the first two years in Austin I made a conscious effort not to make any real friends. I had an empty apartment with a work table, a chair, and a bed. I spent most of my time reading, working in a print shop, making collages, doing graphics work or playing an acoustic guitar. It was the most productive time in my life and it did wonders for my music. I was not very good at music while I lived in Detroit. I didn't start showing any promise until I moved to Austin. I finally learned scales, chords, and chord progressions. I learned how to put songs together on a 99 dollar pawn shop acoustic in that little apartment.
I needed to be alone and away from Detroit before I could figure out who I was or what I was going to do. It took me a few years to sort myself out, I was pretty emotionally screwed up and directionless by the time I left. I kept in touch with a few close friends from back home and did a lot of mail art. Mail art was pretty much my only social outlet during that time. I looked through my archives the other day and I was surprised by how much work we did back then. I have a box full of collages, handmade zines, letters and posters. We had a busy dialog for about two years.
After I had been there for a couple years I saw that Darshan Jesrani was going to be playing at a club and that Merrick Brown would be playing there as well. I remembered Merrick from the 313 list because he ran Tektite records. I decided that I would go check out the gig and see what Merrick had been up to. I went to the gig and Darshan played a great set of dance classics, it was one of the few truly great gigs that happened during years I was in Texas. Towards the end of the gig I saw a dude in a 430 West t-shirt talking to another guy. I decided I would go talk to the guy in the shirt because you don't see too many of those in Texas. It turns out that it was Minto George from Down Low Records and that other guy was Merrick Brown. I already knew Minto from a few years back when he and JT Stewart would send me records for a radio show I did on CJAM.
Merrick and I exchanged numbers and stayed in touch, Merrick became my first real friend in Austin. It was nice to be able to talk about Subhead, Cristian Vogel, Neil Landstrumm, old Detroit and Chicago stuff and all those other guys from back then. I used to hang out with Merrick and his wife quite a bit back then. He was also starting a night at the time called Get Broke. It started at a little sushi joint on 6th Street and then moved over to Thursday nights at Plush. I pretty much hit Plush every Thursday for about two years after that. Everybody I know in Austin is through that night. John Angle, John Ousley, Jeff Roye, Billy Converse, Hill Cardwell, and Eric Wallenstein, basically all the guys that would be the vinyl DJs clustered around Backspin Records.
Jacob: Did you go to any dance clubs growing up?
Mike: Yeah, dance music was pretty much my life from 1995 to about 2003. There was all kinds of great stuff happening in Detroit during that time. There was so much going on. I used to go to Poorboy parties, Three Floors of Fun, EXAT at Zoots, Hotbox parties, Better Days, The Sardine Bar, Motor, Alvins, Forans, Family parties, all kinds of different places. There were also a lot of great coffee houses at the time like Zoots, The Zone, and The Green Room. I heard all kinds of great music back then, not just dance music. I would give anything to have Detroit in the '90s back.
One of the last great parties I went to was the memorial party for Laura Gavoor. It had Rolando, Andres, Moodymann, Theo Parrish, and Derrick May on one bill. The circumstances of the gig could have been better, but it was a great party. I couldn't tell you the name of the place–it was one of those newer joints near Joe Louis.
That being said, I would like to distance myself from Detroit. You aren't going to catch me putting vintage photos of African children on my shit and calling my project Funky Black Motor City Ghetto Jungle Booty Perfume. I was around back in the day, but I am not trying to claim that I am part of the 12th wave of Detroit techno or that you should buy my shit because Kenny Larkin is my cousin. New York and Chicago are as big of an influence on me now as Detroit was then. The Detroit dudes have their own thing, I am not trying to bite their shit so that I can sell more records. Detroit definitely shaped my tastes and sensibilities, but I have been gone for too long to feel right about claiming it.
So many people misuse and misrepresent the legacy of Detroit music for their own gain. I don't want to be one of those people. I will let the people who deal with that shit day in and day out claim it, it is their right, not mine. My records sell on their own, I don't need to use Detroit as a crutch to get over. That is why I put it down for Texas on my first two records. I didn't write those tracks near the Lodge, I wrote them a stones throw from MoPac.
Jacob: When did you start producing your own tracks?
Mike: I bought my first drum machine, an Alesis HR-16, from a Trading Times ad in 1995. I paid $60 dollars for it.
Jacob: What other kinds of hardware do you use?
Mike: I would rather not get into specifics. I don't have very much money, so my studio isn't very impressive to gear nerds. I don't have one of those ridiculous Dutch studios with 50,000 dollars worth of vintage analogue equipment and every Roland unit ever made. I use cheap hardware that I was able to find on craigslist for not much money. Austin was good for that, there was a lot of gear floating around that town that could be had for cheap because no one was interested.
I use a lot of late '80s and early '90s digital hardware that goes for nothing these days. The average price for a piece of gear in my studio is about a hundred bucks. I only have one nice thing in my studio, and I think people will be able to guess what that is.
I can't really stand listening to people argue over the technical merits of gear these days. I think you should use whatever you happen to have and do the best you can with it. There is no magical box that is going to make your music better. It all boils down to what is going on in your head and your hands.
I hope to make a few upgrades this year. Hopefully a little money will come rolling in from record sales, licensing and the tour next fall. I would really like to buy a decent multi-track tape recorder, a TR-808, and a small analogue modular system. Those are my three gear fantasies for 2010-2011.
I don't really want much more than that. I don't feel any jealousy when I see these guys on the Internet with huge piles of gear in their studio. I just think about what a hassle it must be to have to choose between 20 keyboards, a rack of processors, and five drum machines. You have so many more decisions to make in such a complex system. It is no wonder that most of them never get any work done. I would rather have a few good tools that I really know.
Jacob: Can you tell me about the process of putting a track together? How do you usually get started?
Mike: Guilt, it usually starts with guilt. The gear sits unused in the studio and silently lectures me about my lack of industriousness.
The hardest thing is sitting down. Once I finally sit down to make music, I am usually disciplined about work. I pick a key to work in, and then I start noodling around with the keyboard or the 303 and try and come up with some kind of hook. Sometimes it comes, sometimes it doesn't.
I have been doing it long enough that I don't really have to think about it too much any more. If something isn't sitting in the mix correctly, it usually doesn't take me too long to figure out the problem. My studio is small and unremarkable, but I know my tools backwards and forwards. I usually work by intuition and let things happen.
Jacob: How did pipecock discover your music?
Mike: Tom is an under-rated music critic. Most of the stuff that is being featured and written up as the hot shit of right now was being covered on ISM a couple years ago. It is still that way. I am amused by people that talk shit about him and then dickride his aesthetic six months after the fact.
He found out about me because I sent him an email that said he was just about the only guy running a dance blog in 2007 who wasn't a complete dickhead. It was a total fluke that he happened to starting a label around the time that I got in contact with him. I wasn't looking for a deal, I just wanted to give him props for writing about solid music. A couple months later he tapped me on the shoulder about doing a record. We made a few calls and Tom cut a couple checks and that was LWYF-001.
Jacob: Tell me about your split release with Daetron Vargas.
Mike: Daetron and I were bored and unemployed, so we decided to make a record. We just hung out in my studio for a couple weeks and recorded the tracks. I showed Daetron how to use the gear and we went to work. It was pretty laid back–we worked every day from noon to four.
I just went through the process of cutting a record with LWYF, so I just made the same set of phone calls and set up the record. I knew people at the distributor so I made another set of calls and set up the distro for Construction Paper.
I think we made a solid acid house record. The stores don't know what to do with it because we didn't tell them which bin the records should go in. Some of them think it is tech-house, some think it is deep house, some think it is acid. It is getting categorized all over the board. I suppose that is good, I guess that means it isn't cookie cutter music.
My favorite cut is the A2 that Daetron made by himself. A few months before we made the record I was over at Daetron's house just after he got the reel to reel. I always ask him how he is doing with music, and he usually hasn't done anything. I told him he should just take his Electribe and hook it up to the tape machine and make a record with just those two pieces. I didn't think much of it at the time and I forgot about the conversation.
Apparently he followed my advice and banged out about four or five tracks on the recorder. He made the tracks, recorded them, and just let them sit on the reel. Nobody heard them until he brought the tape deck over to my studio for the record. One night I was bored and I wanted to mess with the recorder, I rewound the tape and listened to all the tracks. I thought A2 was the best of the bunch–I was pretty blown away when I heard it for the first time.
Daetron had completely forgotten about it and had not listened to it since the night it was recorded. He didn't want to hear it, but I insisted that the track would go on the record. He didn't actually hear the track for himself until we got the test pressing back from Archer. He was a bit shocked when he heard it for the first time on vinyl.
Jacob: Who are some current producers you admire?
Mike: Oh man, how much time do you have? There is so much good shit out there right now that I can't even keep up with it. We are in the middle of a golden age of dance music. I think the next few years are going to be really good.
If there is one person I have to give props to, it is Santiago Salazar. He was the first dude to pick up on what I was doing. I wouldn't be where I am now without his encouragement and support.
This guy is the best producer in Austin:
http://www.myspace.com/submersiblemachines
In no particular order: Larry Heard, Gerald Mitchell, Daetron Vargas, Walt Jones, Tevo Howard, Billy Converse, James Duncan, Jeff Mills, Specter and Lamar, Steven Tang, Basic Soul Unit, Juju And Jordash, Omar S, Rick Wade, Moodymann, Hunee, Scott Grooves, Old School Rider, Dam Funk, Escort, Kai Alce, John Daly, Lerosa, Danny Wang, Jus Ed, Black Jazz Consortium, Bjak, Africans With Mainframes, Marcello Napoletano, Alton Miller, Ron Trent, Anton Zapp….
Jacob: What are your current projects?
Mike: I am looking for labels so that I can cement my 2010 release schedule. My game plan is to drop three or four records on other labels next year. If my finances permit, I would also like to start up my own label. My schedule is open for the summer and fall of 2010. I have some pending deals for the Spring.
I also plan on heading over to Europe for a Live PA tour in the fall of 2010. I would like to rent a car for a couple weeks and hit the whole continent, Spain, France, Belgium, Netherlands, Germany, Italy, Austria, Greece. I still need to figure out how the visa and work permit thing will work out, but I have a year to straighten it all out.
Jacob: What are your interests besides music?
Mike: Music doesn't leave room for much else.