Today we kick off the week with a mix by a name that is probably pretty new to most of you: Jay Simon from Washington DC. I had the pleasure of meeting Jay earlier this year when he came up to Pittsburgh when Omar-S played here in January. I could tell that he knew what was up, and now he is proving it with his first release on vinyl! Kyle Hall's Wild Oats label is dropping Jay's track "Faith", which is a funky low slung house jam featuring vocals borrowed from the r&b singer of that same name (which is included on his mix of course!), on limited edition 7″. Pretty heavy stuff for a debut record!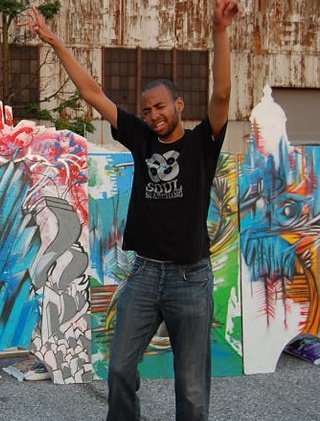 We did a little email interview with Jay to go along with the mix. As you will see, he rolls exactly how we like here at infinitestatemachine…
ISM: How did you originally get into deejaying? Production?
JS: I had always been into "beats" (more from a hip-hop perspective) for as long as I can remember, but I didn't really get introduced to underground hip hop & electronic dance music stuff till I was about 14 or so. Once I figured out that there were entire genres that catered to the sounds I liked I was hooked. I couldn't stop looking for new music & sounds…I'm still like that. So along the way I amassed a good collection of music, and really took an effort to educate myself on the roots of it, from there I realized other people I really respected (DJs and producers) had similar taste as me, so I decided to share my perspective of it. As far as production again from a young age I realized I really wanted to do it, but I always felt like I never could because I had no musical education, but recently I'm just trying to experiment and do things for myself, if other people like it that's great too, but I'm really not trying to make stuff for other people specifically.
ISM: I know you're a younger cat in this scene, are lots of your friends your age into this music?
JS: Definitely not, haha. Although with the internet there are more and more young kids really schooling themselves at a young age. Especially because you can basically make music with just a laptop now, and websites like discogs allow kids to know and hear almost everything an artist has done with just a few clicks on youtube or whatever. But even now nearly all of the "music people" I hang out with and regularly converse with online are an average of 5-10 years older than me. There are a few exceptions though…Kyle Hall obviously, Jay Daniel, SlikTimm, Floating Points, Funkineven and, Space Dimension Controller to name a few.
ISM: What is the dance music scene like in DC? Who are your partners in crime?
JS: The Future Times guys are definitely my closest friends in D.C. Dance music wise they are the only crew consistently pushing things forward while still having knowledge and respect of the past. I don't really have any "partners in crime" musically, I'm just on my solo dolo as far as that's concerned. Most parties here are dominated by your typical RA type stuff, most party goers' & promoters' knowledge doesn't really run too much deeper than that. So you get a lot of bullshit hipster post-minimal faux "deep" house stuff which I hate, so I don't really go to non Future Times related events much at all.
ISM: How would you describe your deejaying style?
JS: The style of no style I guess…I really love a lot of different types of music and really try to incorporate as much as possible, which is usually difficult/basically impossible to do in a 90 minute set… I prefer to play all night if that's possible. Because of that, you might catch me playing completely different stuff from party to party or mix to mix…to me it's all the same shit, music that hits me physically and emotionally, I'm not too caught up on sticking to one thing these days at all.
ISM: Does it affect the way you approach making tunes?
JS: Yes and no. I think unconsciously it definitely does, but it just comes out of my own taste I guess. I just try to make what I like to hear, not necessarily something specifically for DJing. A lot of my favorite stuff isn't so DJ conscious from a production or arrangement point of view, in that sense I see it as a challenge to work it into my own sets, and I like to challenge myself.
ISM: How do you work you love for hip-hop and broken beat, two non 4 on the floor musics, into what you do?
JS: It's definitely a challenge, but my favorite DJs are the ones who don't just stick to the modern idea of one genre or style, and I try to approach things that way too. I tend to gravitate more towards warm sounds & groove oriented music… which can be anything from post-punk to techno. Recently more than ever I'm really trying to take my selections to the next level and show people a broader picture of where I come from, not only as a DJ but as a person.
ISM: How did you get hooked up with Kyle Hall?
JS: We originally started talking on Facebook a few years ago, I was into his music and knew he was a young dude with ears beyond his years (haha) so we initially connected on that. From there we started sharing tunes, and a lot of the stuff I was very into at the time (broken beat mainly) was mostly new to him. I knew from his music he was attracted to more abstract rhythms and had a respect for musicality, so the broken beat stuff was like a natural fit. A few months after we met online, he played his first show in D.C. and we met in person for the first time. After that we just kept in touch.
The record came about just from me randomly showing him some of the stuff I did on Soundcloud, and he happened to be into a lot of it. I was never planning on putting that "Faith" track out, I just did it for my own DJ sets mainly, but he was really excited about it and wanted to release it.
ISM: You're also starting your own label soon, right?
JS: Yeah…it's called Must Have Records. The first release is a relatively under the radar Finnish producer named Saine. He mostly does hip hop & downtempo/jazz type stuff, but on his albums (he's already released 2 full LPs) he would have 1 or 2 killer house jams. I contacted him on Soundcloud and he was down to do his first "dance music" oriented EP for Must Have. Stylistically its pretty unique, I call it "modern deep", it's definitely not your typical house record. It's coming on vinyl before the end of the year…test presses sound excellent. The second release is going to be from a friend of mine named Julien Love, I included one of his unreleased tracks on the mix. His music has been heavily sought after by heads in the know for some time now, so its a real pleasure to be able to release some of it. 2012 will be a big year for Must Have Records so stay tuned…
ISM: Do you feel like you're part of a bigger movement right now coming out of the US?
JS: I never really thought about it that way, but maybe? I'm just trying to do things with knowledge and respect of the founders of this dance music thing, while at the same time putting my own spin on it…anyone trying to do that I fuck with.
———–
Jay's mix entitled "Swag Swag Woop Swag" can be downloaded HERE.
Tracklist:
1. Slum Village – Forth & Back Ft. Kurupt (Remix) [Ne'Astra]
2. The Shake Up Connection – Let's Dance [Amplified]
3. Jay Simon – Faith [Wild Oats]
4. The Orb – Little Fluffy Clouds (Cumulonimbus Mix) [Polygram]
5. Rondenion – The Beautiful Memory [Aesthetic Audio]
6. Hunee – Amiadar [Retreat]
7. Trio Zero – Twilight [Capitol]
8. James Mason – Nightgruv [Mighty Fine]
9. Julien Love – Touch [CDR]
10. Steve Arrington – Dancin' In The Key of Life [Atlantic]
11. Burrell – I Really Like [Virgin]
12. E.S.P. – It's You [Underground]
13. Theo Parrish & Marcellus Pittman – Night of the Sagittarius [Sound Signature]
You should also check Jay out on his Soundcloud page as well as his Podomatic page.
P.S. BOOTY