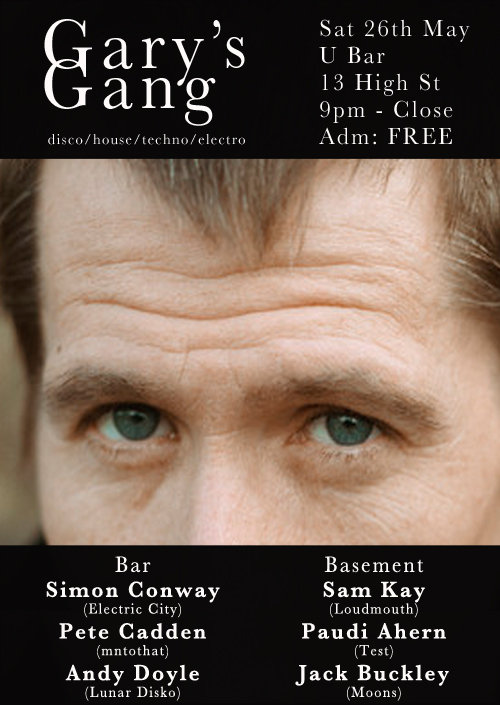 First up is a heads up on a new monthly party a bunch of us are kick starting this Saturday here in Dublin. U Bar is a new and promising space on Hight Street in Christchurch and on the last Saturday of every month the gang are gonna be taking over the 2 floors to bring a mixture of all things house/techno/electro/disco. Instead of opting for the usual few residents + guest (though we will be throwing in a few surprises along the way) buzz there is gonna be a pool of 14 of us taking over the reigns, though obviously not all on the one night! Djs from Lunar Disko, Mn To That, Electric City, Test, Slowburn, Loudmouth and Moons will share the controls over the coming months. It's all free and both the basement and bar areas are pretty neat so hopefully we'll see some of you over the summer months and hopefully further on into the year. This Saturday's line up can, of course, be seen on the flyer above…
Moving on, last Friday I took my first jaunt over to London for some gig action since 2010. It'd be an understatement and a half to say I was pretty damn excited about Jeff Mills' debut performance in the intimate confines of the main room in Corsica Studios. In a deft move the venue decided that they would not be opening the whole club, something that would have resulted in everyone trying to get into the room Mills was playing, causing extreme discomfort. Instead, the capacity was limited to what seemed on the night to be little more than 200 people. There would be no warm up, just Mills all night, with a planned set of some 6hrs, as part of his 20th Anniversary Axis tour…
I arrived at 11pm to find the venue slowly filling up with Mills already behind the decks, with strains of ambient and slow-paced deep techno emerging from the speakers. For the first hour or so he wasn't really up to much, more so filling up the space with sounds while the crowd gathered. As bodies started to move on the floor he got on the mic giving a quick introduction to what he was gonna do for the night, whilst also declaring his committed dedication to techno, and asking us to go with him. It added a really nice personal touch to the night, already giving off the impression that we were in for something a bit special.
The first segment of the gig was very much a straight retrospective of classic Mills material and the odd other non-Mills cut such as Rob Hood's "Minus". It was a hell of a lot of fun and it was instantly noticeable just how up for it the crowd was, the atmosphere was electric from the word go. There wasn't folk there to be seen/hanging out in the smoking area or bar, they were on the floor giving it their all.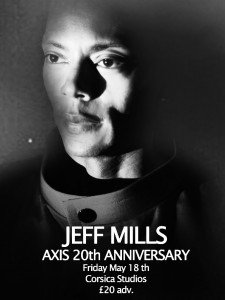 It was when Mills stepped up to the 909 for the first time though when things got really interesting. For anyone who has been following Mills over the last five years or so they will have seen a marked difference in his performances compared with the frenetic chaos of yesteryear. As with his productions his dj sets have taken a much more abstract and deeper route, all the time channeling his unique vision of what techno is. It is kind of hard to describe what happened for the next few hours. It was hypnotic, insanely intense, pummeling, yet at times with the most wonderfully subtle, even light, touches – especially how he incorporated the 909  - that it generated a somewhat psychedelic and wholly entrancing experience. It felt like my feet were literally glued to the floor and any sense of time or space just seemed to disappear; it was anything but your average techno performance. I saw Mills go down this route somewhat in Detroit in 2009 – when it was also quite brilliant – but then it alienated some of the audience while here everyone was with him every step of the way. The odd time I was able to drag myself off the floor to have a cigarette I was so disorientated that I barely engaged with anyone and got straight back inside. I just don't know of anyone else who can take techno to such a deep space for such lengthy periods yet make it quite so intoxicating and addictive.
As is the case with any Mills performance it wasn't note perfect. The odd cd skipped, some of the layering and mixing was out of place – and really it was hard to tell where each element of some of the segments – saying he was just straight up mixing track after track into each other does not do things justice – was coming from but there's always been a very human element to his performances. This raw element has nearly always stood side by side his unique way of approaching djing, and nowadays he incorporates the multiple decks/909 to work small samples, washes of strings and ambience, drum tracks and percussion into one individual whole. I rarely buy any of his music anymore because it sorta seems pointless to try and play it after you've seen him deconstruct it and rebuild it in such a distinctive manner. You never see him taking a break for more than a few seconds.
He slowly but surely came out of the ultra deep bizness – which is where he utilises what I talked about above the most – with a surprising curveball of Shari Vari before returning to his trademark techno assault, yet you just never knew what was coming next.  The smallest, most perfectly timed addition of a hi-hat off the 909 would send the crowd into eruptions out of nowhere. Even when he played Donna Summer's I Feel Love he couldn't do it straight, instead bringing the track slowly in over a solo 909 section, giving the song an extra layer that didn't seem superfluous. Come 6am it was time for him to once again get on the mic and he was visibly moved by what had just taken place, acknowledging that it was one of most special nights of his career. And instead of stopping he treated us to some more old school Mills, taking things back to the seminal Waveform Transmissions period, and in doing so he showed just how well he had held the audience captive over the night as there was still the same energy on the floor at 6.40am as there had been at midnight.
There was a time in the last decade when I thought Mills was all but washed up. His performances were lacklustre, his track selections boring and he had seemingly lost his way. But since re-focusing his performances nearly solely on his own music (he has recently stated that he has little interest in what music other people are making), changing his approach on how he presents it  and, when given the chance, having complete creative control over the venue and the night he has once again become one of the most singular and interesting artists in dance music. In the last year or so I've lost a lot of interest in seeing "name" djs, too many just don't deliver what I want in a night out, and I'm not even sure if I thought I'd ever have a night again where I'd be so invigorated by a single dj's performance, especially not one who's been at it 30 years. Night's like this come around very rarely and it's going to live long in the memories of everyone who attended.