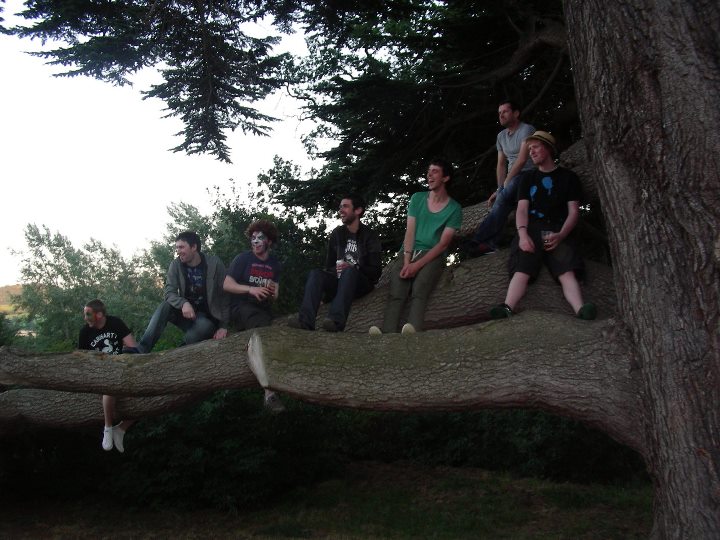 After my first trip to Baskerville Hall last summer there was little chance that a return trip to Free Rotation wouldn't be on the cards. A festival that is as much a massive house party than anything else, for those who like their house, techno and bass music at the deeper end of the scale it's about as much fun as you can have. For all the constant gripes about it's "exclusive" membership system it makes it one of the friendliest, warmest and safest festival experiences you can get. Oliver Warwick over at Junoplus has already given a run down of his must sees and seeing as I don't have to have any journalistic integrity 'cause I'm just a nerdy blogger I'm gonna do the same thing now…
I've managed to miss John Heckle play in Ireland 4 times at this stage so he is definitely one of my must-sees for the weekend. His roughed up modern take on Chicago house is one of the most interesting developments in that realm of house over the last few years and his live set comes with hefty expectations; an energetic and intense hammering of the machines seems to be on the cards, with lots of new material on show too.
Come Sunday evening last year I was starting to get a bit of house music fatigue at FR but XDB managed to wash it all away with a sublime set that saw the crowd eating out of the palm of his hand. Every track seemed perfectly chosen and his knowledge of the crowd and space he was playing with gave us a very special couple of hours. More of the same this year should be just as special.
When Kassem Mosse came to Dublin last year I only managed to catch the last 15-20minutes of his set and it had me reeling for more. The grubby, heaving sounds he coaxed out then were really inspiring, if anything proving that you don't have to bang it out to move the floor at peaktime. Going on the glimpse of that show we can expect plenty of unknown, improvised material, the type of show Deadmaufive would have trouble understanding.
I think the Hessle Audio showcase last year was going on while I lost my shit to Surgeon for the zillionth time (can't blame a guy for being consistent every time he plays) so out of the whole Bass element on show I think these guys are gonna have to be top of my must see list. I'm not into everything Hessle does but they know their shit and seem to know how to connect the dots properly between the past, present and the future.
Free Rotation doesn't just rely on the marquee names throughout the weekend – considering it has residents such as Tamo Sumo and Shackleton, it could most likely fill the whole line up with big names – and the likes of Jane Fitz, Sam Watson and Rick Nicholls will no doubt stand their ground easily amongst the others. I find that it's often some of the smaller names, when given a stage such as this who push the boat out that little bit more than the touring jock who's been playing the same tunes for however long on their jaunts around the world. Having said that, most realise that the FR crowd knows what's up and doing shit half-arsed will see your dance-floor respond accordingly.
On top of that I still haven't mentioned the Juju & Jordash collab with Move D – Magic Mountain High, Delta Funktionen, Dj Deep, Fred P and A Made Up Sound  amongst others who should all be A1 too. And of course the big question is, how many sets will Move D manage to squeeze in this year?

And that is that; looking forward to seeing some familiar and new faces along the way, in between all the dancing, mouldiness and general idiocy that goes hand in hand with let been run loose 'round a mansion for the weekend. And if all else fails, you can just go climb a tree and sit up there for the weekend.
Those not in attendance fear not,  it's not the only gig on this weekend. Tr One will be launching their next single, which I reviewed in my last post, at the Twisted Pepper this Saturday night with another of their boombastic live sets. If yer in Dublin any excuse you have for not going is kinda rubbish.
Also Orbital, Snoop Dogg, Jamie Jones and Richie Hawtin are playing in London. Woohoo.
Last and most definitely least Mr NCW (I jest of course) is making a return to djing next week in London town in The Old Blue Last in Shoreditch. He's gonna be playing at the 2nd Birthday party for Streets of Beige on Saturday the 14th alongside Marco Shuttle who has done some tings with Clone I think. All the info on the party can be found here  
NCW will also be making a return to Apartment Records in the Autumn and the next post from myself will have some more details – and sounds – to do with it. Until then, you can still go and get the first 3 releases in most of those vinyl emporiums on the interwebs and in real life.