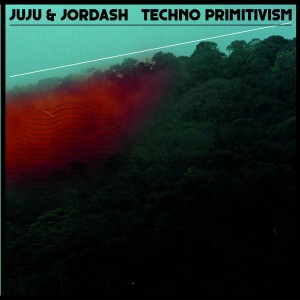 A friend of mine is of the opinion that an album doesn't really need to exceed about 45 minutes or so in length. I'm inclined to think 60 as a better marker. Gal Aner and Jordan Czamanski would argue against either going on the latest expansive addition to their catalogue. With Techno Primitivism they have delivered a triple vinyl, 15 track album that clocks in at just under an hour and a half. Crikey. Juju & Jordash don't really do short n' breezy. Theirs is a heady concoction of dub, house, techno, jazz, industrial  and krautrock influences, often within the one track. On paper it sounds like too much to take but no one really makes music like them, they are one of the more genuinely original, envelope pushing acts working in electronic music today.  But how much of their dense, uncompromising sound can we take in one go? Techno Primitivism is just that test.
To break it down a bit, the album can be roughly split in two. Gladly it isn't quite in the predictable banger followed by ambient filler followed by banger layout that for so long has brought a certain amount of derision for the dance music LP.  One half, roughly the middle section, is the more dancefloor focused, while the rest generally sees the Jujus in more esoteric territory. What marks this out is that the latter is nearly often where the Jujus are at their most interesting. Nearly.
One would think that on delivering such a monolith of a release, the artists would ease their audience in. Their answer to that is a 15minute-plus triptych of techno, jazz, drone and krautrock. The creeping density of Stoplight Loosejaw is an unsettling and engrossing opener. It's freewheeling approach to sound defines, for me, the concept – if there even is one – of Techno Primitivism.  It sounds like they've taken the electronics out of the studio and into the wild. It then breaks into the equally uncomfortable drone of Diatom, keeping us on our toes with some snippets of jazz piano before the loose guitar licks and crashing drums of Backwash brings it to it's close, practically stripping the electronics away completely. It's obvious to see from this that we are in different territory from their last album, which opened with the hugely catchy Deep Blue Meanies. From the get to you are either in our you're out.
We get a breather in the form of Rogue Wave, a sunkissed retro synth jam that, for me, could have been expanded on a little bit, and it's a small issue I have with parts of the following segment. Their excursions into more direct 4/4 material is given all the room it wants while a few of the shorter cuts frustrated me as I would have liked to have heard more of them, to see where the guys would take us. Does this mean the album should be even longer? No. But I could have done without Powwow and more of Slowboat to Haifa or Peligroso. The more delphic explorations of Shakshuka Dub, Shrublands and Way of the Road are thankfully given all the time they need and the results are three of the main highlights in an album brimming with quality. Way of the Road especially closes the album out on a wonderfully sanguine note.  But let's step back a bit for a moment.
Dr Strangepork follows the shortlived Peligroso and it's the exit/entry point of the two parts of the album. It's a classic piece of Jujus deep weirdness. They take some dub and house sounds and channel them into a soundtrack to some sort of off kilter, macabre drama. The type where you don't see any shocks, that it's all implied. The smallest of inflections send little shivers up your spine and the backdrop of droning monotony only makes things more eerie. It's got a captivating groove of it's own that drags you out of the experimental wanderings of the first part of the album into the next…
Over the course of the next 4 numbers we see them focus their efforts on the dancefloor to excellent results. Track David Would Play is a hypnotic deep house cut buoyed by a simple refrain that controls the song beautifully as distorted percussion and a buzzsaw bassline teases in the background; an instance where the more intense elements aren't allowed to take centre stage. Echomate sees their droning bass engulf it's ethereal melodies but it's near jacking percussion focuses the groove more so than the dankness of, say, Stoplight Loosejaw. The title track is an equally heavy excursion, once again slowly stepping up the pace though it takes a little bit too long to allow the strings and winding bass to break through and it was a noticeable moment during the album where fatigue did start to set in. I've taken time to listen to the album in shorter segments and listening to it then it was a much more captivating endeavour, it simply suffers from it's positioning in a full play back.
It's as if the Jujus realise this and the pay off is Loosey Goosey, the album's most direct and euphoric jam; they've even managed to make the 707 not sound tired. They fully give themselves over to the floor with brilliant results. It may be one the album's lighter and more accessible moments but it doesn't make it any cheaper a thrill.
And so we come to the end, with the final pairing of Shrublands and Way Of The Road. The former is a stark, industrial-tinged monolith of drones and washes of dissonance. They could have possibly finished things there, as it brings us full circle to the album's intense opening but Way of the Road's deft mix of 80s synths and cruising dub is, as noted earlier, a perfect coda to send the listener on their way.
You won't digest this album on it's first listen and you'll probably still be someway off by the 5th or more attempt but it's a positive reflection on how bold a move this LP was on Juju & jordash's behalf that each time you find that something new to focus on. You'll probably also find your own flaws in it too. For all it's scope and depth there were still moments where I found myself wanting more and then as it progressed wanting a tiny bit less of what was on offer. While maybe a moot point, it's hard to know if this will open the Jujus up to a whole new listenership but that's probably low down on their priorities. If given the time it deserves it delivers one of the most satisfying and interesting "dance" long-players in recent times and their continued pursuit of new ways to explore dub, house and electronica can only be commended.