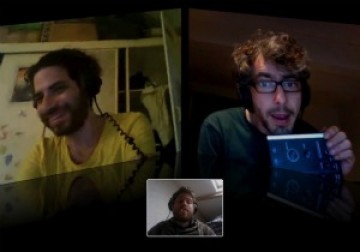 And so we near ever closer to the end. For any long time readers of the site you'll knew we've got mad love for Juju & Jordash. In a world of copycats, hasbeens and never-will-bes these guys are the real deal. We asked them to help close out the site and they've obliged with a nice lil exclusive for us.
To those who have followed their career trajectory you'll be aware that for a couple years they have been teaming up with the inimitable Dave Moufang, aka Move D to become Magic Mountain High. Don't let the name fool you, they aren't a prog rock tribute act, instead the 3 of them team up for live, totally improvised performance (plus a few releases), wherein they plug in a load of boxes, guitars, keyboards and what not and just go for it. It's a lot of fun to watch and to dance to; when they slowly lock into the groove, when it nearly all falls apart and when it just bangs.
So, here we have one of their MMH live recordings, fresh off the mixing desk. Recorded live @ Tape night @ the basement of Trouw, Amsterdam Feb 28th, 2014.

It's STREAMING ONLY, so no asking for a download. This is at request from the guys.
For the nerds, here's the gear used: Anyware Instruments Tinysizer / Doepfer Dark Time / DX11 / Juno 60 / SH101 / Poly800II / BassBot / Pocket Piano / Gibson SG / TR-909 / TR-707/ TR-606 / MFB 522 / EHX looper.
And finally: Magic Mountain High want to thank the TAPE AMSTERDAM crew for having us and creating the vibe. Olf (Interstellar Funk), Jeroen and the rest of the TAPE crew BIGUPS! FB page: https://www.facebook.com/tapeamsterdam