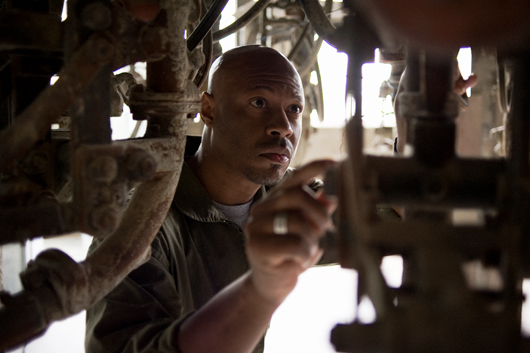 My latest mix is for the relatively new Fallow Media site, an operation based out of Dublin that contains plenty of excellent long form writing and other media that has a focus on the arts in all its various shapes and forms. I've delivered for them their first podcast, which comprises solely of music that has been composed by Robert Hood  – including a couple of collaborations and remixes of his music. Hood's music often litters my mixes and sets and I own more music by him than any other single artist. For me his music is the pinnacle of techno, stripped to its bare elements yet brimming with funk and soul.
I did have the idea to do this mix for a while but I finally got down to it at around 3am on a weekend night not too long ago after leaving a techno party where I  found the music un-involving, staid  and lacking in funk even though quite a bit of the aesthetic of what was being played was clearly influenced by Hood's seminal and idiosyncratic style.
Hood has so much material that the mix could have come out many ways but I had no concept for a specific way to present it. As such some records just get flipped over, some areas – Floorplan / Monobox – aren't present at all and I think the latest release featured comes from about 2005. I haven't bothered with a tracklisting either.
There's also a pretty funky little animation to go with the music based on the artwork for the repress of Minimal Nation
PS. Some of these records were in desperate need of a wash but getting the cleaning solution out wasn't on the top of my priorities at that time of night.