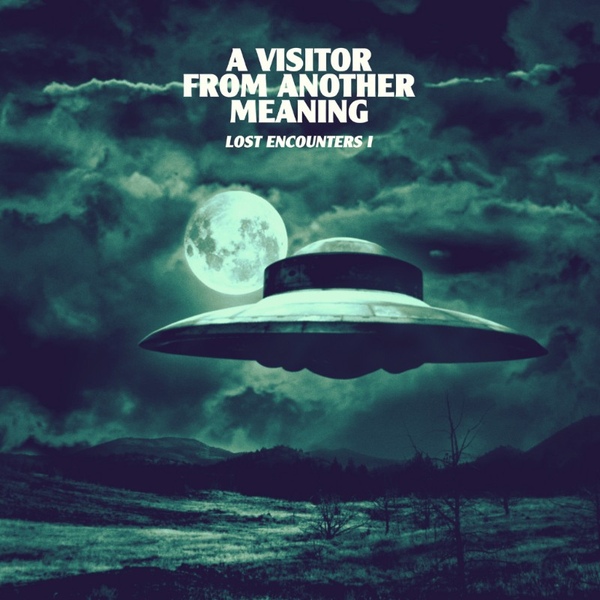 A Visitor From Another Meaning – Lost Encounters 1
Stylish Dutch label Bordello A Parigi kicks off 2016 with two native masters; firstly a welcome return from Alden Tyrell's rarely seen A Visitor From Another Meaning alias. Recent years has seen Tyrell move away from his electro and Italo influences into the realm of classic Chicago influenced house, which generally left me cold. Tyrell is a master craftsman yet I always felt his updating of the Italo sound was far more successful than those house excursions.
As with 2014's collaboration with Fred Ventura, "Neon Lights", Lost Encounters 1 shows that Tyrell's knack for writing huge, catchy riffs hasn't dissipated over the years, with A side cuts "Dance of the Happy Shadows" and "I Rarely Talk To Strangers" especially displaying a skill for hooks that would make one think that in an alternate universe he could be a mainstream pop producer par excellence.
The 808 comes out on the second side for two spikier compositions, with J is For Jupiter 1 recalling the earlier days of Italo more so than this his usual takes on the genre, and it sounds a bit more derivative than usual, event though there's no denying the earworm properties of the key-play. The Ep only really falls down with J is For Jupiter 2, where the recall to De-De-Mo's "Cause I need You, Cause I love You" is just that little too on the nose. An argument can be made that Tyrell has mined this territory enough now, but when faced with a song as irresistible as "I Rarely Talk To Shadows" all your defenses come down.
Model Man is another rarely seen alias, this time of Den Haag's electro maestro Jeroen Warmenhoven aka Dj Overdose, wherein he indulges in more wave, soundtrack and EBM excursions, stark electronics that evoke images of spies shifting around in the shadows of  Cold War era Europe. The title of the opening song "Peeking Through the Blinds" highlights this concept, delivering the most obvious dancefloor track on the release, a thrilling 4/4 ride carried by an insistent bass-line and those eerie synth riffs Warmenhoven excels in.
The release goes more downtempo for "Hidden Waves" and "Burning Red", while continuing the same mood as the opener before he moves into more post-punk territory on the prickly "Antidote", with its piano motifs in keeping with the general feeling of paranoia that the whole Ep indulges in until the lighter closer, "Flying Knives".  One of the main pleasures to be drawn from the release is the coherence it delivers as a soundtrack to an imaginary espionage thriller, something the producer touched on before with the Bizarro World LP under the Overdose alias (though that one was more on a horror tip), though here it comes together in a more direct fashion and is all the more rewarding for it.