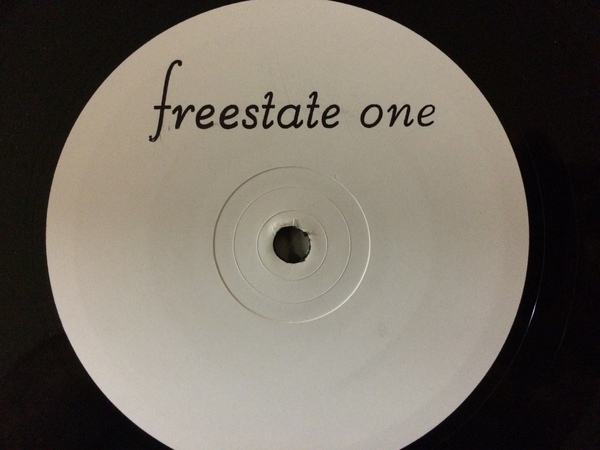 A couple of days ago I posted a white label record with no information on it to my Instagram with the tag "The finest techno record ever to come out of Ireland…?". Speaking subjectively I will stand by that statement when discussing Rob Rowland's first Freestate record, which surfaced some time around 2000/2001 and then sort of disappeared into the ether. For a certain generation of Irish djs – and some abroad no doubt – they will know this record and Freestate Two as Rowland was one of Ireland's most notable techno producers at the time, but while Freestate 2 is a record I had oft seen in second hand stores around the city the first one was never to be found.
I wasn't aware of the record on its release and I only finally bought it in the last week, after many years of waiting for it turn up in said bins. I think we all have those records that we are less inclined to buy on Discogs in the expectation that a cheap copy will turn up locally, but upon hearing it in a mates house recently I realised that I had to own this wax ASAP.
Espousing the usual urge to sedate curiosity I have contacted neither Rob Rowland or the folk behind D1 Recordings (whom Rowland generally recorded for and most likely looked after its distribution) to see how far the release reached but from my vantage point – and it being in only 25 Discogs collections – it doesn't seem too far.
By todays standards the cuts on it are fast paced but with regards the A side cut behind the throbbing bass is a lightness of touch that gives the record an immense power as it relentlessly builds and builds into a thing of sheer beauty. Instead of talking more about it I'm going to let it speak for itself – but if you need a bit of convincing, Mad Mike Banks was allegedly a huge fan (it was cut in NSC too). I had to upload it myself on to youtube so you'll have to excuse the poor quality of the rip, it is not something I usually do with my records and I don't have a proper set up (and my needles need changing). I've decided to leave off uploading the b-side, for those with interest can seek out the vinyl itself, of which a copy or two are usually knocking about Discogs – and for a reasonable price.