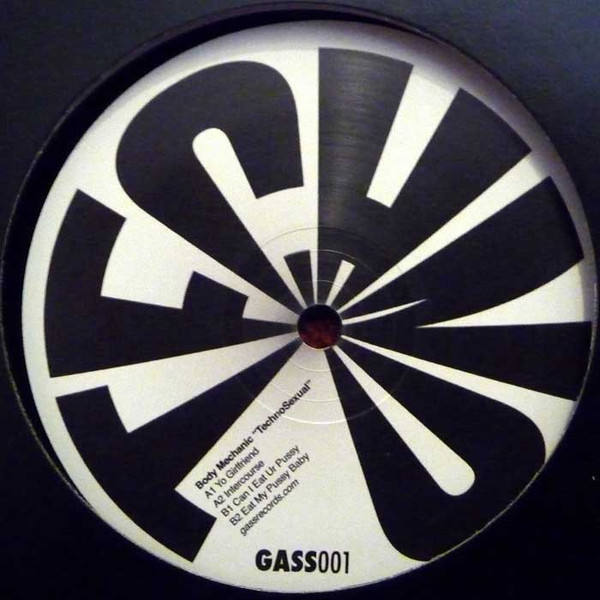 It sometimes feels like Discogs is most notable for the constantly inflated prices of many old records, but some genres and oeuvres have so far been fairly immune to this at times most frustrating of cultures. The ghettotech sound of Detroit is one such, most notably the back catalogue of Mr 'De's Electrofunk label which released a slew of fantastic records mostly by the aforementioned and  Dj Assault, amongst others. The high paced funk of the sound has been replaced today by the more abstract twist and turns of the footwork and juke guys and with no revival on the horizon it can seem like its been lost in the ether.
Body Mechanic – who first released on Electrofunk back in the early 00s – hasn't had a release in many a year but has come out of nowhere with "Techno Sexual"  on new imprint Gass Records and its a curious record for 2016. The pace has dropped on the productions but the sleaze and funk that was a cornerstone of the sound is still intact. So, yes, this means plenty of ridiculously sexually explicit lyrics. Talk of fucking bitches, big breasts, requests to eat pussy (On ,um, "Eat My Pussy", by a female vocalist, counteracting the constant braggadocio of the other songs) and much lewd talk of why your girlfriend is cheating on you and where dicks are gonna be placed and so forth.
Without getting all think piece on it, one does wonder how the lurid and cartoonish explicitness will go down in the current climate of overt Political Correctness. It was always hard to tell how tongue in cheek the lyrics on the more extreme ghetto tracks were and this release pulls no punches in that regard. Hip Hop still has no issues with talk of bitches and money but its something of a rarity in dance music circles now. Juke and footwork guys do use similar refrains from the old chicago booty house cuts – the precursor in some ways to the likes of Mr 'De – but even some of them are toned down. Its something to think about…
Regardless, the jams on this and the flow of vocals,have the same insistent hooks as before with a greasy low-slung groove that I find hard to resist. Be it the grinding acid on "Yo Girlfriend", the cheeky sampling of Hipnosis' Blade Runner (End Theme) on "Can I Eat Your Pussy" or the simple funk bassline of "Eat My Pussy, Baby" there's a certain update to the sound of yore. "Intercourse" is the most traditional, uptempo electro cut on it with its hilarious voice box vocals that are nearly polite in their request to perform the beast with two backs.