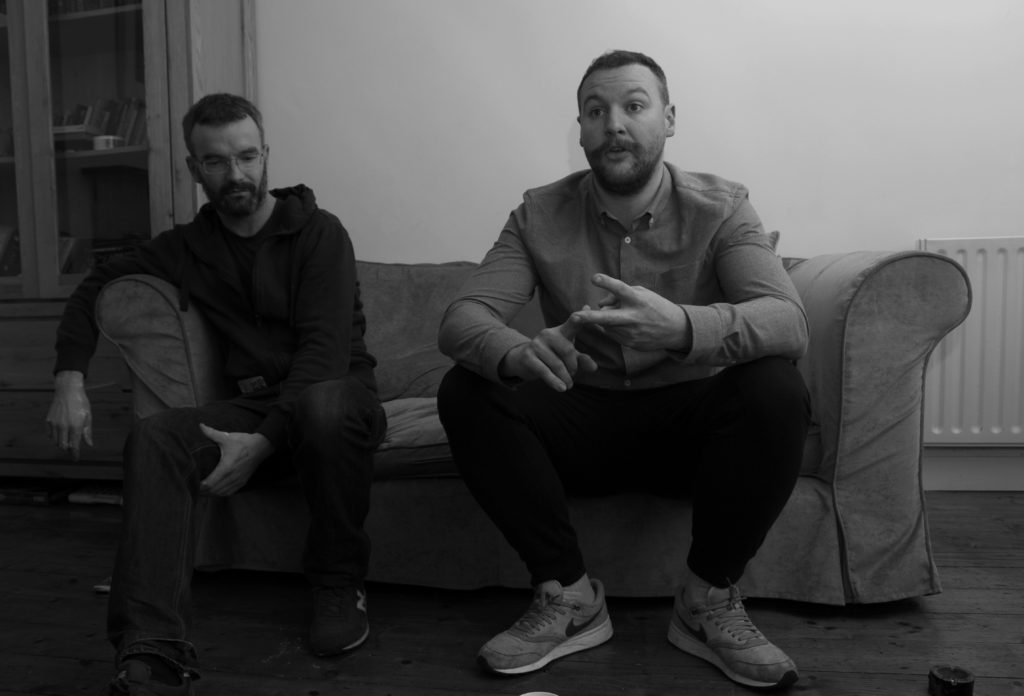 Even more sparse than our mix series is interviews with artists / djs, but sure what of it. Earlier this week I spoke with Jack Considine, one half of the Irish band February & Mars (alongside Carl Ramberg), who released their debut self-titled LP on Don Williams' Mojuba imprint in October of last year. For those unawares of the guys so far, their music displays a broad set of influences, taking in house, rock, blue-eyed soul, electronica, pop and disco and while predominantly a duo they have recently branched out into a 4 piece for live shows too. We got some samples of the studio material and live business to go along with the chats too…
F&B have been pretty press-shy so far, so best to kick this off is with a bit of background info on the project.
It's not a project, its a band brah. Myself and Rambo (Carl Ramberg) have been the core since its inception. It kinda rose from the ashes of a, shall we say, ambitious attempt at a grunge electronica fusion group we were both in called The Dukes of Decent. That band broke up due to the sheer weight of said ambition, but Rambo and I kept making music, buying old gear, 16 track recorders, shit like that, putting delays on everything, and we thought it was class! Never really thinking too much would come from it. Then I played a few tracks For (John) Daly, he was feeling it, and said he wanted to put out some stuff on Feel Music. Happy Days
A few months down the line from that release  the 3 of us started working on the debut album with Daly on production, which in his case would have bled happily into some song writing and the like.
That Feel Music 12" came out in 2010…
Yeah. We started gigging that material with hopes of it being released around the same time, but with this kinda macro version music industry we're all in, shit don't always work out that way. There was a bit of label jumping, confusion, giving up, and lots of time passing. But then this German feen sat beside me on a boat on the way to a gig, and he put the fucking thing out. Fair play Thomas Wendel (aka Don Williams).
So from the start of recording the material, to it's release last year, you're talking 4/5 years of waiting. Rambo and I decided we weren't going to flog the same material for that long so we took a creative detour. We pulled all album material from our live show and came up with "February & Mars & The Mechanics". All hardware, like 12 devices, midi cables all over the shop, no vocals, and banged it out for a year or 2 to fill the space. Played some top gigs, and some shocking ones, and when we, and they were ready, we returned to the material.
You wanna talk a bit about the process of recording the LP and how you guys worked together?
If I'm honest, working on the material for this album was the most fun I've had in my musical life. Like, the writing and recording part. It was what you dream about doing when you're a 13 year old learning how to play Something in the Way in your bedroom. 3 good friends, off on lock down in a lodge on a lake for 5/6 day bursts at a time, staying up late, drinking in the afternoon, trying to find new ways of getting roast beef into your gob, doing each others hair, oh ya, and getting deep as any mother fucker has ever gotten into the shit.
So the the main body of all the songs, would have been knocked out in these sessions, and you know its good when it's easy. The workflow was pretty much: freak out when its dark, record everything, watch a few episodes of Miami Vice, go to bed, get up and trawl through the results. Do some of the boring shit, editing, overdubs, eat, then freak out, repeat til done. Return home, feel like you've lost 3 years.
You mentioned Don Williams earlier who runs Mojuba, the label that finally released the LP. Bit of an odd pairing stylistically, no?
Any port in a storm brother, what can I say, we blew the cat away. So much so he swam against the toxic current that is the German techno scene, said fuck the begrudgers, convinced his distro, and off he went. Tidy feen is Williams.
Completing the album also heralded the end of your working partnership with Daly. With the experience of the LP behind you are you more prepared to produce the studio work yourselves now or do you like the idea of bringing in some outsider help. How 'bout you break the bank and head to Jan Hammer's studio.
First of all, that mofo ain't outta lives, and vice versa !!! Sorry John! There's still lots of collaborating going on, lots of projects on the go, and lots on the horizon. But to answer the question, I flirted with the idea of producing, lots of Rambo's stuff is really well recorded and more or less good to go when he passes it over for band use. I invested a bit in my studio, so we'd be better able to pass finished material onto labels etc, but it's a pain in my hole really. Rambo would be more up for it than me to be honest, but thankfully people keep stepping in and hooking us up.
One of the truly great relationships to come out of the Williams connection is ours with Tobi Ober. He actually ended up doing the final mix down of the album. He has the most ballin' studio you could imagine, top notch. Live rooms big enough to record orchestras, every piece of gear on earth, and is a well sound bastard to boot. So he's our Jan Hammer I guess. Hoping to get over there soon and get to work.
Returning back to the live performances, as of recently it's now a 4-piece. How has this changed the sound of the band and its already existing material? Will it really inform the next wave of material?
It's been the biggest influence on the band since Daly, huge. The live sound is so much more a meld of our influences, so much more feel with Paul (Clarke, guitar)  and Alan (Primes, percussion). We can dump any work load on them, and they have the technical ability, the attitude, and the love to take our stuff to another level.  Couple that with our sound tech Frankie, we've removed a lot of the workload we were doing on stage. We're really getting to an audio landscape that makes us happy, and proud. And one which hopefully entertains and engages listeners, because that's what we're all at really isn't it? Trying to entertain heads and turn ourselves on. So the more people on stage, in tune with those principles the better if you ask me.
And we're already writing with the new guys, so they'll become crucial parts of the next journey. To wherever.

The "February & Mars & The Mechanics" period of the band you mentioned earlier, did you ditch that material, or could you possibly see two different versions of the band co-existing side by side?
Well, it's an ambition to be able to play in different settings. The Mechanics stuff was for the club, but when we started to build on that it just got too frustrating. There's a finite amount of times you can plug all your gear into a phono input on DJM before you realize, hang on a minute, this really is shite in a bucket. So we kinda said, okay, proper venues only. And that's been going really well, but we are getting bookings to go back play in some decent clubs abroad, I think that would be a case of surgically removing the stuff from our current set up that's suitable to play in clubs, and combine that with a few tricks I'd have up my sleeve.
From a recording point of view, we're definitely gonna wig the fuck out soon, so it's all in the pot. And I've about 20 hours of mechanics stuff floating around, just need some punk to edit it!!
You guys are from Galway, a tiny city out on the west coast of Ireland. You could say it still has a solid music scene of its own, all things considered and its definitely at arms length from the hype machine. Is it important for you to keep that bullshit at a distance?
Brother, i'll take hype if I can get it. I'm just not gonna go kissing ass, what's the point? Like there's only so many times a feen can stand on a stage in this country before it gets old, so what's the fucking rush! And regardless of what anyone says, 99% of industry heads in this country can only get you on stages in this country. Those stages are going nowhere, but neither are we.
Are you ever tempted to kiss ass? Ever feel the urge to follow trends? The LP's crisp, clean and big sound flies in the face of the current trend for all things "lo-fi".
I thought I was following a trend boss!! We actually found ourselves pulling back a bit from that polished white soul vibe, like we were prepared to go all the way, but it just wasn't us. I think we found a nice balance between The Doors and Christopher Cross. I guess the album has a lot of our childhood influences, and we're not shy in exploring them. But there was an aesthetic that was laid down in those early jam sessions, so we just followed that I think.
Some "industry heads" may not like what you said a minute ago. How much do you care about what is going on in Ireland? Who really cares if you can play the main stage at Electric Picnic at 6pm on a Saturday when no one cares outside of here, y'know.
The game is the game, and some people play it better than others, but I don't think that an indicator on the quality out there. Like how many DJs are there in Berlin? Why? Cause its cheap, and smack bang in the middle of Europe with an airport. Does that mean Berlin has a healthy or unhealthy scene? I'm not saying all Djs in Berlin are bad of course, but there's so many, they can't all be good.
I enjoy listening to live music when I go out, whatever like, trad, bluegrass, rock, weird electronic shit, whatever bunch of young lads pull up into the Roisin (Dubh, Galway music venue) on a Thursday, but I don't think there's much of an appetite for that these days. Hands in the air or nothing, seems to be what's being asked of artists, and venues in fairness.  And it seems more and more bands are chasing that moment, everybody in the room going nuts to a huge drop, like, fuck off.
There's no money around for what we do, and thats cool, but opportunities to play to heads that wanna listen are few and far between also. Although, I have been more or less promised a gig at – Redacted – next year, so thats one good one in the bag!!!! Like its unreal to hear places like Connolly's Of Leap (legendary county Cork music venue) reopening, more of that please. Small venues, nobody getting rich, but shit done right. Electric Picnic can do one.