Unsound Krakow took place over the course of a week this October; it was my first time visiting in 3 years after going regularly since 2010 or so. The week is part music festival part endurance test. There is a gargantuan amount to try and get through for ones time there so I'm gonna try and break it down and touch on everything  from my arrival on Tuesday to leaving on Monday. Sure put the kettle on.  I missed a lot, I saw a lot, I had a lot of fun and also had some extreme pain. Much like my week, the following account is a bit all over the place…
Tuesday / Wednesday
I arrive in late on Tuesday night. Try to blag a lift off Lee Gamble's driver. We all have a chuckle. I  get the train.
Getting off the train I'm so excited I literally have a shit eating grin spread wide across my face for the whole of the 20 minute walk to my apartment. I love Krakow. I hook up with my crew, we discover the city's most amazing Alkohole around the corner from the gaff, I grab a kebab and its bed time. How sensible.
First gig action is Mike Cooper on Wednesday morning in Manngha.  Everyone sits down on the ground. Should have brought a pillow or something. Can't feel my arse for 15 minutes after. Cooper has a lap steal guitar, some effects thingys and a mic. We get an hour or so of mutated Americana, accompanied passionately by his vocals – that get a bit repetitive in deliverance, but hey – and when it hits the spot its rather beautiful. Also wanders off from time to time too but he's got a serious Hawaiian hat / shirt combo going on so its all good.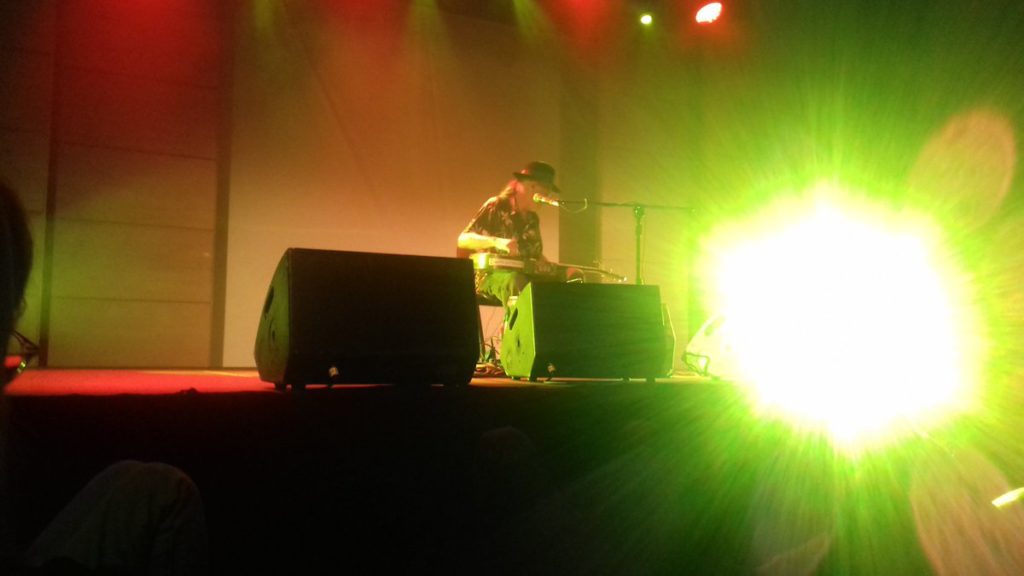 Mike Cooper
We pop over to the Sonambient installation. A fascinating endeavour, the installation doesn't quite work. It's a bit too quiet and the visuals distract. I'm told the Eleh gig on Monday based around this was amazing though.
First talk I attend is on Mark Fisher. I know I shouldn't admit this but I don't know a huge amount about Fisher. I didn't know a huge amount after either. Scattershot and badly compered, Lee Gamble is the only talker who has much of anything interesting to say. One of my crew is apoplectic with anger about how bad it is (he's a Fisher fan). He doesn't let this go for a few days. I was just bored.
I hang around for the start of the social media / public shaming discussion and quickly realise that a) this isn't going to go very far and b) Jlin is an invigorating talker and I just want to listen to her. Time for the annual trip to Ed Red's and a massive steak coma.
Wednesday night sees a return to Manngha for my first major bout of music. No amount of smokescreening and bass can hide the fact that Klein is just playing songs off cdjs. Hmmmm. Whats going on. A few peeps are disgruntled and bored. Near the end she announces that her laptop  crashed and she could only perform a tiny portion of her proposed live set. An unfortunate technical mishap after all, it must have been pretty gutting for her. Still, there is one lad in the middle of the floor having the time of his life.
I've seen Laurel Halo live at least twice before this and really enjoyed her performances, more so than quite a bit of her recordings. I'm not a fan of the new album and this performance was, to be quite brutal, one of the low-lights of the week. Bar one lush ambient sequence with just her vox and a synth the rest is a brittle, boring series of glitches and clicks drowning out her playing, only made worse by a fidgeting, pretentious drummer. General consensus from my crew – bar one who's sunk a double double vodka – is that its not a good time. Excitable lad from Klein's set wanders off  early too. Can't blame him.
So it's down to Giant Swan to save the evening. They come on tops off, lashing the front of the crowd with booze and generally looking like the are gonna own the place before a note has been hit. They are awesome. Soaked in energy they take their cues from the likes of Regis, Surgeon and Waveform era Jeff Mills and pile drive it into a thrilling, brutal and ever evolving live performance that shakes the venue to its core. These lads are going places. I'm especially curious to see if they can catch the fury of the live performance on wax, cause if they can, they'll hopefully get to bring this wallshaking live show everywhere. Early contender for performance of the week.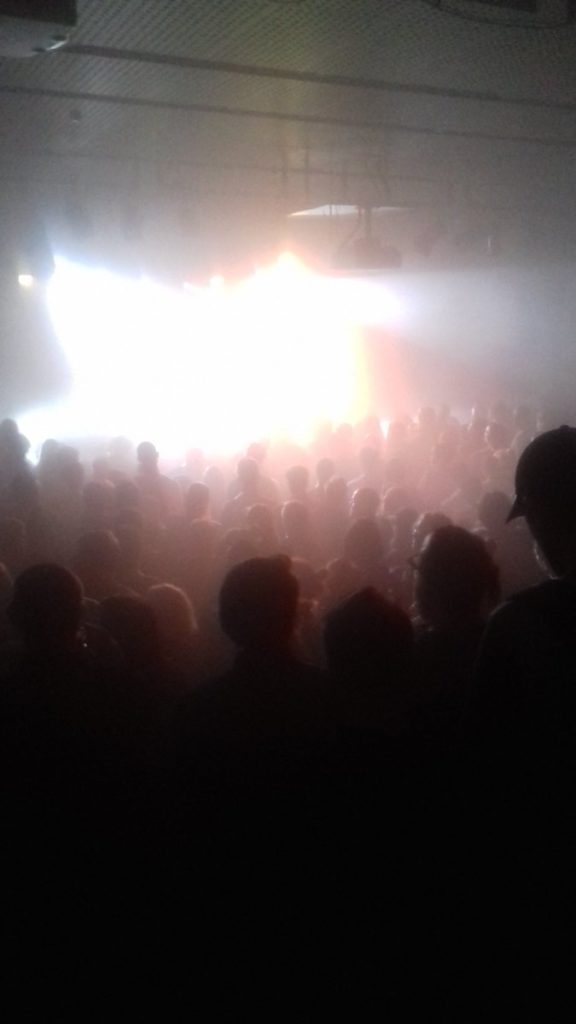 Giant Swan are in there somewhere causing chaos
We hit up the Unsound Karaoke party. Long story short, it ends up with me and my mate performing Never Ever by All Saints, the machine breaks down mid song, we finish it accappella. See you later, Alchemia.
Thursday
Most days start at Charlotte's cafe, an Unsound tradition with its amazing bread, chocolate spreads and…breakfast wine. It's day 2 and two of us have stepped up from glass to full bottle. Lets go.
It's talk time again, Technoactivism the title this time around. It's a BIG step up from yesterdays. Frankie from Discwoman chairs an 8 woman discussion including the likes of Noncompliant / Dj Shiva, Jlin and Avril Stormy Unger. With focused, well thought out questions, each individual answer builds up to portray a broad range of experiences of women working within the music industry in different cultures and circumstances. And Jlin is amazing again. As one mate says "I wanna take her back home and have her be my lifecoach". As this runs quite long I miss Bill Drummonds film / yakking. I hear its very entertaining.
At the beginning of the week I joke that because there are 3 performances of Bad Weather that its too much choice and we won't see it. The final performance is this evening. We don't see it.
Time for a visit to the awesome Kijow Centrum cinema for 2 A/V showings. First off is After its own death a delicate portrait of a community in Siberia. Elegantly shot, especially the portraits of the locals it gives a great visual insight into a world alien to most of us. Its noticeably affectionate in its portrayal of a harsh environment without being sugar coated. The music is by Grouper. You can tell its Grouper.
This is followed by Híbridos, an altogether more unpleasant experience, again giving us an insight into a world alien to many of us, that of spiritual rituals in Brazil. This film angers me, choosing to focus in on the darkest moments of many of these multifaceted rituals, it gives little context to what is going on bar for us to indulge in extremely personal incidents with Rabih Beaini's efx and music serving only to heighten the obvious discomfort the people being portrayed are feeling. This is exploitation cinema masquerading as high art and leaves a bad taste in my mouth. Let's wash it out with some mint vodka, hit up the Hotel Forum and dance.
Hotel Forum will be our home for the next 3 – late – nights. Business can start getting hazy from here on in and the endurance element kicks in. Lets do this.
Pharmakon: Dull as dishwater, even on Room 1's monumental rig. I'm told by someone its lacking from previous performances they've seen. I'll have to take their word for it and stick to my Whitehouse records.
Karen Gwyer: There's no better sign than my arse involuntarily shaking. I'm a big fan of Gwyers new album and this is a killer live set, full of groove, dynamics – even with speaker issues for the first 15 minutes – and its got the party going. More of the crew are arriving, we've discovered a "mesc vodka" been sold on the sly at a bar, we are warned not to down it in one go. Lets go, lets go. Sideways.
Varg: Attempting the disaffected standoffish performance is so very hard to get right and he gets it wrong. Sure you look cool smoking fags where you're not supposed to and he has a few good ideas and sounds going on but it gets boring and annoying quickly enough, and that was before he started playing trap.
Tzusing: My head isn't in the right place for this now. Turns out I'm not the only one. Time for a drink. Siiideways.
Nina Kraviz / Umfang: I head in to get a good spot on the front left ledge for Umfang and Kraviz is bringing it. Drops Hieroglyphic Beings "4 the rave bangers". Rave mode engaged. Umfang hits the spot; sleek, fluid and hard edged techno delivered brilliantly. About an hour in she steps it up about 10-15 bpm which I'm not feeling as much, and it hypes up the crowd way more than the first hour which annoys me a bit as what had gone before was so good, so I skulk off.
Friday
Breakfast wine has now become a necessity. Clears the head. Whats up Weekend Unsound. My crew are done with the talks and all that business. We hop in a cab out to Nova Huta for Lenark Artefax and Lee Gamble, a tale of two very very different sides…
Artefax starts off a bit Autechre-light. C'mon lad, step it up. And boy does he what. Slowly the performance evolves as his own vibrations, grooves and weirdly comforting yet hard edged streaks of freaky electronics take centre stage, taking control of the crowd. Aided by brilliant visuals (always one of the festivals strong points) a centre-staged psychedelic monolith that feels like its expanding along with Artefax' performance, it's a pretty fucking astounding debut.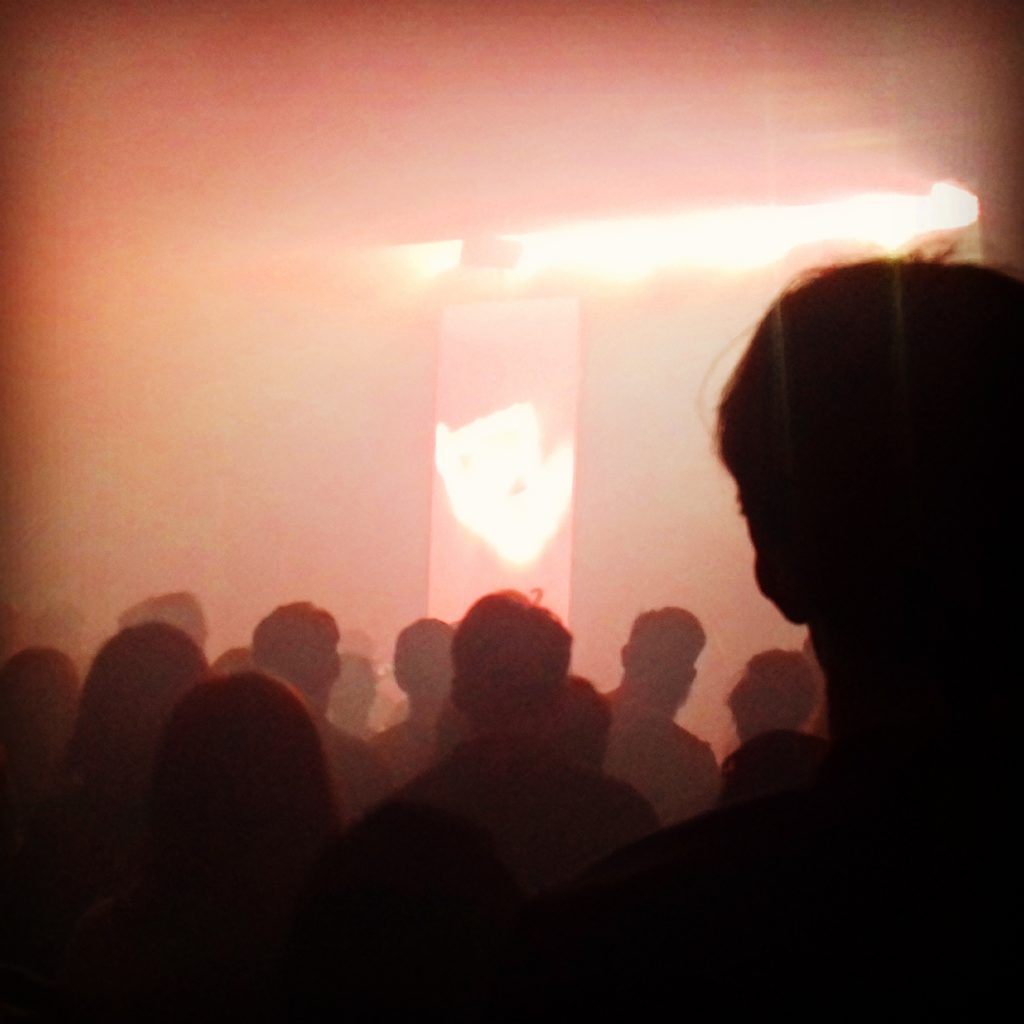 Artefax' monolith
Gamble starts off strong, a plush, emotive refrain kicks things off with some stark noises that surely devolves into mostly stark noises, what sounds like an F1 car recorded from a a mile away, some quotes that flash up on screen too quickly to read and an overall aura of…boredom you can feel vibrate off the crowd. Whatever the aim of the set, it doesn't seem to connect with anyone I converse with. He finishes with ten minutes of chopped up jungle that doesn't engage an already lost crowd. Alongside Halo, this is the lowest point of the festival for myself (well nearly) and most of my crew, especially when you know these are capable hands.
One minute I'm going to Einstürzende Neubauten, the next I'm not, the next I am. Have some mint vodka. This goes on for about 20 minutes in my head and I somehow, vodka aided, make my last sensible choice of the festival and decide to head back into the city and get a decent meal and ease in to round 2 of Hotel Forum (nb: I've seen Einstürzende Neubauten before and enjoyed it immensely, but y'know what yer gonna get innit). Ben Frost was playing alongside them. Being a regular visitor to Unsound I've clearly seen Frost at least 11 times before.
We ease into Hotel Forum by gathering in a mates plush boudoir and lots (LOTS) of shouting ensues about music and tings –  notably Miss Kittin's Electroclash Muzik mix –  for a couple of hours before we go and actually listen to some music properly.
Rainforest Spiritual Enslavement: The latest, terribly moniker-ed project from Dominick  – Vatican Shadow – Fernow is not what one expects from this man, in that it was extremely boring. More rainforest than anything else I last 30 minutes of uninspired dub that goes nowhere. Someone says it livened up later but he'd had enough of my time. I could be out the back talking shite about sailing or old friends selling new friends a belt. Exactly.
Zonal & Moor Mother: Enough with the dicking around outside. Zonal is The Bug and Justin Broadrick and the best way I can describe it is that it sounds like what you'd expect those two to sound like together in 2017. Then Moor Mother took the stage and off we go, straight up to another level. She'd clashed with Gwyer the night before solo and had heard stellar reports; this was defiant, exhilarating Mcing. Wow. One of those performances where yer tingling with electricity after.
Livity Sound: Everyone was talking about the Dj Bone / Stingray B2B as it seemed like such a weird combo, the 2 djs having such defined styles of their own, how could it work coherently or generate something unique? Reports seemed to confirm that it didn't and a crew of us were too busy wigging the fuck out to Livity b2b2b of Kowton / Batu / Peverelist to care.  'Cause I was totally hammered at this stage and getting notions about all this djing bullshit I put my back to them and watched the crowd instead. Most notably, the flow of the 3 of them was so on point that I had no need to see who was playing when or what. Serious vibes and another big highlight of the week. Pangea's Lolletta Holloway remix nearly had the pants burnt clean off me. No idea which of them played it either. Having mislaid my jacket the night before it was time to mislay my wallet. Got it back 'cause, despite all the black beeny hats, the Unsound crowd (and my mates) are super sound.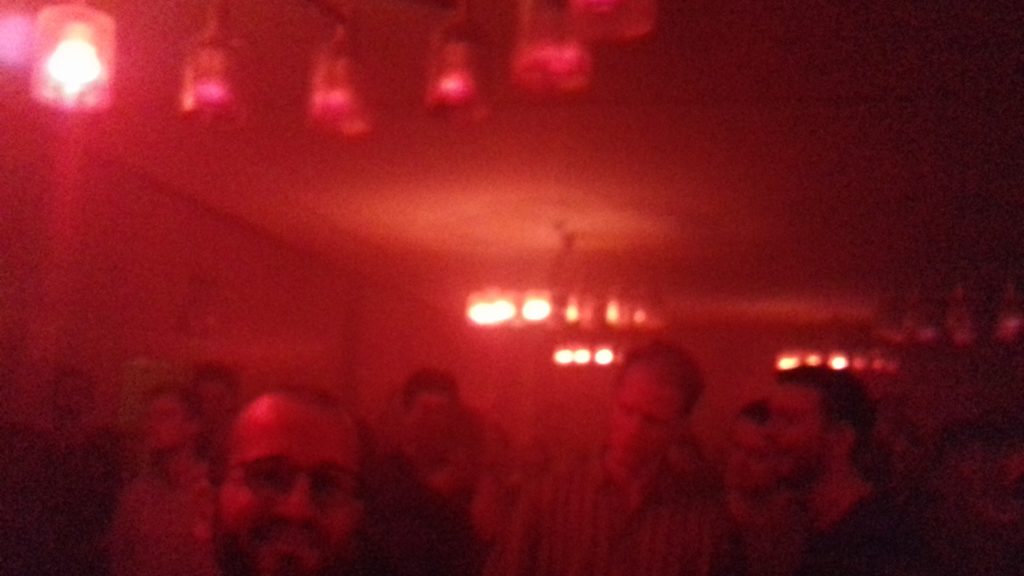 Look how happy that lad is during Livity Sound crew
Noncompliant: Retrieval of wallet perks me up and decide why would I go home now. Its only 6am. FFS. Also hearing Steve Rachmad's remix of James Ruskin's Work (aka the one with the bottles falling down the stairs) rattle in from Room 1 meant it was time for some of that midwest business from Lisa Ess. Did she play Green Velvet – Flash? I think so. Closing brilliantly with some proper Detroit-style electrofunk, that segment ended too soon for me so we went back to the apartment and stayed up for fucking hours, enjoying ourselves. Of course.
Saturday
The day to sleep through all the day time activity so. Not bothered about missing another Robin Fox lazer show – again, I've enjoyed one before – the combo of it being on in the Engineering Museum, a venue so uncomfortable I'm sure its helped with the onset of arthritis in my knees over the years, it was regrouping time (more vodka, more vodka and some black pudding) before round fucking 3 of Hotel Forum…
When it comes to festivals as I get on in years I'm less interested in running around trying to catch a bit of everything. I prefer to settle in to full sets, or at least give everything a decent go, so you may be looking at what I've seen and compare it to what was on show and go, huh. But so be it.
But that doesn't really explain how I saw so little on the final night of Hotel Forum.  I'm putting it down to a combination of a very late arrival and the distraction of the Secret Lodge jazz & cocktails (A room opened up downstairs for one night only).  The main focus was to catch Jlin, which was suitably awesome. If Unsound 2017 has showed me one thing its how fucking boss Jlin is. She's the antithesis to a wide ranging scene one could call "dance music" that has become, on the festival front especially, increasingly self absorbed, greedy and uninspired. Indeed, Unsound continues to do its best to push back against this and after a few years away it's still bringing it.
Jlin and drunken reflection complete I make a beeline for Intergalactic Gary. A dj I've seen so many times that I really could have gone elsewhere throughout the night but he's one of my favourite djs for a reason, and like Livity the night before and Umfang the night before that he had me glued to the floor. Once he finished there was some more tomfoolery, a recovered phone (3 out of 3 on the property loss front each night at the Forum. Big ups me.) and a vague memory of hearing Avalon Emerson in the distance, someone I'd meant to put a bit more effort in to catching. I'm now awaiting a comment that I was front and centre for a big chunk of this that I can't remember. Ahem.
And so, another long story short, this was the end of my Unsound. After taking a minor stumble earlier in the night I rounded it off which a massive face plant to the ground over my ankle, late on Sunday morning back in the city.
My main act to see for the whole week, GAS,  was on Sunday and through a combination of a massively swollen ankle and an alarm clock set wrong, lo and behold I miss my main attraction. Opinions ranged from pretty good to amazing. Typical.
The End
As I lay in bed on Monday morning in quite a huge amount of pain I was coming to the realisation that Unsound had finally broken me. I'm not as young as I used to be, I've had my fun. Time to cop on. And so on and on and fucking on. I regrouped with some mates, they bought me a slick, hand carved cane and I hobbled my way back to Dublin.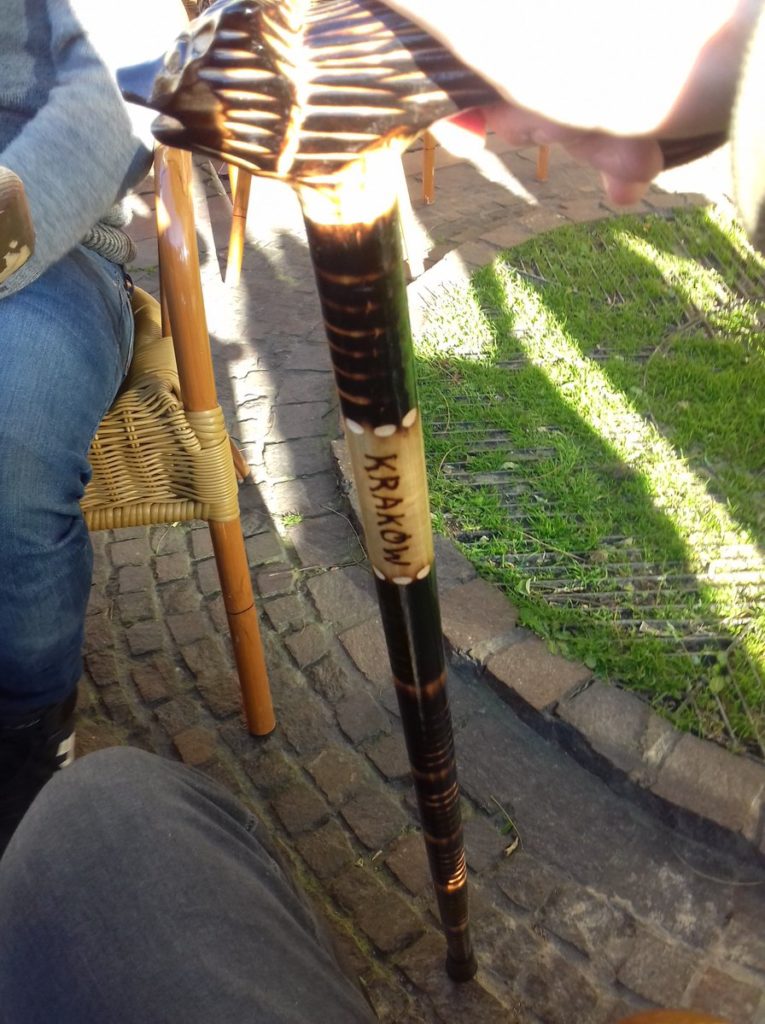 As the head cleared and the x-rays cleared me of any breaks or fractures, the memories came searing back, front and centre. The good ones, the great ones, the what-in-the-fuck ones. The relentless banter – Unsound never leaves you short of something to talk about, even if its belts and 15 year old dj mixes. Unsound is an experience, a test of the body and the mind and the ears. You always hear something god awful, you hear something utterly amazing you've never heard before, you'll be challenged, annoyed, you'll sing some classic 90s RnB accappella and have moments of sheer elation at how great music, when presented properly, can be so inspiring and special. And its even Ok to have a few old reliables make you wrap your jumper around your head and holler the house down in the converted kitchen of a brutalist Communist-era hotel. My ankle may currently argue to the wiser, but this relationship ain't over quite just yet.