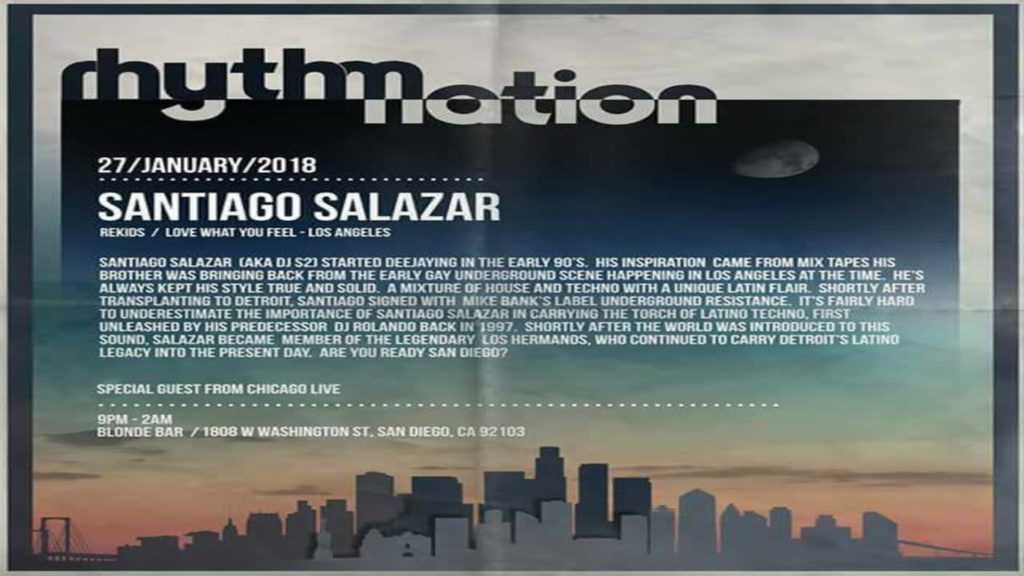 This first of the post of the year (and it's still January!), crosses over a few time zones, touching on a few parties and most surprisingly, a new mix from  the allegedly enigmatic  NCW.
San Diego, USA – Rhythm Nation feat. Santiago Salazar & Ricardo Miranda – This Saturday, 27th Jan
Our man in San Diego and self styled "cool ass dood" Vincent Intrieri in involved in a party way over on that west coast of U.S.A. this weekend, with a sterling double headliner party featuring Santiago Salazar, who has been putting out consistently great material under his own name or as S2 for the whole of the '00s. It often feels like he's under-appreciated, especially since leaving UR and returning to LA but yer head would explode when thinking of those who don't get as much love as they should vs some of those who do. Ricardo Miranda, another killer producer this time from Chicago will also be playing live, which I didn't even know he did. Vinnie and Ivan Gregory are on support. I never know where anyone is who reads this blog, but I'm sure there's some of you out there in California that this may be of interest to.
Sherkin Island, Ireland – Open Ear Festival May 31st – June 3rd
This party is a little further away and  a little bit closer to home. Full disclosure, I'm involved in the organising of this Festival but its my blog so I'll write about it if I want. This is the third year of the event and the line up was just released this week. It's an all Irish affair featuring a broad spectrum of music from modern composer Robert Doyle to demented noise folk such as Whirling Hall of Knives and long time ISM favs in the shape of Lerosa and D1 Recordings' Eamonn Doyle. It's a pretty spectacular setting for a festival and there's lots planned this year which will see the event incorporate the Island in unusual ways, more so than before.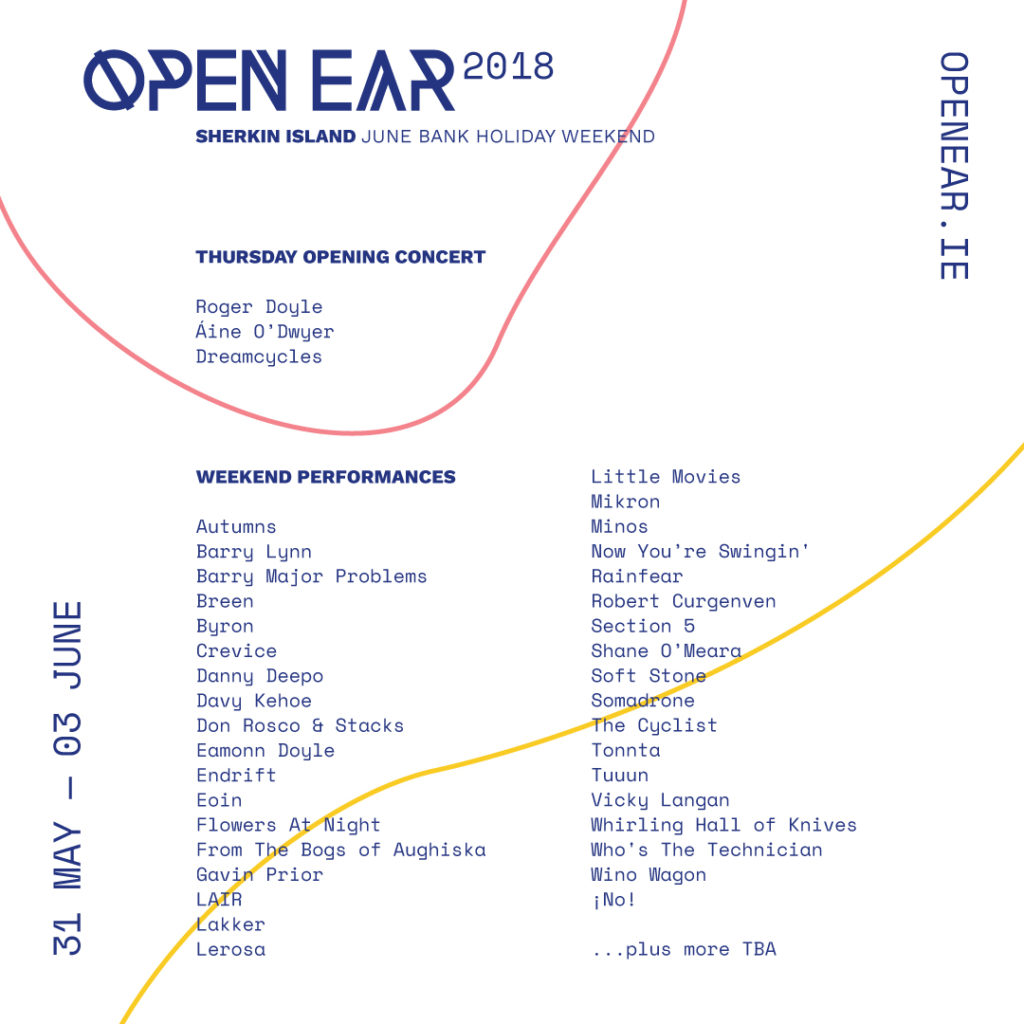 Keep up to date on all news at our Facebook page and to get a full, detailed run down on this years programme (or what is announced so far) check our website 
Belgrade, Serbia – A new NCW mix for Breaking Point.
NCW's now twice a decade attempt at productivity is currently in full flow over in Belgrade where he has been based for the last couple of years. With quite a bit of new music to be released on the horizon (including on Apartment) he's also put together a typically raucous mix as Nicholas only knows how, even if it is missing the skipping needle, off time scratching and poor sound quality of his old mixes. It contains quite a bit of music from Apartment which leads me on to the final part of this post. But before that check the mix out…
Tracklist
Magic Mountain High – Untitled (Workshop)
Black Merlin – Burn It (Common Thread)
VernoN – Plastic Illusion (Apartment)
Body Party – Muscles / Theme (Common Thread)
Gladio – Slave of Rome (Bunker)
Phantom Planet Outlaws – HTG (Apartment)
Elec Pt.1 – Acidmark (Mick Wills mix) (Signals)
Chris & Cosey – Sin (PIAS)
Bronze Teeth – Albion Pressure (Diagonal)
Broken English Club – Wreck (L.I.E.S.)
John Heckle – The Last Magic Maker (Creme)
Myriadd – House of Babel (Pinkman)
Willie Burns – Waste Your Time (Creme)
Lerosa – Decisions (Apartment)
Death Comet Crew – Me Czar Of The Magyars (Diagonal)
7 Citizens – Muse (Snuff Crew remix) (Pusic)
Wilson – Tears (Silkworm)
Lakker – Spider Silk (Killekill)
Snuff Crew – DJ Into Space (Gigolo)
Alessandro Parisi – Praying Sages (Mick Wills remix) (Vivod)
Powell – The Ongoing Significance Of Steel And Flesh (Diagonal)
Chicago Flotation Device – Untitled 5 (Chicago Flotation Device)
Rhythm Device – Dream Trance (Music Man)
Elec Pt. 1 – By The Stars (Bunker)
The Present Moment – Emily (Disaro)
Body Party – P.P.P.T. (Common Thread)
Chase Smith – Sending You Some Lungs (Instrumental) (Apartment)
Ministry – I Wanted To Tell Her (Tongue Tied Remix Naum Gabo Edit) (Tigersushi)
Juju & Jordash – Chelm is Dubbing (Golf Channel)
Tropic of Cancer – Stop Suffering (Blackest Ever Black)
Dublin, Ireland – Apartment Records latest releases and new residency
In keeping with the sporadic use of this blog I somehow never posted about the return of my label last year. Chase Smith delivered a killer 4 track 12″ for the label, which found fans in all corners of the dance music world, which was nice. It was also the tenth release on the label and with it brought a digital compilation featuring a track each from the first 10 releases, music which I'd never released digitally before. Both of these releases can be purchased from the label's bandcamp.
Chase Smith – Sending You Some Lungs (digi and / or vinyl)
Tenement – A Digital Compilation
All of this sees the end of phase one of the label. I won't be taking 2 years off again, indeed the next release is about to go into production, but things will be changing from here on in. I'll go into more detail on this as the new record is ready to go on sale.
I'm also starting my first residency in Dublin in many a year, at the beginning of next month. I've had a few great nights playing in the Bernard Shaw in the last few months – most notably closing off a party to mark the anniversary of James Stinson's death in September, which was a pretty special set for me, and the most fun I had behind the decks in 2017 – and I'll be starting a new label party there on Friday the 2nd of February. I'll be manning the turntables for the first party but along the way over the coming months I'll be bringing the odd local guest in to play with me too.