Seems like we're pretty productive over here at the moment. Logged on to post some music up and looks like I've been beaten to it by a (pretty impressive-looking) mix by gmos, which I have on the download now. So many heavy tracks on there – the Virgo LP, 'Give It Up For Love' by Tata Vega and 'Can't Live Without Your Love' by Tamiko Jones (which I played out for the first time in a long while last Friday night) are all big favorites of mine. Can't wait to listen.
By coincidence I've also got round to recording something for ISM as I thought it was about time I made some sort of musical contribution. I don't record many mixes, but the gap between this one and my last one has been especially long – almost 18 months. If you've listened to any of my other mixes, then this one follows the same format. I usually like to mix through a lot of genres and tempos in a relatively short space of time and this mix pretty much goes along with that.
It was recorded using the same bag of records that I picked out for last Friday when I played at a club in Newcastle called Habit with Joe Minns (who occasionally posts on here). In fact, a lot of the records in the mix are records that I usually play whenever I get the chance play out anywhere – J. Griffin's 'No Wonder' has been in constantly in my bag for probably the past 2.5 years and 'Dan Ryan' by Theo Parrish can't be far behind. Don't think I've ever managed to get either of those on a mix before either.
I've sparingly (I say sparingly because last Friday that definitely wasn't the case – I think towards the end of the night every single record was being introduced with some sort of sound effect) used some sounds from a BBC Radiophonic Workshop LP from 1976 called 'Out Of This World' that I picked up for 50p recently. The record is made up of around 60 atmospheric sounds created for BBC radio and Television programmes, many of which, according to the record, were used on Dr. Who. The sleeve notes are a good read and offer advice on using the sounds from members of the Workshop. I've tried to find a transcript online to post up here, but haven't been able to.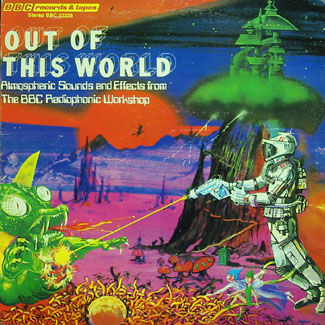 Picking that record up has made me even more disappointed that I didn't pick up that 4 x 10″ set of BBC Radiophonic records that came out on Rephlex a couple of years back when I had a chance. Especially given the price they're going for on discogs.
Anyway, here's the link to the mix and the playlist:
Resonance – OK Chicago
Peter Green – In The Skies
Astra Nova Orchestra – Soul Sleeper
Commodores – Cebu
Wilton Felder – Ride
Hot Chocolate – Put Your Love In Me
J. Griffin – Rock Attack
Rolling Stones – Too Much Blood
?
Willie Colon – Set Fire To Me
Theo Parrish – Dan Ryan
Charles Earland – Leaving The Planet
Dedicated to the three cans of Heineken that it took to get me motivated enough to record something last night.