Difficulties ranging from no press passes to my knee problems to my iPhone inexplicably not getting the internet in any consistent manner at Hart Plaza led to no live blogging of the festival. I would say that I am disappointed about that, but really I spent far less time at the festival this year than any previous years so there wasn't much to talk about.
I'll break it down day by day…..

Saturday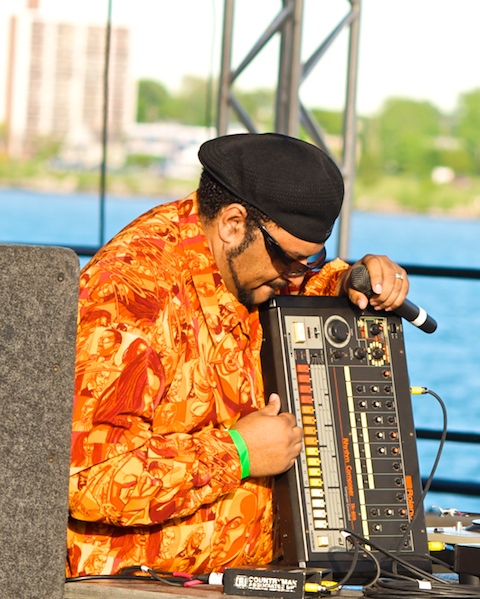 Noting that there was nothing on at the festival that looked interesting until Echospace at 4:00, I used the early afternoon to catch some more record shopping at Record Time and Submerge. Although I picked up alot of fun records (which I will cover in a later post), the lack of Detroit artists and labels having new records in time for the festival was not at all like the usual onslaught of ridiculous tunes that has accompanied every festival I've been to before this one. Was this due to the decrease in vinyl sales, or the fact that the festival is not about Detroit music as much as it used to be? There is no way to be sure, but I imagine a little of both are mixed in there.
After standing in an irritatingly long line to buy tickets at the door (we used a debit card instead of cash, I cannot recall card transactions taking as long as these did and for no apparent reason either) I only managed to catch about 1/2 hour of Echospace on the main stage who sounded very nice. I had hoped for some ambient from them, but they seemed to be keeping it pretty house tempo when I was watching. I abandoned them early for Newcleus who were supposed to come on at 5 though some relatively bland hiphop act was still playing until at least 6 or so (despite Moodmat's assertion that all the artists they saw came on on time, this was pretty annoying as it made me miss the end of Echospace unnecessarily!). Once I got tired of waiting, I snuck down to the underground stage to check out the end of Minx and the beginning of Mike Grant. The underground sounded about as good as I can remember it, and the setup was pretty good for a fun dancefloor experience. Minx was just ending with some really nice deep jams as I got down there, setting the stage for Mike "Moods & Grooves" Grant to pick up where she left off. Unfortunately, he must have mistaken his gig for being in Ibiza as clubby house with buildups and other such nonsense was what he was dropping. In a festival already low on decent house music, this was quite disappointing, especially from someone who plays the deep shit.
Upon getting word that Newcleus was finally starting around 6:15 I headed up to the pyramid stage. I have to say that the sound at this stage was not quite as ridiculous as it was for Rhythm and Sound last year, but it was still quite good. The addition of the tent over that area was really very nice as I can recall my forearms sweating standing in the sun watching Carl Craig a few years back. Newcleus killed it, with vocoded and pitched vocals as well as some live keys being played over their backing tracks. The only weak part of their set was their two "modern" hiphop sounds that sounded like something out of the 90's but not as good. Still, hearing "Electric Automan", "Jam On It", etc. live was extremely dope. Egyptian Lover followed them up with a fantastic set. Kicking it off with a trick filled deejay set of electro classics (on vinyl!), the energy at the stage was quite high. He banged out a wild 808 solo (holding it up in the air on it's side) and then proceeded to perform his own tracks. I didn't realise so many people knew his stuff, but it was definitely good to see! After he was done, Peanut Butter Wolf came on and dropped a multigenre party set that was much better than I expected. It was quite sad to see him playing from a laptop since he owns a record label and released an album called "My Vinyl Weighs A Ton". Gee I wonder why vinyl sales are down?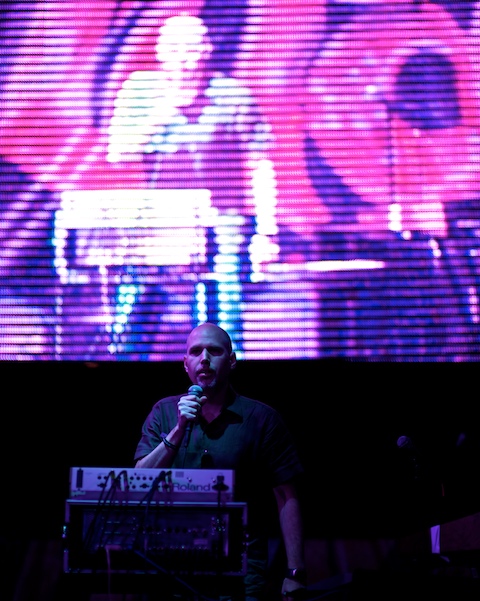 We headed over to the mainstage and caught the last little bit of Zip who was actually playing some sweet Detroit house at the end of his set. Finally it was time for the DBX live set. Dan Bell is one of my all time favorite producers, his music is so ridiculously dope and very personal at the same time. When he came out onstage surrounded by a TR-909 and two SCI Pro-1's I knew it was on, and he didn't disappoint. His set was a flawless representation of his sound, very clean and quirky yet deep. He played classics like "Baby Judy" and "The Symphony (Can You Feel It)" and people just ate it up. I hope all the mnml producers in the house were paying attention, since Dan schooled them on how to make real minimal music.
Following up that most excellent set was Moby. I know Moby knows about good music, so I figured there was at least a chance he could drop some things. His opening cut: Inner City's "Good Life". A bit obvious, but set the crowd off nonetheless. His second track: some garbage that ranks amongst the all time worst crap I have ever heard at DEMF. Once he stood up on the stage pumping his fists in the air, it was time to run for the exit. This joker coming on after the greatness of DBX live was insulting and irritating.
Saturday night was Soul Skate and once again it was one of the weekend highlights. My knee problems disappointingly precluded me from being able to skate this year, but I still had an excellent time. I'm not sure whether it is more fun watching the good skaters or watching my friends bumble around trying not to get run over by them. Either which way, it was like a who's who of Detroit house up in there. I saw Minx, Omar-S, Pirahnahead, Amp Fiddler, Carl Craig, Malik Pittman, Mad Mike, Kenny Dixon Jr. and many others skating around or just hanging out. The soulfood was ridiculously good, especially the green beans and ribs, and the competition was fun with the dancing couple deservedly winning the top spot. I really hope Kenny keeps doing this party every year!
Sunday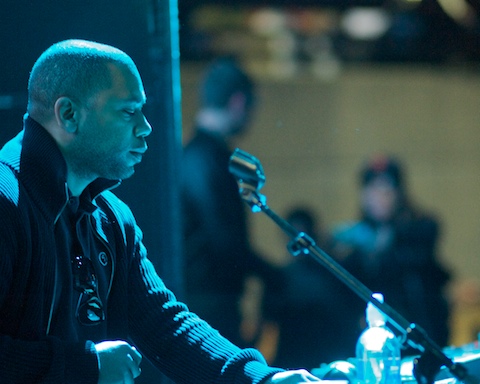 Sunday was notable for being one of the absolute worst days of the festival of the 18 days I have spent there. I rolled in around 2 for Keith Worthy and Alton Miller on the main stage, both of whom were killing it on a beautiful warm afternoon to a mostly empty crowd. Either one of these guys could have been a nighttime headliner and just slayed people, but instead we get to see them warming up for the "talent" of guys like Mark Farina. After getting annoyed with Lawnchair Generals, I went to check out Carlos Souffront who was banging out some very nice acid. When he was done, Jared Wilson (whose "Drug Related Stories" 12″ was a highlight of my purchases at last year's festival) came on with a live acid set. I don't know if he thinks he is Aphex Twin or if he just happens to rock the same look, but his set was pretty nice anyway. After spending way too much money on bad food, I was looking forward to Mr. De's live set. Unfortunately, he suffered from the "good catalogue of music but no good ideas on how to present it live" problem that plagues live electronic acts. With Bass Mechanic on the decks, Mr. De' was just playing and singing a bit on his more famous tunes as well as some new ones. It also didn't make sense to have him inbetween the Punisher and Kenny Larkin, as the crowd all rolled out before he even started. Kenny Larkin seemed like he would have been a good choice in the underground stage, but he was playing pretty bland stuff and the crowd wasn't feeling it so much. So I went up to the main stage to be annoyed with Mark Farina. Boy, does he play some nonsense. At this point we are talking about there being at least 2-3 HOURS of me sitting around at the festival with nothing interesting going on for the day.
Thankfully Carl Craig stepped in to save the day. I was concerned that his live set might suffer from the same problems that Mr. De's did, but in the end of course I had nothing to worry about. With Niko Marks and Kelvin Sholar on keys and Wendell Harrison on sax and clarinet, this was a deep excursion along the lines of the "Paris Live" 12″ that came out last year. Carl expertly manipulated the crowd with the gorgeous epic melodies of tunes like "Darkness", allowing the live players to do their thing without being noodly in any way before dropping in what seemed to be an endless string of kick drums that got deeper and deeper as the set progressed. The blue lights and beautiful music made for quite an experience that even the more mainstream members of the audience ate up (as evidenced by the crowdsurfing and the chicks flashing their titties at Carl!). This set was exactly what the DEMF is about, it was comparable to UR's ridiculous live set back in '05 in terms of perfection. The fact that the biggest stage was crazily packed with people going nuts to deep soulful music while the other stages had much more nonsense mainstream names such as Girl Talk, Richie Hawtin, and Benny Benassi shows that you don't have to go least common denominator for people to be into the music. Sadly, the crazy attendance for the festival on Sunday (probably the largest I have seen since they started charging money though still nowhere near the free days…) means that we will likely see more and more nonsense in the future.
Sunday night offered a good number of options for afterparties. The one I ended up going to was the Metroplex loft party which featured a lineup of Juan Atkins, Terrence Dixon live/deejay, DeepChord live, Todd Sines live as .xtrak, and a deejay set from Titonton and Archetype. Titonton was tearing it up when we arrived, playing all kinds of dirty house, techno, and broken beats (on vinyl!) in his distinctive cut-up style. The energy was building very well, the smallish grimy space was filled with people and fog, it seemed as if things were about to pop off. Archetype lost the crowd though, despite playing some nice classic disco and soul tunes his flow and mixing seemed to be a little off. The energy was not recovered during Todd Sines' short live set which leaned more heavily on his recent style than his classic minimal .xtrak material. By the time Juan came on, it was late and even he couldn't take the party to the next level despite banging it out like it was 1998 (I remember hearing "The Bells", Convextion, and others…). No one I know made it to see Terrence Dixon play if he did, and I didn't even see Rod Modell around at all. What a missed opportunity!
Monday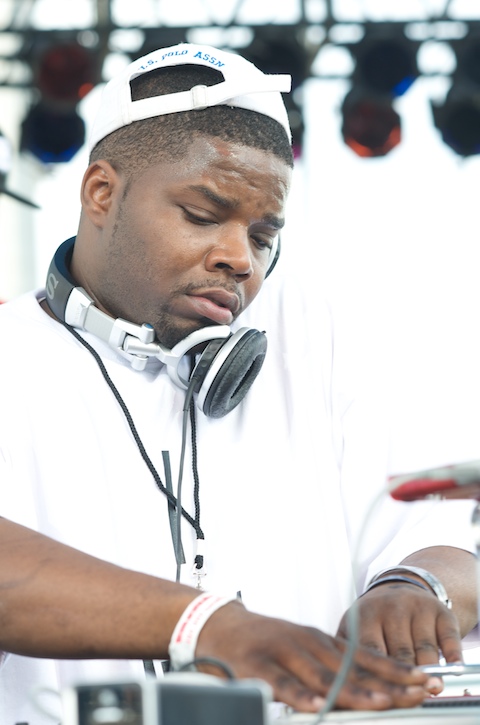 In terms of diversity of good music, Monday might have been the weakest day of the festival that I can remember. The mainstage was littered with nonsense surrounding Cobblestone Jazz (whom I kind of wanted to check out, but ended up missing) while the underground stage had a very dodgy "Real Detroit" lineup. If you liked nonsense like Josh Wink, Dubfire, or Lee Burridge then the Hawtin sponsored tent was the one for you. If terrible drum and bass is your thing, you would have spent all day at the other crap tent. That leaves the pyramid stage, which saved the day yet again with about 7.5 hours of ghetto tech. From DJ Clent who rocked a really bass heavy hiphop style to Brian Gillespie who played all the old classics mixed up with some new jams, this was really the only place to be. Watching drunk hipster chicks put their asses in each others faces was hilarious! Omega held it down on the mic again, I really love that guy. It was dope to finally get to see DJ Guy in person, he played a quite excellent set. There were a couple iffy artists in there (Paul Martindale playing Crystal Method and Josh Wink?!?!?! Oliver Way playing what sounded like really bad dubstep??!?!) it didn't matter since the set times were so short that there was always something new around the corner. The highlight of the day was Godfather who has to be one of the most consistant deejays, and also one of my favorites. Following him was Mr. Mixx of 2 Live Crew fame who played a nice selection of 80's Miami bass jams (many of which have become sample fodder for ghetto tech and booty house tracks) as well as rocking the 808 live. We left before he ended in order to rest up for an afterparty that sleep stopped us from ever getting to. Such is life.
Intangibles
This year was by far the least represented in terms of foreign crew that I could see. I can remember seeing cats from all over the place at the hotel, at the afterparties, in retaurants and record shops, etc. but none of that was present this year. In terms of my own crew from Pittsburgh, the US, and worldwide, this was also by far the least well represented. The lack of real Detroit flavor was obvious from the dearth of new joints at the record shops on through every aspect of the festival. The crowd was far more hipster and raver than anything else, and to be quite honest the vibe of the festival was seriously compromised because of it. Despite some of the better sets I have seen at DEMF (Carl Craig, DBX, Egyptian Lover) the overall feeling changed moreso this year than in any of the previous years. Instead of it feeling like a Detroit festival that had some acts booked to bring in other people, this felt like a rave with some Detroit artists booked to pacify Detroit music fans.
I had a good time this weekend, but it was mainly despite the festival itself, not because of it. I spent probably under half the amount of time at the festival as I did in '03 or '05. With the 10th festival coming up next year, it has reached a point where either the subsequent festivals are going to either be more like the original concept or more like this year's concept. I hope that this year was a bit of a glitch in the matrix, but I don't think that will be the case. Paxahau's organization and quality of presentation is quite high, but their artistic direction is questionable at best. They have had some great performers, but they are being far outweighed by the silly stuff. The diversity in tempo and mood is at an all time low, this year especially had little outside of straight up dance music. What happened to the days of thousands of people going nuts for Fat Freddy's Drop, Amp Fiddler, or the Detroit Experiment? The lack of the local inner city Detroit crowd that has happened since they started charging admission continues to be a very big problem. It seems to me that the financial problems of the past have been solved, so why not try to move back into doing interesting things with the festival instead of playing it so safe and ravey? This festival is too special for that. For the second year in a row, there were multiple stages at which I didn't even watch a single set. This never happened before! There has to be a balance between being financially stable and being a celebration of Detroit's electronic music, not just a festival of electronic music that happens to occur in Detroit. Let's hope Paxahau finds that balance next year. Also, if they have any interest in the out of town people coming through, it would really be beneficial to have the lineup out as early as possible. Even if it is incomplete, waiting as long as they did to announce it makes it financially more difficult for people who fly in to make it, as well as giving them time to make other plans for that weekend. This has been a problem since the beginning of the festival, but with the unparalleled continuity that we have seen with Paxahau, it doesn't make sense that it would continue to be a problem.
On a more personal note, I need to shout out my crew for the weekend: Kelly, Bolt, Jwan, Shawn, Adam, Matt, Mikebee, Cristina, Goose, Todd, Matt, Guy, Wojtek, Fred, Carleton, Tito, Todd, Alex, Mike, Angie, Malik, Gary, Rick, Derek, and Rick. TJ, too bad we didn't get to meet up! Next time……
Massive thanks to my main man Matt Cohen for use of his photos. Big ups. They look beautiful!