There's been a major revival of African music of the 60s and 70s in recent years. Labels such as Strut, Soundway, Analog Africa, Honest Jon's, Vampi Soul, Buda Musique, Oriki Music and others have been at the forefront of this revival. Taking multiple trips to Africa to go digging in dusty humid conditions to unearth "forgotten" gems, followed by the lengthy process of tracking down the original artists and license holders to get the rights for reissue and to make sure the artists get paid. A read through the liner notes on a Soundway or Analog Africa compilation underlines the passion and hard work that these guys are putting into getting this music heard again and, most importantly, they're doing it properly.
One of the highlights of this revival has been the rediscovery of Ethiopian Jazz and Funk from the 60s and 70s, compiled by Francis Falcetto on the stunning Ethiopiques series. When I first heard this music playing in a record shop in Dublin it stopped me dead in my tracks and had me asking "wow, what the fuck is this??". It's been amusing to hear serious collectors like Giles Peterson say the exact same thing! Yes, it's jazz, yes, it's funk, but there's that unique Ethiopian sound that just sounds foreign to Western ears on first listen. It hints at Arabic music but that doesn't quite cover it either, it's truly unique. The father of Ethio-jazz is Mulatu Astatke who studied music at the Trinity School of Music in London and then became the first African musician to study at the famous Berklee College of Music in Boston. (There's an interesting interview with Mulatu by Giles Peterson on Red Bull Music Academy Radio where he talks about these early years and his time in England and America.) Mulatu originally studied science and his approach to music is, he says, quite scientific. It's experimental and he likes to mix and match different elements to see what works and what doesn't to come up with new and interesting fusions. He's especially interested in revitalising ancient Ethiopian traditional musics and rural bush music and modernising them. Adapting old traditional instruments to modern usage and so on. He recently completed a Fellowship at Harvard University on this subject.
And this is the type of approach he has taken for his brand new album with The Heliocentrics due out on Strut soon as part of their Inspiration Information series. In addition to the Heliocentrics he brought in a number of London based Ethiopian musicians to play traditional instruments on the album resulting in a fresh new Ethio-jazz-funk hybrid. It will be released in the next few weeks on Vinyl, CD and download. In the meantime go to the Inspiration Information website for samples, videos and information. There's also an interesting video up on youtube about the making of the album.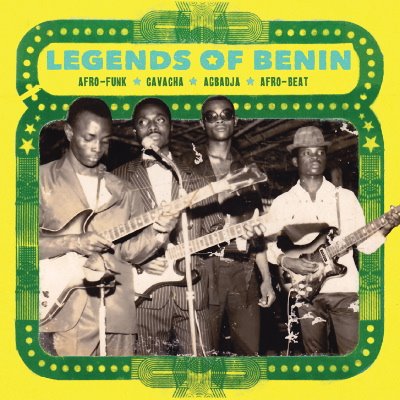 There's also another compilation of Beninese music coming soon from the fantastic Analog Africa label, who brought us the African Scream Contest compilation which I've mentioned on the blog previously. Analog Africa Vol 5- Legends of Benin will focus on music recorded between 1969 and 1981 by 4 important Beninese composers Gnonnas Pedro, Honoré Avolonto, El Rego and Antoine Dougbé. Many of the tracks are also backed by the legendary Orchestre Poly-Rhythmo one of the great big bands of African music. The music is Afro-Beat, Afro-Funk and Afro-Latin styles and is full of dancefloor friendly killers. It also comes with extensive liner notes and archive photos and is officially licensed. It's scheduled for release in May on CD and Vinyl. You can listen to samples on the Analog Africa blog.