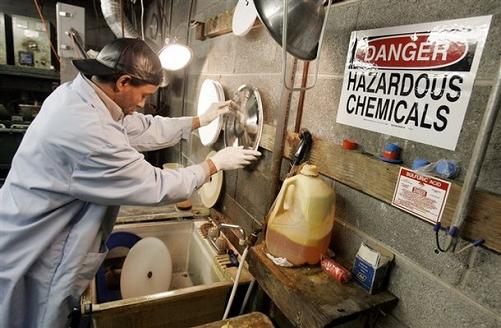 The next step after the master lacquer has been cut is for the lacquer to be plated. Plating is an electro-chemical process that deposits nickel onto a thin layer of liquid silver solution that is first applied to the lacquer. This process is being done for this record at Mastercraft Metal Finishing in New Jersey. Check their site for a more detailed explanation of how electroplating is done (you may need to highlight the text to be able to see it, website design doesn't seem to be a major concern for them!). A plate is made for each side of the lacquer; these can be used in a few different ways.
Plating for big pressing runs takes multiple steps. The first plate, an inverse of the laquer, is called the "father plate" which can be used to make a nickel "mother plate" which is an exact replica of the lacquer but made of metal. The mother plate can actually be played on a turntable! More importantly, the mother plate can be used to make a number of stampers, each of which is good for approximately 1000 vinyl records before degrading.
However, for an underground record with less than 1000 copies being pressed (that's us!), only one stamper is necessary. For this purpose, the father plate is used as a stamper. The advantage of this is that the single plate is cheaper to manufacture than making the father and mother plates. The primary disadvantage is that you only get 1000 records out of this. Once those father plates are used up, if you want to press more copies the entire mastering and plating steps need to be repeated! Also, if something happens to the father plate to break or disfigure it, mastering and plating will need to be done again.
At the end of plating you have two plates, one for each side of the record. These are then shipped to the pressing plant of your choice where they will be put on a machine that will stamp out the records!