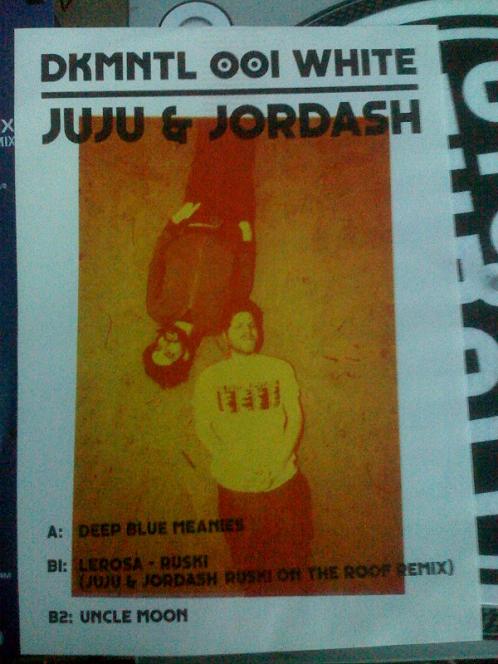 Juju and Jordash are on quite a hot streak right now. First off, their recent white label release on the new Dekmantel label is number one on Rush Hour's House Sales Chart this week, and for good reason: it's a bad as hell 12″. "Blue Meanies" is more of a straightforward dancefloor banger than you might usually expect from JJ&J, but still maintains their abstract atmospheres. The remix of Lerosa's "Ruski" (originally from his first 12″ on Real Soon) is straight up bananas, especially when the dubbed out drum break leads into the string section madness. "Uncle Moon" closes things out on the grimey ambient tip. Word is that a full album is on it's way soon as well! That should be most excellent, I can't wait.
Our boys in Amsterdam also dropped a mix recently on the site mixmag.info out of Russia. Typical of their eclectic style, they drop all sorts of things from classic West End disco to the deepest of techno. Another excellent mix that I must reccomend highly. It's good to see them taking their sound all over the world!
For this new mix for us here at ISM, they do it on the abstract tip. Slow, tripped out house, disco, and soul music combine to create a dense atmosphere that is perfect for the record high temperatures we've been having this past weekend in Pittsburgh. This mix, like their last one for us, will be being banged out at my residence and in my ride all summer long. What else can be said about these cats aside from the fact that they are obviously at the top of their game right now?!?!?!1?!eleven?!
Download the mix here. Tracklist will be put up when they give it to us!