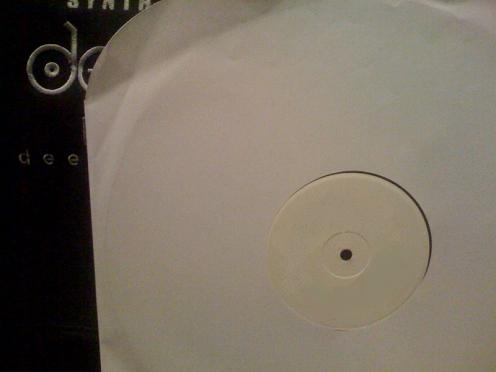 Last Thursday, the test presses of my label's first release came in the mail. A listen through the whole record on my studio monitors revealed no pressing flaws or any other problems, so I tried it out at my Saturday night gig playing records with Jwan Allen and Noleian Reusse. Everything sounded good, and it was quite fun to finally get to work the tracks in the mix as one of my turntables at home has a short in the RCA cable that I have yet to repair.
Now that the record has passed from an abstract concept into the real world, I have to sell this thing to people. This involves promotion and distribution to get it into the hands of the cats who are interested. I had 100 total white labels pressed, five of which have already gone out to the artist, myself, Jwan, and Noleian. The remaining 95 are going to be picked up at Archer on my way into Detroit on Thursday for DEMF. Some of those copies are going to go to the deejays who might be interested in the kind of music on the record. I'm going to try to get some of those copies into every shop that carries dance vinyl in Detroit, at least one is already definitely gonna take some. Watch my Twitter feed to see in which shops it will be for sale. I will also be selling copies out of my backpack at the festival, along with two new limited white label releases on Pittsburgh's Technoir Audio. The Technoir boys will also be pimping out my label's release backpack style along with their own. If you want to know the artist and label name, you've got to find one of us or visit the shops who are carrying it to find out! Otherwise you have to wait…..
Sometime this week I will finish the paperwork necessary to get some international distribution. As of right now, it looks like that will go down through Crosstalk out of Chicago. They will send the info and soundclips out to shops and distributors in the US and around the world for pre-orders, this will help to ensure the proper number of records gets pressed up. Crosstalk seems pretty open to working with new underground US labels, so hopefully they will help get this record into shops everywhere so that you can go down to your local shop to pick it up. I had initially planned on trying to sell everything myself DIY style, but that kind of cuts out the record stores which is not something I want to do. Once the record comes out, if you're in some place where it is not going to be stocked, you can get in touch with me directly to find out what the best way for you to get it will be. As this is the label and artist's debut, getting it out to people is my primary concern!
Now it is just a matter of drumming up as much interest in this record as possible. Obviously, having the ISM audience is a benefit that may not be available to most people starting a new label. Promoing it at DEMF seems to be the most obvious route to getting it into the hands of deejays and people interested, but also the most effective. Between these avenues and the quality of the release, hopefully a substantial number of shops and distros will be interested in it. Once Crosstalk gets back to me with the number of preorders, the artwork will be finalized and the final run will be completed. That will be the final step documented for this release.