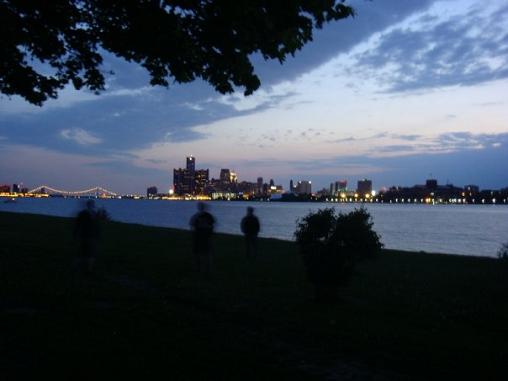 Detroit as seen from Belle Isle
DEMF weekend is such a crazy time that writing about it is really becoming almost impossible. Every year it seems like more and more of my time is consumed to the point that I can't even remember what the hell I spent the weekend doing. I'm not the kind of person who wants to take notes or Twitter everything in order to remember, and I don't take photographs either so that leaves me with just my memory to try to sort through everything. So here goes my attempt to make it all make sense. As usual I will leave most of the non-music related stuff out of the recap, but much time was spent with my crew doing crazy shit and eating breakfast at the Clique.

Friday
Since we arrived in town early on Thursday, we had a head start on record shopping on Friday afternoon. The main problem that we would come across: there were almost no new records in any of the shops. Rick Wilhite's store Vibes closed down at the end of last year, Submerge is no longer selling records out of their building, and I guess the new vinyl market in Detroit is being hit especially hard along with the rest of the economic problems they have going on. There didn't seem to be many other out-of-town people looking for vinyl either. Perhaps the festival's shift towards mnml has meant the crate diggers are not coming through? I know there definitely wasn't even close to the usual amount of records that Detroit producers get out in time for the festival. Melodies and Memories, Record Time, and Detroit Threads all served up some decent older stuff along with a few newer joints, but my haul definitely didn't compare favorably to that of past years.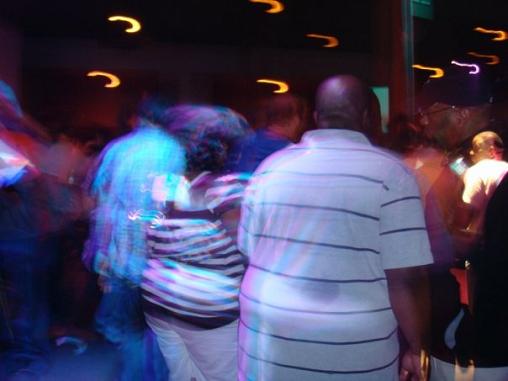 Party at Premium on Friday night
Friday night, I sent out some text messages to see what was going down for a good party to hit. Jerome from Still Music hit me back about something at Premium with Glenn Underground and Karizma, so we went to check that out. It was kind of like the Deep House All-Stars up in there, with nearly every Detroit house producer of note as well as a bunch of Chicago heads and some NYC cats as well all in the house. We saw Lola and Eman from New York, followed by a short live vocal set by Stephanie Cooke before Karizma came on. He was playing some of his own choppy deep house, mixed up very nicely but with too heavy a hand on the EFX. This was a problem that Glenn Underground also had, though his set ended a little more fun than it started with some sweet soulful disco. An excellent way to kick off the weekend.
Saturday
Since we were out late on Friday night, I decided early that I would unfortunately miss Liz Copeland's set at noon. The aim was to get there in time for the Beatdown set at 4:30, but that was the beginning of possibly the worst DEMF stage experience I've ever had. After waiting in line for our Will Call tickets, and then waiting in line to have our bags searched, we finally rolled into the festival around 5:00. Upon looking through the little guide, I came to the realisation that the Made In Detroit stage was in the underground. I have spent less time at the underground stage over the years than any other, due to the fact that there is no good place to dance, sit and chill, or hear the music since the concrete walls and ceilings reflect all the sound waves like crazy. This year was even worse than previous years. I couldn't hear anything down there except wildly resonating bass that drowned out everything else. And they put the stage up in the air, which was possibly the most asinine way they could have decided to set it up. I would have taken a picture if I wasn't so angry and disappointed. The setup and sound was so awful that the only time I spent down there was the 5 minutes when we arrived. Being at that stage was actually more painful than not seeing the artists playing, since it would only make me more angry to hear good shit being ruined. Possibly the most annoying part of this setup is that they had STOPPED using the underground in recent years! Why did they suddenly decide that it was time to bring it back? And why did they stick nearly every Detroit artist that I wanted to see down there??!?!?! Because I refused to subject myself to that bullshit, I missed out on the Beatdown guys, Rick Wade, Mike Huckaby, Jay Denham, Octave One, and more. To say that this setup was an insult to the artists booked for it, and specifically the Detroit artists is an understatement.
Prior to this year's festival, the best thing I could say about Paxahau was that their stage setups, sound systems, and organization were top notch. Now, I'm not sure I can even say that. In addition to the catastrophe that was the underground stage, they altered the Red Bull stage and the Beatport tent setups to be less efficient. The Red Bull stage was usually at the end of the long patio over by the water, leaving a huge dancefloor area that worked well with the awesome soundsystem. This year, they put it along the water side lengthwise, which wasted an insane amount of room and created annoying crowd buildups in the middle that wasted EVEN MORE space. Was it worth it just to have the water behind the artists? I certainly don't think so. The Beatport tent faced a smiliar fate, with the stage situated perpendicular to how it usually is. This meant that if you couldn't cram yourself into the super-small space this left under the tent, you were forced to either stand so far off to the side that you couldnt really hear or see well, or you had to stand on a grassy hillside that was uneven and annoying for standing much less dancing. I don't know why they decided to change all these things, as last year's festival probably set the bar for good sound, and proper set ups. Thankfully word leaked out on Friday that Carl Craig is going to be the artistic director for the festival next year. Hopefully with his creative vision, Paxahau can concentrate on the logistical shit necessary to make the stages work better and we can have the best of both worlds.
Back to the music…
Since I couldn't stay in the underground, we rolled over to catch the last half of Kevin Reynolds' set which was just as deep and beautiful as you can imagine. Malik Alston was on vocals, though it seemed like there were some technical issues there at times, and a dope horn player was playing through some heavy reverb to add some more live touches to it. I only wish I could have made it in time for his whole set! After Kevin, Ryan Elliot came on and I could tolerate exactly 5 minutes of him before we decided to check out Francois K. He started off weakly, though inoffensively, with some boring "techno" that wasn't really doing much for me but it wasn't scaring me off either. That only lasted about five records before some of the most atrocious nonsense came through the speakers. I'm not even sure what genre I would call what he was playing, since I just don't listen to music that sounds like that. But it was bad. Very bad. At this point I was pissed off enough that I just left the festival, having spend less than two hours there. This was by far the worst day of the festival in the seven years I have gone.
One positive aspect of the early departure was the ability to go rest and eat before the Music Institute party that night. We showed up around 11:50 to see Andrés tearing it up to a crowd of no more than 15 people. This was the first time I've seen him play, and he was awesome: 80's disco, some of his own productions, and some hiphop all blended and cut to perfection. I was disappointed that he was done by 12:30, still with almost no one in the crowd, and I began to worry that nobody was going to show up. Chez Damier came on after Andrés, dropping lots of deep house from the 90's and 00's, along with some disco edits. Around 1:00, the place suddenly filled up and the whole room was dancing! He banged out some serious classics like the Krivit edit of Lenny Williams "You Got Me Running", Kerri Chandler's "Climax 1", and others, with the appropriate hooting, hollering, and whistling from the crowd. Chez's dope selection and seamless mixing created quite a nice party vibe up in there. I really wanted to stay for Kai Alcé's set, but we rolled out around 3am since there was no sign that he would be going on soon and we needed to conserve energy.
Sunday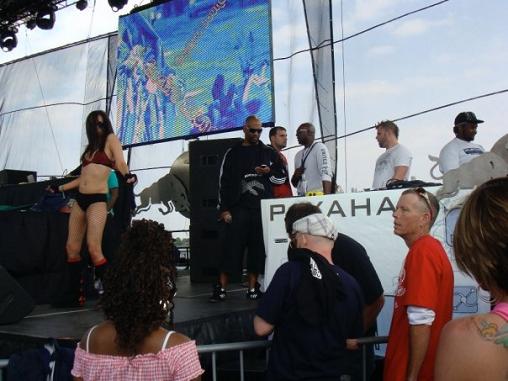 The Ghetto Tech showcase
Sunday kicked off with a little more record shopping that prohibited me from catching the Minx set that I had been wanting to check out. I made it just in time to see the last few disco records that Starski & Clutch were playing on the river stage before Sluggo took over. He played a really nice set of banging juke tracks old and new, very Chicago compared to Godfather's banging electro style. Both killed it, especially on that sound system and despite the ridiculous stage setup. The ghetto tech showcase is always a highlight, this year I had to buy a Data Bass t-shirt to show some love to those guys. I really love what they do! Unfortunately I had to dip out before Milton came on so i could catch Osunlade over at the main stage.
Osunlade's set was one of the highlights of the festival itself, as he actually played appropriate music for his timeslot and stage. The deepest house I heard all weekend created a really nice laid back feeling around the main stage bowl, building slowly but surely to his last record, Erro's "Change For Me" which was irritatingly cut off for the beginning of the Innervisions Live set. As far as modern European techno and house producers go, Henrik Schwarz and Dixon are at least okay in my book. Amé I am not quite as down with, but I was willing to give them all a chance. Despite the ridiculousness of seeing 4 goofy white guys dancing behind laptops, they managed to play some pretty nice stuff. My main qualm was that they would play something dope for a few minutes, and then it would kind of meander off into weaker territory. It was also impossible to tell what any of them were doing with their laptops, and I'm just not sure you need four people to make the sound they did. Overall it kept my attention for an hour, but it wasn't particularly captivating.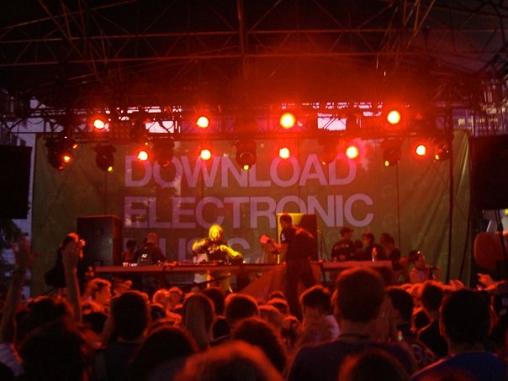 Wighnomy Bros.
Dennis Ferrer was up next on the main stage, and since I like some of his production with Jerome Sydenham I figured he would play some good stuff. Man, was I wrong. I'm also not sure what to call the music he was playing, but it sounded to me like cheeseball house music. This is the exact kind of music that turned me off of house music back when I first heard it. After a half hour, I decided that in order to try to get my money's worth I would go check out the only other act with potential playing at that time, the Wighnomy Bros. I had read bits about these guys playing some records that I like, so I was hoping that they would bring it since they were in Detroit. Turns out that was exactly what they did. They stayed away from the weak mnml type stuff, concentrating on the more classic minimal techno style, not dissimilar from some of the things Dan Bell will play in a set. Throw in a couple jams like "Jack Your Big Booty" and the Schwarz remix of "Think Twice" (and something that sounded like a cover of Mr. Fingers' "Washing Machine") and there you have it, another highlight of the festival. It's amazing what decent selection and actual deejaying skills can get you. Hilariously, they played all vinyl in the Beatport tent, which included them flipping off the "Download Electronic Music" sign behind the stage while holding up the sleeves of the records they were playing for everyone to see. Sadly, they were one of the few acts I saw all weekend playing only vinyl. I have to give the one older guy props for his shorts, that shit had me cracking up.
None of the headliners appealed to me, so we dipped back to the hotel for R&R before heading out to see Jeff Mills. We drove out to the space which was a converted warehouse with minimal accoutrements in the middle of nowhere. This was definitely the perfect location for what was about to go down. The main area had a big fucking soundsystem and a little stage where Buzz Goree was banging out some serious hard techno when we arrived. Around 1:00, Jeff Mills stepped up. I guess because of the lineup that included Traxx, Suburban Knight, and Juan Atkins, I was expecting Mills to bang it out. Instead, he started off with these insanely deeeeep techno records that were all bass and spaced out sounds. He began to twist it up into something more and more abstract, before dropping it into grinding industrial sounding shit. Really, talking about it doesn't do it much justice. It was a headfuck of a three hour set, I was entranced as he took it up and down, from beatiful to nasty so smoothly that it all made perfect sense. I would be reluctant to call the event a "party", but it was definitely the highlight of the weekend. The only record I recognized was Robert Hood's "Minus", though I am not an expert hard techno trainspotter. Mills was amazing and on point, just as I have always wanted to see him. An awesome, special evening.
Monday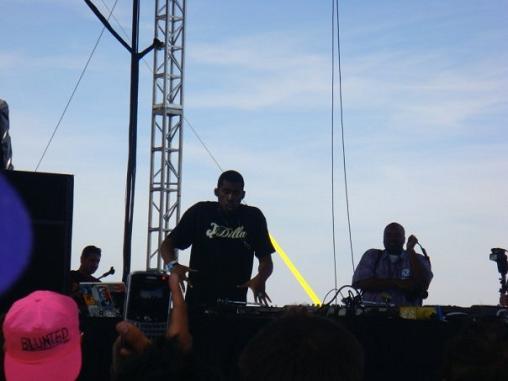 Flying Lotus
Monday's festival lineup was all about the main stage, with the exception of Flying Lotus over by the waterfront. We got there early enough to catch a bit of Luke Hess, whose set sounded nice enough though way too hard and fast for a dubby set at 2:30pm. The waterfront stage was RAM PACKED for Flying Lotus, and for good reason: his music was awesome. I can't really say for sure what he was doing with his laptop (this is seriously becoming a problem!), so he might have just been pressing "Play" and then dancing about, but no matter what the music coming out of the speakers was awesome. He gave a shoutout to Soundmurderer (aka Osborne), and you could hear the jungle influence in the tracks he played from his forthcoming album. The bass on his tracks sounded amazing, shaking everything and getting people into that deep head nod that would probably look completely ridiculous to anyone who couldn't hear the music. Another highlight of the weekend.
When he finished, it was back over to the main stage for the end of Quentin Harris. In keeping with the trend of weak performances from NYC deejays over the weekend, he was playing blandish vocal house mixed pretty poorly. We chilled out in the shade while we waited for Carl Craig. Let's all hope that Carl puts more effort into choosing a lineup next year than he did on choosing his tracks for this set, or choosing the recent releases on Planet E. His set consisted of many of the C2 knockoff style tracks played back to back, boring me nearly to tears. I should have gone to at least check out Afrika Bambaataa, but it totally slipped my mind.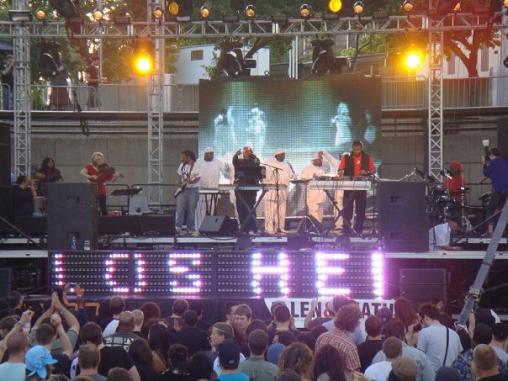 Los Hermanos Live
Instead I toughed it out until Los Hermanos, who were predictably dope. They were maybe not quite as good as the Galaxy 2 Galaxy live band, but they still banged out some dope latin influenced house and techno that is perfect for the sun going down at the main stage. After them, it was time to hide for two hours while Kevin Saunderson played garbage as he likes to do. Finally, it was time for Derrick May to close out the festivities. I hadn't stuck around for the closing sets on Saturday or Sunday, so I don't know how packed they got. Monday night was really not very crazily crowded, especially compared to recent years. May started off slow, before gradually picking it up. The last hour of his set was magnificent, going from disco to the deepest epic melodic techno I've heard in quite a long time. One track in particular near the end was had these insane strings that were absolutely amazing. Deciding that this set was a perfect way to close out the festival (and since we hadn't heard anything about any particularly good afterparties), we stayed in Monday night so we could get an early start on Tuesday.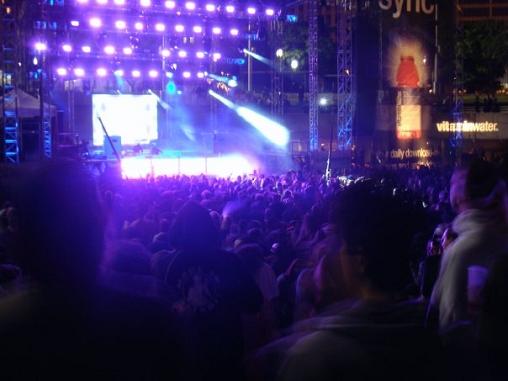 Derrick May
In Conclusion
I may have spent even less total time at the festival this year than any of the previous Paxa-fests. Even though the lineup this year had more good stuff on it than last year's, they managed to ruin it with the stupid stage setup in the underground. People need to take a stand about this issue RIGHT NOW while it is fresh in everyone's minds so that this is not the case next year. Without a much better lineup due to C2 and a guarantee that they will not use the underground, I will not attend the actual festival itself next year. It's difficult to imagine how one can feel ripped off by paying $50 for three full days of music, but that's exactly how I felt. I can remember years when the best things I saw over festival weekend were all AT THE FESTIVAL. This year, almost all of the good things were at the afterparties. They really need to step everything up for next year. Announcing Carl as artistic director this early is a good first step. There's much more to be done, though. The lineup NEEDS to be confirmed and put out there by January 1 so that the international crowd will actually show up. Of course, they're not gonna come out to see the same Euro deejays they can see anytime in their own towns either. More special Detroit performances need to be added, and they need to be spread around all the stages instead of being kept in the underground ghetto like they were this year. In fact, I would love to see the people who played that stage get invited back next year to play in a tent or other stage with a proper setup. Keep the lineup and timeslots exactly the same, I just want to be able to see those guys kill it properly.
No matter what happens at the festival itself, being in Detroit over Memorial Day weekend is a ton of fucking fun. Driving around, hitting record shops, going out to awesome parties, all of these things make it worthwhile to go to the D regardless of the cost. Detroit is an amazing place with a ton of dope musicians doing fantastic work. All we need is for the festival to focus back on that, and then I will hope this continues another 10 years.