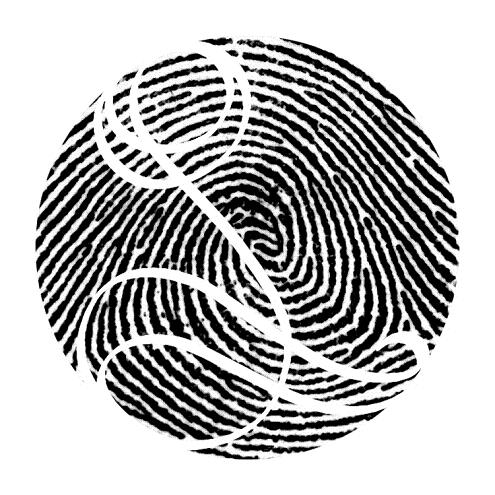 The lucky people who met up with me in Detroit already know this, but as my label's first release is on Crosstalk's distribution list this week (link is time sensitive, by Friday it will show next week's releases!) it is finally time to let all the info out. The release is by an artist from Austin, TX, who goes by Disco Nihilist. My label (some of whose early logo artwork you can see at the top of the post, the final label art has not yet been completed!) is called Love What You Feel and it has no web presence.
Disco Nihilist is a name that may be familiar to long time readers and commenters here, as you will see it sprinkled throughout the comments on ISM. Check his Myspace to hear some of his new tracks, all of which are also quite dope. He has a few other things in the works for release on wax, but this is his debut vinyl release and I must say that I am quite pleased to be the person who got to help him get his music out there. He's already been praised by Santiago Salazar in an interview from last year, and recently the Broken Audio Movement guys mentioned him in an interview as well. His mixture of the old and the new is very fresh.
Check the link to Crosstalk's page, you can listen to one minute samples of each of the release's four untitled tracks which you can no longer hear anywhere else online (well, until shops put up sound samples!). The description I wrote on that page is still the best way I can think of to describe the sound of this release, so I won't expound on it more here. I will add that if I heard a record that sounded like this in a shop in 2009, I would immediately pick up two copies and start feverishly hunting down the producer online. I hope other people feel the same way!
The artwork is being done by my man Andrew Burger, aka one of the owners of 720 Records in Pittsburgh and sometimes blogger over at Stupid Scientifical. Andrew is an outstanding visual artist who works in many different styles and mediums. He's also a huge record nerd, who loves everything from hardcore to dub to house to jazz. All artwork for the label will be done by Mr. Burger, whose work you may have already seen on every flyer I've had for all of my nights and events (except for the Rick Wilhite thing last year). You can also check out a project of his that he hopes to turn into a book here, featuring lots of crazy monsters and whatnot. Insanity!
So yeah, now is the time for shops to do preorders through Crosstalk. If you own a shop, then you know what to do. If you want your local shop to get it in, harass them this week and tell them that the release is on Crosstalk for preorder now. The actual release date is about 3 weeks away, leaving a time for the artwork to be completed and the final pressing to be done and shipped. I'm sure I will be slowly going insane over those few weeks to get everything finished up, but the experience of putting out a record has been nothing but fun and excitement. Copies of this record were given out to many house deejays at DEMF, so hopefully it will be making its way into sets around the world very soon.
As for LWYF-002, some things are already in the works….. keep your eye on this space!
Updated to add: If you want to be the first on your block to have this record, I'm selling a couple of the last white label copies through the shop I work at in Pittsburgh, 720 Records. The link to buy is here; the promo records are a tad bit more expensive than they will be in shops once they come out but that's life in the big city 😉 I reccomend this especially for heads in the US as overseas shipping is insanely expensive these days.