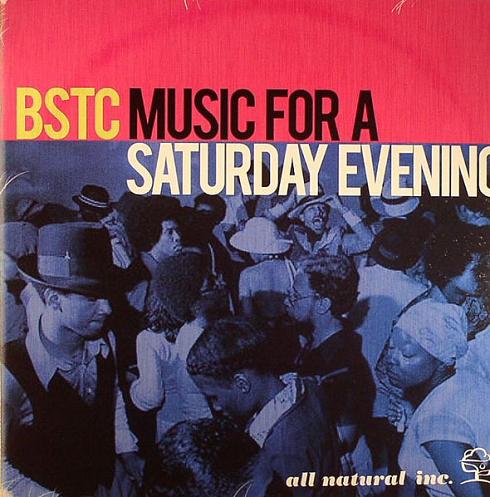 Got a couple more records since the last post….
First up is the "Music For A Saturday Evening" album by BSTC on All Natural Inc., usually a hip-hop label but this time delivering awesome live soulful house. I have to give the credit to this selection to Kai Alcé who dropped "Love It" on his ill mix for us last year. But really, this whole album is dope. I have no idea if it's because this label is kind of obscure for dance music heads, but every soulful house head should be copping this record. It kinda reminds me of Tortured Soul but with horns and possibly better songs. Very dope.
Demis Roussos (of "L.O.V.E. Got A Hold Of Me" fame) has a new album out, and the lead single "Love Is" is a funky disco-style banger. Flipping the typical dance rythm on its head, the snare drum drives the track on each beat, while the chorus vocals take the melody over the top. Judging from the soundsamples of the original, Krivit beefs up the drums and puts the vocal front and center. This may be a bit of a turnoff for many, as Demis' vocal style is pretty distinctive and odd, but the piano and uplifting lyrics describing love make this a prime end-of-party anthem, total hands in the air business.
I finally got a copy of an import jam that's been killing me since I heard it on Youtube months ago, Floating Points' "Love Me Like This". Jacking a loop from Real to Reel's dope boogie jam of the same name, Floating Points add some fat synths and a healthy dose of repetition to create a storming deep house jam. This is definitely top 10 of '09 business right here.
After seeing it kill dancefloors while on vacation in Chicago and again multiple times over DEMF weekend, I had to pick up Afefe Iku's "Mirror Dance" on Yoruba Records. I'm not sure when exactly this came out (Discogs says December 08, though I am sure it's been around longer), but this is pretty much as ridiculously anthemic as deep house gets and will forever remind me of spring and early summer 2009 when I saw it do damage. This track is simplicity at its best: a tribal drum loop, a synth chord, a repeating vocal, and of course the infectious marimba melody is all it takes to crush a dancefloor. While catching up on my Osunlade related records (Yeah, my bad for forgetting about you, man! Your DEMF set reminded me why I love your records, BIG TIME), I also grabbed "I Don't Know" which is another deep vocal jam from the man.
Pittsburgh band Zombi wised up and rereleased their difficult to find Carpenter-esque dance jam "Sapphire" on the Throne of Blood label. The original is definitely the one for the cosmic, techno and italo heads, while the new remix by Escort kills it in more of a disco style. Speaking of Escort, does anyone have any idea what happened to them? It's been over two years since their last single, and about the same since the ridiculously anthemic remix of Tracey Thorn. I've basically hammered everything they've done in my sets, but I WANT MORE.
This past weekend I dug up an extremely fresh album, "Heart of the City" by Barrabas. I'm quite familiar with their classic "Woman" as well as "Checkmate" from this album, but basically every track on here is a dope latin-funk dance joint. It's so good that you can just play the whole thing through, I highly reccomend this one.
An update on the Disco Nihilist record for those interested: I am basically out of white label copies. The artwork is being finalized this week and the officical pressing will be dropping shortly thereafter. If you REALLY want a white label, I think we have 3 left at the shop I work at. You can order here, though due to insane shipping costs I reccomend this mostly for cats in the US or Canada.