Simon and Guillaume have been working with the Lucky Cloud soundsystem for some time, putting on some great parties including hosting David Mancuso's London Loft sessions. More recently the guys have also been running Deepfrequency.com – an internet radio station par excellence.
ISM caught up with them to talk about some of the history and ideas behind what they do. They also very kindly contributed a great mix and edit to the site.

Simon – Deep Frequency Mix
James Brown – Body Heat (G's Infinite Sex Machine Edit)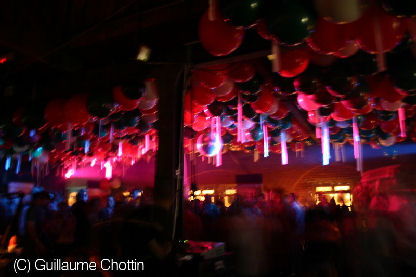 1) Tell us about some of your musical influences and some musical experiences that have made an impact on you in the past.
I [Simon] grew up in London which must be the most musically diverse city in the world. In 1960s my dad moved to London from Ireland and was heavily influenced by the acid rock and rhythm and blues sound of that time. As a child I was exposed to this music and at a very young age and remember eagerly searching through his then seemingly endless draws of audio cassettes and records. The 80s was an incredibly creative period (not just for music) and London was certainly a centre for this. In the early 80s Disco started to transcend into House and Hip Hop finally had a name – it was so exciting to discover this new music which was often played alongside each other.
Looking back it wasn't just a musical revolution but a cultural one too. I was too young to appreciate it at the time but as well as being captivated by the music, I also got involved in what came with the music: break-dancing, fashion, lifestyle. Even though relatively young, these were formative years and continue to influence me to this day. As a teenager in the late 80s I watched as the Acid House movement exploded and shortly after the UK media vilified it. I really started getting into the party scene in the 90s when House music ruled. The UK was an interesting place for House because you had the heavy US influence along with the European sound, which typically came via Ibiza, plus a lot of very good UK productions. In the mid 90s I really started taking an interest in the music and would checkout the likes of Masters at Work and Frankie Knuckles when they visited London. There weren't really any super-clubs then (even the Ministry of Sound was considered underground for a while), often the parties were intimate affairs. I have very fond memories of this period. I was influenced more and more by the US House sound which often sampled old Disco tracks. Naturally this lead me to discover the original records and find out more about the guys who were playing them. This eventually took me to New York and it was the start of a love affair.
After many years of partying in London and Ibiza I finally arrived in New York at year zero: David Mancuso's Loft party. The room was completely full of balloons. The music played on a crystal clear sound system that didn't need to be played very loud at all. A feast of food good enough for a King had been laid out: old people dancing with the very young, a real sense of community. This was what I'd been searching for: it all made sense.
2) How did you first hear of the loft parties and hook up with David Mancuso
I [Guillaume] think that along the path of discovery, your musical journey often takes you back in time, I, myself was heavily into Detroit Techno in the early nineties (Underground Resistance, Juan Atkins, Jeff Mills, Derrick May etc…), on the continent in Europe we didn't really have so much of a "Summer of Love" phenomena but Techno was really big and it's the housier side of Mike Banks (Happy trax etc…) and Djs like Laurent Garnier (Fnac records etc…) and later Dj Deep, Eric Rug and Dj Gregory who really got me into the Deep House sound. From then on, I think the journey took me to Disco, Funk, Soul, Jazz etc… Chicago, New York, Larry Levan, Paradise Garage, The Gallery and eventually The Loft. To this day, I still find it so exciting, a cover of an old song, or a sample leads you to the original version, you then check out the various other things the original artist did and then discover other artists that person collaborated with, other names they recorded under and before you know you have discovered another 15 fantastic records you didn't even know existed, travelled back in time across continents and musical genres but somehow there is always one element/one record that will strangely lead you back to the Loft!
[Simon] That's right, it certainly feels like at whatever point you discover contemporary dance music and club culture, at some point it will lead you back to David Mancuso and his Loft parties in New York (although The Loft was never a club). It was and still is such a creative melting pot. A place where relationships are built and ideas realised. Whether it be Arthur Russell, William Socolov, and Juggy Gales conceiving Sleeping Bag Records or Michael Broody and Mel Cheren dreaming of opening a club called the Paradise Garage.
[Guillaume] We sometimes refer to it as the mothership, in all honesty I think it has been a real catalyst for a lot of the things we've been doing in the past few years. It's a bit like when people say "All the roads lead to Rome", it seems like "All the audio paths lead to the Loft". I remember reading bits and bobs about David Mancuso and the Loft and hearing stories in record shops, records being referred to as "Loft Classics" etc… I guess the turning point was the release of the Loft compilation on Nuphonic and the London party that followed which was a first introduction to the Loft experience. Following that, we booked ourselves a bunch of tickets to New York on a credit card and went off to check David on his home turf: it was truly magical. I think the first party we attended there was at the Union Square Ballroom: red balloons were floating in the room, Archie Burnett and friends were voguing in the middle on the floor, I also remember Francois Kevorkian popping in to check the vibe, eating Victor Rosado's lasagna. And the music of course: being delivered on a crystal clear system at the optimum levels in this friendly and ultra welcoming attitude-free environment: the perfect party? Coming from London, where sometimes you'd consider yourself lucky just to have made it past the door staff, it certainly was and it was very overwhelming and very inspiring at the same time and the dancing was just out of this world! So when Tim Lawrence, Jeremy Gilbert and Cosmo put on the first Journey Through The Light party with David and were looking for people to help with the set-up for their first party we were there in a hurry and we've been very lucky to work closely with David for the past 6 years now.
3) What were your inspirations for and ideas behind getting a sound system together, was it directly influenced by the loft or also with the uk sound system culture? Who else is involved with the project?
It's a rather vast question… I [Guillaume] think it would be difficult to say that the Loft wasn't an inspiration (a lot of people refer to it as the blueprint) but I think putting together a sound system together was a logical step forward for Lucky Cloud Sound System for a number of reasons. Nowadays it is very difficult to come across decent venues with decent sound systems etc… in fact, I am sure you can count on one hand the places with a well looked after and good-sounding system in London. When putting together a sound system you really broaden your options as far as finding suitable venues for a party: suddenly a community centre, an old theatre, a library, a yoga centre becomes an option. So in a way acquiring a sound system is giving yourself a lot more freedom but more importantly in doing so you gain full control over the sound, every single component is chosen carefully in order to provide the best possible audio experience for your dancers and a lot of care and effort goes into that. There is no third party involved when it comes to sound. It's nice to have that sort of control nowadays, as most places spend more money on stocking-up the bar than on looking after their sound system and on many occasions you're left with bleeding ear-drums at the end of the night. So in essence, having a sound system, makes it possible to avoid getting involved too much with the bar/club scene, you can concentrate on finding spaces which will work for you, and don't have the extra stress of having to deal with pushy venue owners (who will only give you one chance and who thought it was really clever to plant a big shiny bar that lights up like a Christmas tree right the middle of the dance floor), beaten-up equipment and sound systems and moody and heavy-handed door staff etc… All that freedom comes at a price of course, it's a big financial commitment but if you're serious about your party and have a long term plan then I think it makes sense to invest in a sound system, for all the reasons above but also from a financial point of view. From a dancer's perspective I think it's re-assuring to know that the party organizers are that committed that they went out, got a loan and invested a lot of their own money into the sound system: that's how much they care about the whole thing. The Journey Through The Light parties are really not a money making exercise at all, all the money is re-invested in the party. LCSS is really a family affair, there is an inner-core of people of course, but overall I think there are close to 25 people involved altogether, all involved in various aspects of the parties (sound, food, décor, door, lights…), everyone plays a very important role and it's all those people coming together, their energy and dedication which really make the parties happen on the day: it's a very organic thing.
4) How long have you guys been organising parties? Maybe you could tell us about some special ones from the past that have stood out in your memory (your own parties or other people's parties).
I [Simon] have been on the fringe of organising parties since the mid 90s, helping carry speaker boxes and record bags for friends who were doing parties in places like Bow in East London and at a random sandwich bar in Holborn. The first party I was directly involved in was at the Blue Note in Hoxton Square. In June 2003, we hooked up with the now named Lucky Cloud Sound System crew who host David Mancuso's Journey Through The Light parties.
That first London Loft party was very special, on so many levels. People danced barefoot, parents danced with their children, people ate together, danced together, friendships were made and ideas discussed. I hadn't experienced anything else quite like this is London before (or since). I truly believe if it wasn't for the Loft parties the likes of Beauty and the Beat, Voices, Deep Frequency and Cosmodelica wouldn't be the same. After nearly 40 years David parties are still a creative breeding ground. Myself and Guillaume became a lot more involved when Lucky Cloud Sound System was born a couple of years later and the sound system was purchased. We both continue to blow up balloons and carry inconceivably heavy and awkward sound equipment around, in addition to the day to day tasks of running the parties.
Other parties which have had a tremendous affect on us: Paul Trouble Anderson's Wednesday night Loft parties in Camden. The energy at the parties was incredible! Harri playing at Plastic People on Oxford Street, before it moved to Curtain Road. The Strut Records Paradise Garage party at Electrowerks in London with Danny Krivit, David Depino and Taana Gardner. Danny and David playing back to back for the last couple of hours and dancing on saw dusted floors! Amazing! Body & Soul and The Shelter at Club Vinyl in New York (too many times to mention! Breath taking!). The first time Francois K played Plastic People on a Friday and then Saturday night. It was pre Deep Space but certainly the first time most people heard him play in the now recognised Deep Space style. Francois K's Deep Space party at Cielo in New York. Also, the first time Francois K played the terrace at Space in Ibiza (when it didn't have a roof). FK played for over 10 hours – from day into night. Wow! Together in Spirit in New York with Herb Martin and Kim Lightfoot at a tiny little restaurant type place (before they moved to Frank's Lounge). Jeremy Gilberts house parties in Essex Road London: dance music, Jasmine tea and biscuits! Dance Culture in Paris. Basically to many….! Respect and thank you to everyone to helped make these parties happen!

5) I've been to a few loft parties and more recently the deep frequency birthday party.They always seem to have a special energy to them, more like a house party with friends rather than a club party. What is your philosophy behind creating parties, what makes a good party for you?

[Simon] I think first of all the people. You can have the best sound system, the best room, the best this or that but without the people you have nothing. Having said that, it's worth pointing out that getting the right people is very difficult. After the people, comes the room and the sound system.
[Guillaume] I also think it's really a combination of things, the people being certainly at the core of all this, basically you can have a shitty mixer and only one turntable and still have a fantastic party with the right crowd. But I also believe creating the right environment for a party is quite essential.
[Simon] Yes, it's all about creating a comfortable space where people feel free to let loose and express themselves and enjoy the music without having to worry about all the problems associated with "night clubs" for example.
[Guillaume] Not everyone is always that comfortable on the dance floor, you can always tell you've done a good job with creating the right atmosphere when someone you know, who is normally a little reserved on the dance floor, is going totally nuts to the music without a care in the world. That sort of energy often ripples through the crowd and is what creates those real "moments" on the floor.
[Simon] We're lucky the venue we use for the deep frequency parties is not a nightclub or a typical bar. It's a creative space so this allows us to do things the way we want. We don't have to have doormen or enforce a particular dress code. The bar is away from the dance floor. There is a private smoking area outside. We can decorate and transform the space and bring in a sound system. All these things help the party and give us control over the aesthetics, something you might not necessarily get in a typical nightclub or bar. Essentially it's a very simple recipe, rig-up a sound system, make the room look nice so people feel comfortable, call up some friends, play some good music and have a party. I often find the simplest things can be overlooked when hosting parties. Naturally what we're doing with the DF party finds its roots in the Loft, but we're trying to slowly bring our own little twist to the whole thing, in terms of how the music will be presented for example: watch this space!
6) Why was Deep Frequency radio started and what did you hope to achieve with it? What are your favourite shows on there?
I [Guillaume] spent almost 3 years north of Paris before eventually moving to London, at that time I got involved with a small FM station because I was desperate to share all the records that were piling up in my tiny flat. The station mostly programmed independent rock I was given a Saturday slot from 11pm until 2am, no one really wanted it (and to be honest I think the guy who ran the station pretty much hated dance music period) as it was pretty unsociable hours so I ended it up doing it almost 3 years in a row, I really enjoyed it as I could play pretty much everything I wanted so I have always liked the radio thing. A little while back, we heard through Alex (Voices Collective) that Victor Rosado was doing an online show, until then I have to admit that I'd never ever given web-radio a second thought, to me radio was FM period, but we rapidly got hooked on Victor's show and the thought that we were sitting in London listening to Victor Rosado broadcasting live from his New York apartment really got our creative juices going. We mentioned the idea to a few people, but to be fair I don't think too many thought we were remotely serious; let's be honest a lot of people are very good at doing the talk thing in the music scene… however a couple of people really liked the idea and were very supportive from the very start. So we did a little a bit of research on the whole web-radio thing, eventually got our head around the whole broadcasting thing and went for it. I don't think we had any real ambitions at that point; the idea was to give a lot of our friends and grass roots djs (and anyone up for joining the ride) a platform to express themselves, get their music heard, get some exposure, have some fun and make some like-minded friends in the process. If it was going to work then great, if not then at least we had given it a good go. That's basically how the whole thing came about. There were a few teething issues of course… but we got there in the end and we've settled into a nice little groove.
As for our favourite shows, I think we're very lucky that we have on board a bunch of very dedicated and very passionate people, I think everyone brings their own thing to the table which is really important for us, there has never really been any particular music policy as such, it's pretty much play what you like, what you feel and what really represents you. I think people like Dj Alex and Johnny Chingas have been working hard at getting a lot of guests in their shows which has been really fantastic for Deep Frequency but overall I think the variety of shows is what makes it work altogether.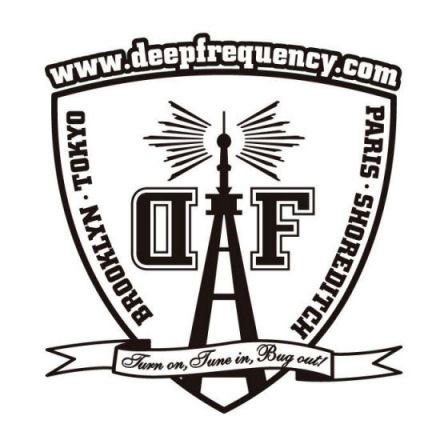 7) What is it that makes London clubbing special in comparison to other cities? London often gets associated with fashionista type music scenes but clearly there is a richer underground musical culture going on behind this facade.
I think, it would be a bit unfair to say that London is particularly more special in terms of clubbing than any other city in the UK or any city in the world for that matter. The UK most probably has one of the biggest clubbing industries in the world, but I think that as soon as I mention the word "industry" then things suddenly don't have the same ring to them, do they? It becomes more about business, about making money than about a music scene really. Wherever you are in the world, I think that with the appropriate local knowledge and by going through the right channels you'd probably come across some really thriving underground music scenes and they might even turn out to be healthier than in London. Here in the UK, it's like everyone and their nan go out clubbing at the week-end, it doesn't seem to be so much because they're into it but because it's basically what everyone else does. At home in France, the club scene is microscopic compared to the UK's, but often I think the people you come across when going out are there for the right reasons, but so it's clear I am really not saying there aren't any places like that in London but you have to admit there's a majority of places where sadly music is the very last thing on people's mind. Also fashionista type people can sometimes be a good thing, if a party attracts a good mix of people, a real crossover crowd and become some sort of creative hub then this can lead to some very exciting things I think, but of course the balance must be right, I think that ideally anyone should feel welcome at your party. Anyway back to the point, I think that in recent years the money driven industry has more or less pushed the music heads out of the clubs and that's why we've witnessed a real return to the underground. Basement parties are flourishing everywhere, sound systems are popping up… so I think you're right there is a richer underground musical culture happening right now behind all that fluffy stuff. We've almost gone full circle it seems: from the free parties and the warehouses to the big clubs and now out of the clubs back to the warehouses, studios, workshops, basements… there are lot of good things happening in terms of underground parties at the moment, it's really interesting and it might hopefully rejuvenate the whole scene and give it back that edge it seems to have lost in the past few years.
London to me, still remains quite special; it's a very cosmopolitan city where a lot of different musical styles meet and every now then all those musical influences collide to give birth to a new child, it's basically what happened with things like 2 Step, Drum & Bass and more recently Dub Step & Grime: another child which popped out of London's dirty, dark urban guts, I think this is something that is still very exciting about London.
In addition to that, I'd say that whatever you're into, if you're passionate enough, willing to work hard, you'll always be able to find in London like-minded people to associate with and develop and push your own thing and really make it happen. I think that's why London remains quite attractive to a lot of people but I guess that's also valid for a lot of big cities but certainly more so in London where there is a very strong and well developed music scene and where generally people seem to be a little bit more open-minded.
8 ) What are you plans for the future? Are you planning to do more Deep Frequency parties? What about plans for the radio station?
[Simon] We had such a positive reaction to the first Deep Frequency party that we're planning to do it once a month. Playing on 30 May we have JC from Here & Now Recordings, Cedric Woo and Johnny "Chingas" Hiller. On June 27 we're delighted to welcome Joel Martin (Quiet Village) with support from myself [Simon] and Guillaume for what should be a very special deep dubby spaced out session. Myself and Guillaume continue our fortnightly shows on Tuesdays and Mondays respectively. Lucky Cloud Sound System continues its seasonal parties with David Mancuso. We celebrate 6 years in June 09! Also, a film is being made about Lucky Cloud's London parties with David Mancuso.
[Guillaume] How long have you got? ? As for Deep Frequency the station, we will be rolling out an updated web-site in the next 2 weeks, which should hopefully be a lot friendlier than the current one and improve the listeners' experience. Ideally, I'd like it to be more interaction with the listeners and we're working on the best way to achieve this, we have thousands of registered users so there is potential to do something interesting there. Maybe add reviews etc… and possibly create a real deep dance music portal; some sort of community. In essence we're really not short of ideas; it's just executing them the right way which will have to consider carefully. I would also like to extend the broadcasting hours, get more djs/selectors on board etc… It's been going on for a year but I still think it's really early days for DF and hopefully it can turn into something good. Possibly a Deep Frequency Music label, but it's really thinking ahead.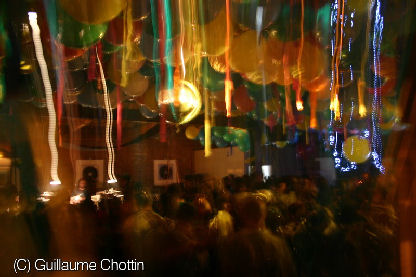 Admittedly it's a huge amount of work and there are weeks where we are little overwhelmed by it all, so we're going to have to address that very shortly. I have other projects (like my family) I would like to focus on. From a financial point of view, Deep Frequency is completely self-funded so getting some sort of sponsorship in place would be fantastic but at the same time we don't really want to give too much away!
So to sum it up, plenty to keep us busy in the coming months, plenty to think about and plenty more music for all the people who support us out there, be it online or on a real dancefloor! THANK YOU and stay tuned! 😉