Not sure how I've not gotten around to make a post about my little holiday over to the States for DEMF, but I thought I'd say a few things about it now.
Actually, I can pretty much skip the festival as I wrote up a review of it over on the Bodytonic site which you can read here. I pretty much agree with what Tom said. Having not been there before and not knowing how it was originally laid out, I didn't mind the set ups at the Beatport and Red Bull stages, though there is no doubt that the Underground stage was the worst abomination of a "stage" I've ever come across at any festival. I'm flabbergasted that Paxahau could've possibly thought that it was ever going to work. It was just plain ignorant to throw many Detroit artists down there. It's also depressing to see such a low turn out from the local black populace at the festival but I kind of expected that as I'd heard it had gone that way since the festival became ticketed and moved away from focusing on the local artists. Still, it was good to see that they were representing at the after parties, which musically were the highlights of the weekend. I've got to back Tom (and Detrotio) up again in agreeing that the set by Jeff Mills was something else. An unforgettable experience, seeing him play such a stunning set on home turf.
One of the highlights of the whole weekend though was before we even got to check out any music! After grabbing some dinner on arrival we took an hour or two to drive around the city. One hears so many stories about what Detroit is like that it was a fascinating eye opener to witness it first hand. There is no real point in trying to dress up or glamourise down town and the surrounding areas – we didn't go out to the suburbs – it is a city that has seen better days. There are remnants everywhere of a once thriving city, but much of that is now gone, in it's place abandoned office blocks, burnt out houses and small business long since closed up. Though the typical American chains have not replaced these either, they are few and far between too, many of them having pulled out of the city limits. This does not mean that the city has been abandoned by the people, there was life on many of the streets we drove down or passed by, and some houses one would think to be not inhabited had lights on or people sitting on the porches.
One can't ignore that it was a city designed for cars. The roads are wider than in many other cities, and it is a sprawl – you won't be walking to many places – but it's also noticeable that the roads aren't particularly busy, another reflection of what happened to the city when the motor industry pulled out of it. We did come across some – well one really – affluent areas but they were not isolated from the more run-down areas, instead they were back to back with each other. The lack of regeneration in the city is startling, and I really don't think I've seen anything like it before.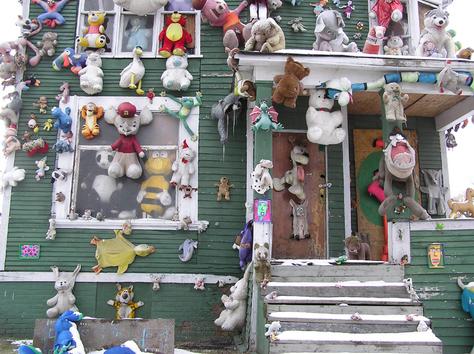 Part of The Heidelberg Project, in which a series of abandoned houses in Detroit are given a new lease of life
Really, what I'm saying here is not hugely informative for people who've either been to the city or read up on it but, most interestingly, all of what I've mentioned is truly channeled through into the music of Detroit. I've been listening to music from the city for 10 years now and more so than ever I've a real understanding why the music of the city sounds the way it does. You can see it everywhere you look. It's stark, somewhat melancholic but not entirely desolate. I also visited Chicago when I was over, and I never really got the same feeling from traveling around the city like I did in Detroit. Now, they are two very different cities and Chicago seems to be a great city but the idea that I could feel why Detroit music sounds like it does from just driving around was something one didn't get in Chicago. Actually, I can't think of any city I've been to where I felt like this and it will certainly be one of the lasting memories of my trip that will stay with me forever.
Hitting up some parties was also a lot of fun and, again, different to what I'd experienced before. On the Friday night at Rick Wilhite's party it was great after so many years clubbing to come across a new experience and environment. I'm far more accustomed to being in a club with gangs of young drugged up kids and not a crowd of such mixed age and also one that is predominately black. Growing up and living most of my life in Ireland, one doesn't be in many situations where one is the minority and while not feeling uncomfortable in the club it was that little bit different and it was also a lot of fun! I met and chatted to a fair few friendly and cool folk and being a dancefloor with such expressive dancers is always gonna be a buzz. I quickly realised maybe I just don't have much of an array of funky moves at all.
From a purely fanboy perspective there was a certain surreal feel to the parties and festival with the who's who of Detroit music strolling around. It shouldn't really be a surprise, why wouldn't they be hanging out at the parties, but it's not every day that you see Mike Huckaby, Theo Parrish, Dj Bone, Eddie Fowlkes, Omar S and many, many others strolling around chatting, drinking and having the odd shimmy.
There was also records to be bought and while there might not have been a vast amount of brand new Detroit wax on offer I still came back with a rather large bag (or two) of records. From little known Detroit labels to old disco, house, techno and italo I could have spent far more time (and money!) in the shops we hit up, and it's a little bit depressing to return to a county where 2nd hand vinyl is so thin on the ground. I go through the 2nd hand sections in Dublin in a matter of minutes while I wonder just how many gems I managed to miss out in just because I didn't have enough time to listen to the racks and racks placed in front of me in Detroit, and to a lesser extent due to time restraints, Chicago. And again the fanboy in me went in to overdrive when Scott Grooves walked into Memories and Melodies with his brand new mix cds.
As posted a couple of weeks ago I did a small guest slot on Nic Keane's Box Deluxe show on Power FM, where I waffled a little (man, do I not like talking on the radio!) and played a bunch of records i'd bought over there – many old, some new, some little known etc – which I was gonna link on this post but the show hasn't been archived yet, but I thought I'd get this post up now, so I can be a little bit relevant, what with the trip being over a month ago now.
Finally i'd like to give a big shout out to everyone I met, none of whom I'd ever met in "real life" before, who drove me round to parties and record shops, let me crash in their motel room, brought me to White Castle (my innards will never be the same again) and generally showed me a great fucking time; Tom, Kelly, Frank, Adam, Kent, Jwan, Matt Cohen, Andy, Jonathan, partyboy Trevor, Wojciech (pity our meet up was so fleeting) and anyone else I bumped into and had a chat to along the way. Might see yis all again next year…