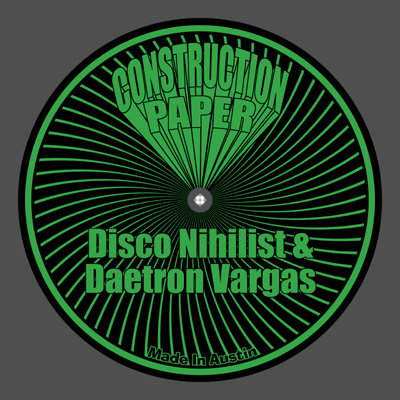 The ill new records flow continues….
Some of these records will be familiar to you if you read ISM-writer Kenny's reviews column over at the Bodytonic site. It's good to see him becoming more of a house head, but at the same time he may need to quit biting my style

Anyway, this edition of the record round-up is especially gratifying because it features big things from close friends of ISM. As you can see from the top of the post, the man like Disco Nihilist has gone off and started a new label with his boy from Austin, Daetron Vargas. The first release on Construction Paper features 3 collaborative acid tracks that maintain Disco Nihilist's acid sensibilities but with cleaner production. Toss in one deep techno jam done solo style by Daetron to complete the package, and you have yet another promising US label entering the fray. It's good to see the DIY sensibility running strong! Sound samples can be found here, and while the full release is still a little while away, a few white labels are available from our girl in Detroit Who Dat's Ya Digg records! They're exclusive to her shop as of right now, so get that shit here to beat everyone else to the punch.
Continuing their killing spree, our boys Juju & Jordash have dropped their debut vinyl LP on Dekmantel. I've had these tracks for a little while now, and I must give this my fullest reccomendation. Few producers have mastered the combination of jazz and electronics like these guys, and on this album they do it up properly in both dancefloor and downtempo styles. They even included "Deep Blue Meanies" for those who missed out on the first Dekmantel release! Looking through the album's dope artwork, you will see this very site included in the thank yous. And for that, we thank Juju & Jordash! It's been awesome hosting mixes by them, and I have been following their music for years so it gives me great pleasure to see them blowing up internationally as they are now. If we helped out with that even the tiniest bit, we have been doing our job well!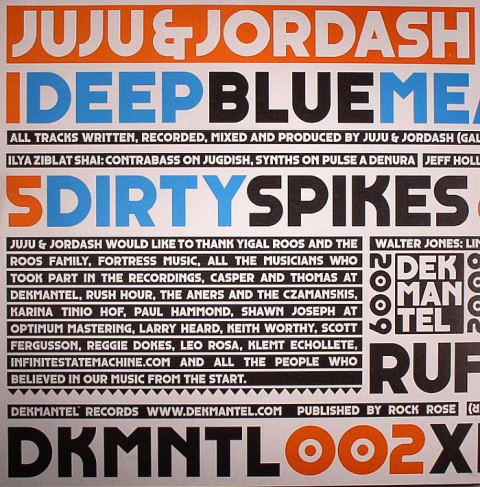 Hopping directly onto the list of Best Tracks of '09 is the A1 cut on the new Balance Alliance 12″. I've loved all three releases on this new label headed by Chez Damier, but it is difficult to tell who actually produced the tracks on the two compilation EPs. On this new one, there is a list of producers on the record, but no other info. The whole record is dope, ranging from deep disco influenced house to 80s boogie sounding jams. But that A1 cut is pure gold, with a great vocal and strings that go on and on. Amazing, timeless soul music.
The newest joint on We Play House is either just out now or about to drop as I have the artwork version sitting here, and it is a scorcher. Dynamodyse is the artist, and all four tracks are sweet melodic deep synthy jams. Red D used the vocal A1 cut "Gare Du Nord" in his recent mix for us, and it is definitely the highlight and another contender for one of the best cuts this year. All the others are above average as well, it's almost criminal to put this many good songs on one record. I have the feeling this one will be in the bag for a long time!
My man James Duncan has relaunched his Le Systeme label after four years with a new 12″ called "Friday Night Sessions". I've been a big fan of James' mostly sample based tracks for years, he makes what I would consider to be deep house music for the heads. His "Times Like These" EP from back in '03 is even a bit of a Pittsburgh deep anthem. This new one is right back on form, with the sweet strings and funky disco samples in effect for full on late-night banging.
My man Andrew Burger is a massive record nerd and jazz fusion head. He tipped me off to this self-titled album from Japanese group 9DW on the Waxpoetics label. Now this is just great music! Sounding a bit like Recloose and Azymuth jamming together, there's plenty of dancefloor material for those inclined to drop jazzy broken beats in their sets as well as lots of slower jams for making out with your significant other. They also have a more straightforward dancefloor release called "Golden Dance Classics" that I am going to have to hunt down.
James Pants is one of those post-hiphop artists currently signed to Stone's Throw who just seems to be getting better and better. I dug his first releases, but the new album "All The Hits" is even better. Taking the mini-tracks approach favored by Madlib and J Dilla, he bangs out a large variety of lo-fi dance beats and downtempo joints that go together very well. While his vocals have been iffy in the past, the new 7″ single (featuring tracks that will apparently be on his even NEWER album coming in December) is THE SHIT. Again on the lo-fi tip, but this time the songs have something of a new wave/electro thing going on that. And the songwriting is good and catchy. Check the A-side out on Youtube:
Joe Claussell checks in with a bananas "Extension and Cosmic Overdub" of a classic track "Flying Teapot" by Gong. This starts out as a funky dance jam, but then gets abstracted out into an almost 2-step-like spacey joint before descending into noise. I'm not really sure how this will be best utilized on the dancefloor, but I promise I will find a way

Out-there craziness for those who like it psychedelic.
I'll quickly cover the other records Kenny already got to in his Bodytonic column:
Malik Pittman's Unirhythm Green finally sees the light of day after being on white label way back in '08 at DEMF. I just love how off-kilter but still banging all his shit is, if only he made/released more music he would be able to join the ranks of Theo Parrish and Omar-S. Until then, it's always a treat to get new jams from Malik.
Leron Carson's Red Lightbulb Theory '87-'88 album continues the raw experimental Chicago styles first seen on the 1987 EP on Sound Signature. That EP seemed to me to be one of the least popular old Sound Signature records, but I could never figure out why! I guess now that cats like Traxx and Africans with Mainframes are getting popular putting out stuff like that, it might be time for people to look back on that one. Regardless, this album increases the melody without decreasing the jack. Lovely.
Hunee's Tour De Force EP is the second release on our boy Speculator's W.T. Records. After the great first release featuring dirty-ass house tracks by $tinkworx and Kinoeye, I was not initially sold on this one (from its sound clips) which is much cleaner and "safe" sounding. It turns out I must have been on rocks, as this is a dope 12″ with diversity of house styles. The scat-vocal on "Rare Silk" (which featured on that recent Red D mix here at ISM) is especially dope.
Now on to some other things….
Jason Fine, who had his first release a couple years back on Fxhe, is about to drop a new album on Kontra-Musik. His first album for them was extremely dope REAL minimal techno, and it ended up seeing remixes by A Made Up Sound, Heinrich Mueller, Anton Zap, and Luke Hess. The point being that he doesn't joke around. To celebrate the upcoming album, he did an Ableton mix for the Boing Poum Tchak! blog featuring his own edits of Curtis Mayfield, Earth Wind & Fire, and more along with some of his original tracks. Highly reccomended, even for those vinyl purists!
I recently came across this dope interview with Glenn Underground on the 5Chicago site. He breaks down some of the problems he sees in the modern club scene in the US, and the difficulties encountered with crossing the rave/house border to release on Dust Traxx back in the 90s. You don't usually get stuff like this in an interview, he even reveals how much he gets paid! Really, really great information from a legendary deejay and producer.
Okay, I think that is enough rambling from me for today. We've got more good things lined up here at ISM, starting with the next Lerosa vinyl mix which will be posting in just a short while….