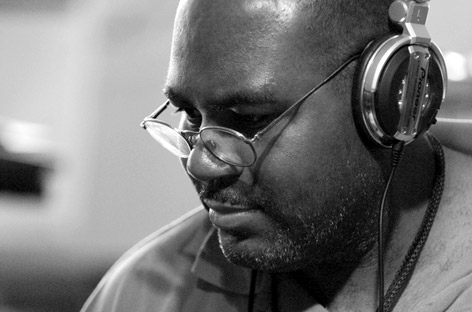 I know it ain't the second half of the ISM interview with Shake from 2.5 years ago (which is still on a cassette tape somewhere in my house!), but it is a brand new interview with the man over at Resident Advisor. I actually did the interview a little while back, but it's still all good. It's always fun to get to chat with one of my personal heroes. Also, it was cool to "collaborate" in a way with my man Matt Cohen, whose photos were used for the RA piece and at the top of this post (and in the current issue of Sports Illustrated as well!).
I've been waiting for it to go up on RA so I could also mention this radio special our man Recloose did on his radio show about a month ago. On it, he takes an interview with Shake as well as some of his music and combines them into a very nice tribute. Another great episode in what is a great radioshow/podcast.
Shake is such a fantastic musician, it's about time that he gets his due. I got the Frictionalism box set on Rush Hour in the mail earlier this week, and aside from the plastic sleeve (which was broken on the bottom when I got it!) it's a very good way to own many of these very hard to find tracks. It would have been nice for some liner notes, photos, and other stuff, but really I think Shake's music speaks just fine for itself. If you don't already have all of these tracks, I definitely recommend getting this box set in any way possible, it is that essential.