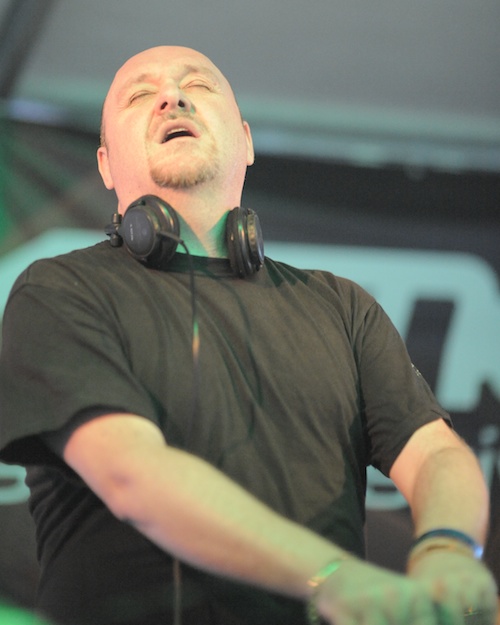 I first encountered Kirk Degiorgio's music a long time ago, when I was first getting into techno and house. It was obvious from his wildly differing production styles that he was a serious music head! Then more recently I encountered him online on the Little Detroit forum, where we had it out a bit in discussions about the use of computers for deejaying. To put it bluntly, Kirk is one of the few people I've witnessed doing GOOD deejay sets with a laptop. His set at DEMF this year was a personal highlight, and despite the serious/angry look many of his publicity photos online have, Kirk is as nice and solid of a cat as I've encountered in this music. I was quite geeked when he offered to do up a special mix for us at ISM filled to the brim with rare disco cuts! I decided to take this opportunity to ask him a few questions via email about how this kind of disco has influenced him…
ISM: Does disco like you play in this mix have any influence your techno productions? If so, how?

KD: I think so, in so much as everything I enjoy listening to seeps thru to my creative pool from which I can draw. I believe in subliminal influences via osmosis when it comes to music – as opposed to anything specific.

It's why I called my earliest artist project 'As One', as it was a simple way of describing my music as all of my influences coming together.

ISM: Did you notice a difference in how disco culture mutated into house music in the UK vs in the US?

KD: Most definitely, the link between Disco and House was not acknowledged or recognised as much as it should have been in the UK. The early house tracks went fairly unnoticed outside the soul scene, as it was played alongside artists such as Cameo, Colonel Abrams and other mid-80s dance music. But once the 'acid house' phenomena started, the drug connotations attracted a lot of people from outside of the dance scene who were completely unaware of the influence of Disco, Ron Hardy, Larry Levan, etc. For these commentators who felt a need to 'claim' this music, it was linked to the DIY ethic of punk and its legacy was linked more to bands such as Kraftwerk, and european industrial bands.

ISM: What deejays influenced you before house/techno music really took off in the UK?

KD: I was too young to go to nightclubs – I have been into dance music since I was eleven – so the most influential DJ's to me were the radio DJ's and the few DJ's who made records when electro became popular.

The radio DJ's would have been Robbie Vincent, Greg Edwards and Tony 'Shades' Valance. These three had very similar tastes – they would play a mixture of high quality, yet commercial disco and boogie around the years 79-81. They also played a fair amount of jazz-funk, particularly Robbie Vincent. DJ Froggy was the biggest influence from a creative point of view. He was a regular guest on Robbie Vincent's show and he would present a 30 minute mix – beat-matching
disco, jazz-funk, etc. He was the first DJ I heard do that in the UK. The Top 30 Disco show on the pirate station Radio Luxembourg – hosted by DJ Tony Prince – was also a huge influence as it was an upfront representation of what was big in the clubs at the time. The cut-up tracks made a few years later by Grandmaster Flash, Bambaataa, Double Dee & Steinski, DJ Red Alert, Marley Marl, etc were the next DJ influence on me. I began making similar mixes using a double cassette deck and one turntable – by using the pause button to link mixes and make edits.

ISM: What modern deejays do you dig?

KD: It's a difficult question – because after all the years I've spent in clubs, what impresses me most is what a DJ is playing. I know that sounds obvious, but I'm not that impressed by mixing technique or turntablism. If a DJ is playing old music – I want to hear tracks I haven't heard a million times before. I don't mind the odd classic at the right time, but if you want to impress me, don't play Donna Summer's "I Feel Love" – there are plenty of other great electronic disco tracks out there. Likewise, if you're playing old techno classics – play something other than the usual big-hitters. But most of all, if you're playing old-school disco, funk, boogie then nothing will make me leave a club quicker than hearing the same old "chestnuts" that I was playing at my school disco's when I was thirteen.

The best moments are when a DJ with the knowledge and bravery to go deep, drops a track that makes you rush to the DJ booth and ask 'what the fuck is THIS?'
Thanks very much to Kirk Degiorgio for this mix, which can be downloaded HERE. Kirk requested that the tracklist be left in the dark for a while to allow some good old fashioned trainspotting in the comments. So have at it! Also, you can keep up with Kirk's productions, deejay gigs, online mixes, and other fun stuff at his Planetary Folklore blog.
EDIT: Kirk has provided a full tracklist to complete what we got in the comments section! I'm really embarrassed by how many of these I have but couldn't recognize, and now I have a few other joints added to my wants list 😉
Timmy Thomas – Africano (TK Disco)
Disconnection – Dead On The Case (Prelude)
Tempest Trio – Do You Like It, The Way That It Feels? (Marlin)
Brooklyn Dreams – Music, Harmony & Rhythm (Millennium)
Fantastic Four – Got To Have Your love (Atlantic)
NYCC – I'll Keep A Light In My Window (RCA)
Linda Hopkins – In Your Blood (Columbia)
Black Light Orchestra – Touch Me, Take Me (RCA Canada)
The Choice Four – Come Down To Earth (RCA)
James Wells – My Claim To Fame (AVI)
Wish / La-Rita Gaskins – Nice & Soft (Perspective)
Asha Puthli – I'm Gonna Dance (TK Disco)
Pure Energy – Party On (Prism)
Sine – Keep It Coming (Vanguard)
Debbie Jacobs – Don't You Want My Love (MCA)
Jesse Gould – Out Of Work (P&P)
Kebekelektrik – War Dance (Salsoul)
Billy Nichols – Give Your Body Up (To The Music) (West End)
Ava Cherry – You Never Loved Me (RSO)
Eastside Connection – You're So Right For Me (Rampart)
Gregg Diamond – Risky Changes (Polydor)
Bill Brandon – We Fell In Love While Dancing (Prelude)
Lucy Hawkins – Gotta Get Out Of Here (SAM)
Tasha Thomas – Shoot Me (With Yout Love) (Atlantic)
Passion – Don't Bring Back Memories (Prelude)
Joyce – Papa John Creach (Buddah)
Hydro ft. Lorna – Stop Your Teasing (Prism)
Mighty Fire – Love Fantasy (Elektra)
Dazzle – You Dazzle Me (De-Lite)
The Brothers – Are You Ready For This (RCA)
Damon Harris – It's Music (WMOT)
The Players Association – Goin' To The Disco (Vanguard)
Jakki – Sun Sun Sun (Pyramid)
Also, much thanks to my ace Matt Cohen for the great photo of Kirk from his DEMF set this year!