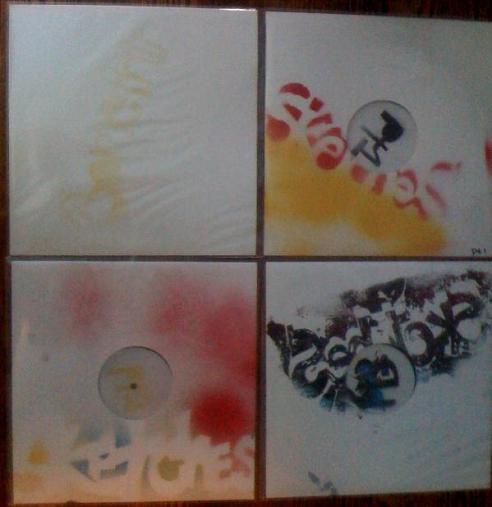 Apparently, Theo Parrish is pissing people off by charging more than the "standard" amount of money for some of his new "limited" records. This is something Moodymann has been criticized for in the past as well. In fact, I criticized DeepChord for similar practices in a post 3 years ago. I have to say that in the years that have gone by, my opinion has changed. I originally thought that resale prices would get crazier than their original prices. Long term, most of those DeepChord double packs resell for approximately what they sold for new in the first place. One of my least favorite aspects of the record business is the resale market where dealers mark up records to astronomical prices, and the original artist sees NO MONEY from this. For small pressing records that have been out of print for decades, there isn't much you can do about that. With brand new records though, there are more options.
What has been going on recently with Moodymann and Theo Parrish records has been particularly heinous. Records that are just out brand new have been bought up by speculators who then turn around and sell on Discogs or Ebay for crazy prices because they are no longer available elsewhere. You have no choice if you want the record and you didn't happen to do an order the hour it was available in the shops. Malik Pittman's Unirhythm Green record suffered a similar fate. This is NOT good for the actual fans and people who want to support the artists because they are paying some joker inflated prices to basically be ticket scalpers. By charging more than the standard amount of money, the number of speculators is going to be severely limited, especially if there is no guarantee that the price will go up from its already high going rate. It also means that records will be available longer in the stores at their retail price. Best of all, it means that the extra money paid actually goes to the artist, label, and record store as opposed to the speculating reseller.
Perhaps it is my own ventures in the record slanging business that has made me rethink the economics of selling new records, but I have to say that the artist and label getting paid and fans getting the records they want are the most important aspects of the hustle. Cutting out the middle man (except for those who really sleep) and being more fair albeit at a higher price is definitely one solution for limited press records that are in high demand that so far seems to work a little bit better than the old way. Is this going to be a viable solution for every artist (or even every release by Theo and Kenny)? I seriously doubt it. Their positions are quite distinct as I can't think of any current artists whose new music changes hands at such consistently high prices. These guys are not morons, they know what is going on with this shit. Other artists/labels are welcome to try similar methods, but the results are probably not going to be the same.
That said, I always prefer good music to be more widely available. Of course, that isn't how some people want to do things. I would like to see more sanity in how in demand limited pressings end up being sold, and this is definitely one step in a different direction. Only a fool would pay the crazy prices for the Sketches LP on Discogs. How long will these be for sale at those prices with no buyers before the price comes down closer to what it originally sold for? I didn't follow the secondhand DeepChord prices this whole time, but looking back with three years hindsight it seems that the original asking price was relatively fair for the demand. Everybody wins.
What it all boils down to for me in the end is that I know what I like, and I have no problem paying money for things that I like. I generally don't spend crazy dough on second hand records because that money is going to people who did nothing aside from finding a copy of a record for less than they're selling it to you for. So I keep digging for deals. With new records, I decide if something is too much money by comparing how much I like it to how much money I have and am willing to spend. If it doesn't add up, I don't buy it. If it does, I do. Theo's recent remix on a Japanese import label was selling for close to $30 new, and I didn't think it was worth that so I passed on it. I don't really harbor any anger about it. The Amerie/Lil Louis mashup was worth the money, so I paid it. End of story.