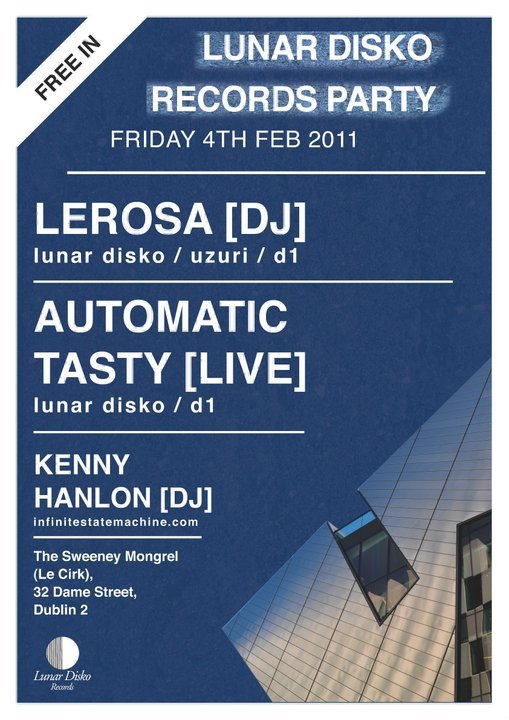 OK, this one is gonna be a lil bit long, but instead of making a bunch of separate posts I'm just gonna throw a load of different stuff in together. January isn't generally seen as that busy a month in music so apologies for the lack of posts. Looking at a bunch of my recent purchases it seems I've spent the last few weeks picking up on a few end of 2010 releases more so than 100% hot off the presses 12″s but December ain't really a time of year that I get to buy records so one tends to miss a few things around then. Before I get to them I'm gonna give a quick heads up on some gig action going on over the next few weeks, throw a couple of links to some top class mixes doing the rounds along with a few other bits n' bobs.
First up is this Friday (4th of February) here in Dublin with the launch party of Lunar Disko's latest release, a compilation I reviewed in this post a while back. The party is taking place in new-ish venue The Sweeney Mongrel on Dame St which is a nice lil intimate venue and the party is free, so no excuses! I'll be opening the night followed by Automatic Tasty, who's live sets are properly amazing and the man like Lerosa will be closing the night off with a Dj Set. Leo has also supplied a rather brilliant new mix for our boys in Cork, Sunday Times! which is on an italo/new wave tip. Also, over at the Mntothat site, the boys behind Lunar give some insight into their label along with a few words from the night's 2 guests.
The week after I'm heading back out west to Bap To The Future at the Beirhaus in Galway on Saturday the 12th, where I played along side LA's GB last year. This time around myself and Noid the Droid will be manning the decks for the night for, well, god knows what sort of mash up of tunes. Between us there aren't many genres that won't be touched on. Again, this is free in. For any Dublin based folk, ISM's Gmos will be in the Twisted Pepper at Discotekken alongside Choice Cut's Handsome Paddy on the same night. Along with Lerosa, Paddy has delivered one of the best mixes in recent months with his Kick Out The Jams selection which you can find here. He touches on Hip Hop, Electro, modern Bass bizness and all sorts on this highly energetic mix. I challenge thee not to enjoy it!
Back in the Twisted Pepper on Saturday the 19th, Barry Redsetta, one of Dublin's finest house and techno djs is kick starting a new night, Jam The Box with Donnacha Costello performing a special Color Series live set. This series of 12″s from the middle of the last decade is my favourite work of Donnacha's and arguably his best, so this should be pretty awesome. Myself and Barry will be on warm up duties for the night. Moving swiftly on…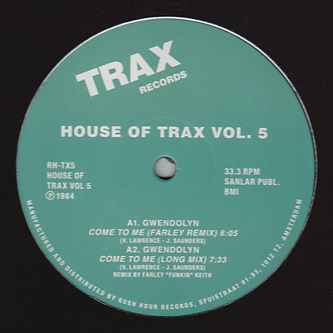 I was out a few weeks ago when a chap I know came up to me talking about my latest mix and he made a jokey comment about me putting a bootleg on it (regular readers will know that we lot here aren't huge fans of the bootleg, even though I ain't gonna deny owning some). I was a little bit perplexed, especially when he said it was this release from Rush Hour's House Of Trax series. It turns out that on Facebook somebody from Trax Records had made a statement saying that neither Rush Hour or Dj History had consulted or cleared anything with Trax in Chicago over the material they were using.
We know-and we recognize- that this year there are several projects coming out with the TRAX name but we want to let you know that a majority of these projects have not even contacted us-the original Chicago label-or anything. A majority of things such as the Rush Hour re-issues and the upcoming TRAX Re-edits are projects which we had no say in — we were not even contacted for music, let alone any say towards the releases.
I found this quite strange as a) Rush Hour didn't seem like the sort to go bootlegging b) how could they think they'd get away with such high profile boots, with little else said in the press and c) the sound quality on these releases were generally so good that I couldn't imagine they were bootlegged…
So has the most revered label of the last 12 months been a naughty boy?? The simple answer is, no. I decided to contact Christiaan from Rush Hour and ask him about these claims and he then passed me on to Demon Music, the company who Rush Hour worked along side on the project. Many of you may be aware that quite some time ago the ownership of much of Trax's output was transferred over to Casablanca Music, and since then Demon have taken control of the licensing of the music. Now, Discogs does state that there are some current legal wranglings going on between Trax and Casablanca, but rest assured, the Rush Hour re-issues ARE above board..and there will be more old gems to come! And so on to some new musaks…
Phochos – Glaciers/Interface Phrase 1 / House of Jezebel – Love and Happiness Danny Wolfers, aka Legowelt, has been on somewhat of a roll the last 6 months or so. Always prolific under his various different guises, these two latest 12″s include some wonderful input from him. He's on a tranced-out techno tip on his remix on the Phochos 12″ which sits very nicely along side the aptly titled opener Glaciers. Chances are you are gonna go straight for the dancefloor cut but Glaciers cosmic, cinematic bliss is its equal.
The House of Jezebel 12″ is basically a fairly straight up cover of Ron Hardy's old unreleased track. Hardy can be a bit of a sacred cow to some but I don't care, this version is better. He's not really done anything but add some more drums over the top, but he ramps up the drama something else on it. It went unreleased for quite some time, instead just sitting on his website which neatly brings me on to this unreleased remix, which I hope appears on wax soon. Outstanding acid spiced electro from the mysterious Haddawolf…
Various – Long Slow Heat Death Ep On my yearly round up I gave a quick mention to Slabs of The Tabernacle crew in Scotland. Following on from their night and website, they started a label, Tabernacle Records, the 2nd of which is this first class split ep of darker edged electro featuring Ditone and Fancy & Spook, 2 acts who previously released on Heatray Records (which I'm now going to check out thanks to this 12″) I don't hear enough of this kind of electro these days, of such high quality.
Cottam – Cottam EP 4 There's been quite a bit of furore over the Cottam 12″s over the last year or two but up until now I've never quite had the urge to pick up any of them. I was sold on this one purely for the A1 cut, which works for me as a sort of guilty pleasure big room disco/acid house growler, coming on like a slightly tamer version of this cracking 12″ that Rush Hour dropped in '09. Sure there's nothing wrong with throwin' yer arms in the air every so often, eh?
Kassem Mosse – 2D – Gunnar Wendal has become a bit of a poster boy in the last year for, well, any genre he cares to touch. Here he's on a rugged, lo-fi house and electro tip and he once again delivers in spades.
Gatekeeper – Giza The Chicago duo continue on their quest to make the most bombastic EBM/Electro music going with their follow up to 2009's monstrous Optimus Maximus. This is even better and, unsurprisingly, disappeared off the shelves in what seemed like a matter of hours. It's about as subtle as an over-sized battering ram, and all the better for it
http://www.youtube.com/watch?v=vDx2bzNlWuM&
E.R.P. – Evoked Potentials (Part 3) The enigmatic Gerard Hanson returns for another round of these highly sought after releases on the Spanish label, Semantica, this time a whole 400 getting pressed up, which means it should last in the shops maybe more than 10 minutes. Any new material from Mr Hanson tends to get a fevered reception from his fans due to the scarcity of his output, but they may still be slightly let down by the original composition delivered for this 10″. A "standard" E.R.P. track is still enjoyable fare, and Repose has a solid low slung groove with the usual atmospheric, melancholic ambience we've come to expect, but it still feels a little less vital than some of what he's done. The flipside, on the other hand, places this right back in the essential pile, an invigorating remix of Sensory Process (Off Part 1 of the series) by London's Plant43. He tones down the drama of the original slightly, and tightens up the bass and percussion and while it still occupies that brooding, dark territory of the original, his own personality is firmly stamped on it.
Semantica have also decided to do a repress of sorts of the first in their ERP series, with a 200 pressing 10″ which contains the original of Sensory Process but not the flipside, Lodestone. Slightly annoying, but better than nothing after the ludicrously small pressing (100) they did for the Ep in the first place. Amusingly enough though, 114 claim to have it on Discogs. Do the bullshitters actually think they are impressing us??

Sfera Celeste Project feat. Fred Ventura – Celestial Stars/Walk With Me This grabbed my attention initially because of Ventura's name but I'm not really gone on Celestial Stars, the vocal track he contributes to on here. It's the flip that wins out here, a fine electro number that takes it's cues from John Carpenter's trademark spine-tingling keys. It doesn't do much bar shuffle along in a moody fashion (not in a bad way, mind) and there is a pretty lush pay off near the end with some 80's style pads.
Some time ago Tom made a post about the decline in quality in a lot of Planet E's output in the last few years. Well 2011 sees it celebrate it's 20th Anniversary, and as is the way these things go, there'll be compilations/remixes etc coming out over the next while. Excited? Not really. He's picked a number of artists to remix various tracks from over the years and bar maybe Kirk Degiorgio (who's remixing that woeful Martin Buttrich "Stoned Autopilot" shite) and Mad Mike he's opted to select some fairly uninspiring names such as Loco Dice, Luciano, Francois K, Ricardo Villalobos, Seth Troxler..ugh I couldn't be arsed listing off the rest. Whatever about choosing to get big names in on it, the likes of Villalobos, Hawtin, Francois K and, as much I revere the guy, Mad Mike, are generally past their best (irregardless of what you feel about their high points, creatively). ZZZzzzzzz.
Out with the old and in with the new I say! Fellow blogger Kuri of Energy Flash has just announced that he is kick starting a new label this year. The release date isn't 100% but you can check out some info and samples of the first release here, and I must say I'm really impressed by how the A1 and B1 cuts are sounding. It's always good to see peeps getting out there past the internet scribing and dipping their toes in the big bad world of releasing music so all the best with things, Kuri.
Aaaand finally, this post is nearly over. We may not cover much in the world of Hip Hop on ISM but that don't mean we aren't fans. As a reward for trawling through this fucking long post, here's a cool interview with Pete Rock and Dj Premier. The info say's it is just an out-take from some Japanese DVD but this 1hr long chat is pretty impressive on it's own. The 2 guys just sit there and talk shit on their history and a bunch of the music they worked on. Pretty entertaining stuff.