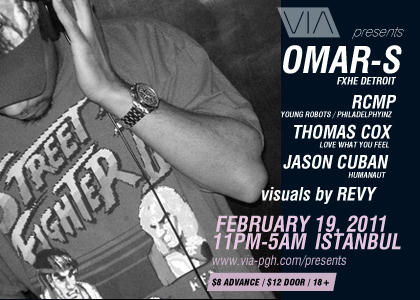 As you probably know, this here blog kicked off waaaayyyyyy back in August 2007 when I posted up my interview with Omar-S, which was his first published interview. That shit kind of put us on the map immediately, and we've been doing the damn thing ever since. Ever since then, one of my goals has been to get him down to Pittsburgh to play a gig, and that is FINALLY about to go down! Much props to the VIA crew for getting this together, there will be plenty more good shows going on this year leading up to the second edition of the VIA festival this fall.
I really don't think anything more needs to be said about Omar-S here, since it is just preaching to the choir. But if you happen to not know, this guy is one of the best producers and deejays out there doing it right now. And he will bring that serious Detroit shit. Things have really been popping off here in the Burgh recently, and the buzz on this night feels pretty serious so it would be worth it for anyone in the region who has been thinking about seeing what kind of shit we're doing down here to come check it out! Of course I will be playing records at this, and I've got some serious heat lined up for that night. Also on the bill are RCMP and Jason Cuban, and the show goes from 11-5 (late nite style!). Presales that save you $4 off the door price are available for a limited time here. RSVP for this event on Facebook here or on RA here. Give a shout in the comments here or on those sites if you're coming in from out of town so we can meet up!
If you're in town that weekend (or if you're a Pittsburgh resident), my PTA homeboys Preslav and Adam and I will be playing chilled out records at Eclipse Lounge in Lawrenceville on Friday the 18th from 10pm-2am. You can expect to hear disco, funk, house, techno, dub, jazz, soul, rock, and even some atmospheric drum and bass. We're going to be doing this monthly as a way to be able to play the music that inspires our original productions. Speaking of which, I'll be announcing some good news regarding the PTA project very soon (you might have already seen it if you follow me on Twitter!). Keep your eyes on this page for more info. 2011 is the year for Pittsburgh!