A decade ago in Pittsburgh, Pipecock and I got really tired of the rave scene, which was, you know, like, a really big deal at the time, right? Tom had heard about this fellow named MJ Cole, and played me "Sincere" one night at our crib. I have to admit, I wasn't immediately enamored, but the soulful 2-step sound grew on me quickly, and I soon found myself at Modern Music in Baltimore buying a gang of UK Garage records. We then started making regular orders from the UK shops that had all the white labels we could never get our hands on in the US. We decided to call ourselves "The Business", a sideways nod to one of the founding Oi! bands and a reference to the fact that we thought the music scene at the time needed to take itself a little more seriously. We formed the Steel City Soul Cartel with Jordana "Lady J" LeSesne (formerly aka 1.8.7., one of the first jungle producers in the US) who was also gigging 2-step back then, and started a residency at downtown club Level. Here's a flyer from one of our nights from a DECADE AGO…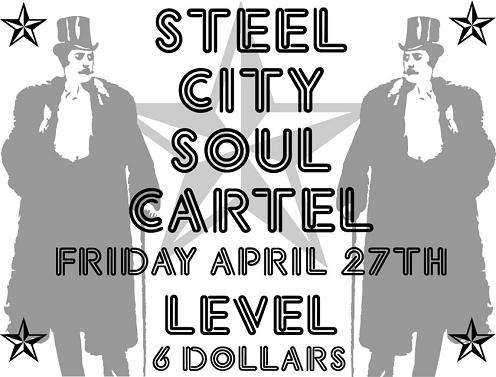 This mix, which has been getting a lot of attention in the Twitterverse lately, was our first tag-team effort. We'd eventually go on to get a dope timeslot on internet radio station Strike FM, and we played crazy gigs over the course of 2001-2002. I'll post some more of the mixes over the next couple weeks. You can find a tracklist behind the cut.
We're actually looking to get the Business moving again, if anyone in the US is interested in having a set of the sickest 2-step circa the turn of the century, we got that shit. Hit us up!
01. MJ Cole – Crazy Love – Talkin' Loud
02. Dj Ride and TLM vs. LM – Embrace Me – Concept Music
03. SE16 f. Missy Brown – What U Gonna Do? (Dub) – Messy
04. Will Dobson – Talkin' Dirty (Remix) – Area 51
05. De La Soul/Chaka Khan – All Good? (Mj Cole Rmx) – Tommy Boy
06. Mad Skillz Vol 1 – Big Up – Mad Skillz
07. DJ Dee Kline – I Don't Smoke – Eastwest
08. Lavonz f. Shè and Mr. D – Mash Up Da Venue – Locked On
09. DJ Kalibre & Hustler f. MC Lynski & Lady – Bassline Select (Main Mix) – Riding High
10. Grand Theft Audio – Hey Deejay – Grand Theft Audio
11. Kandi – Don't Think I'm Not (2-Step Mix) – White
12. Shanks & Bigfoot – Sweet Like Chocolate (Fly 'N High Mix) – CB
13. Texas – In Demand (Sunship Remix) – White
14. United Grooves Collective f. Shelly – Glad You Came To Me (Wideboys Nasty Mix) – Public Demand
15. HMP & Julius f Amanda Jordan – Promises (Zed Bias & Sovereign Mix) – Debutante
16. Pink – You Make Me Sick (Dub Conspiracy Remix) – Laface
17. Mad Skillz Vol 1 – Happiness – Mad Skillz
18. Mash Up Crew – Forever (Full Vocal Mix) – White
19. Roachford – From Now On (Sunship 12″ Vocal Mix) – Columbia