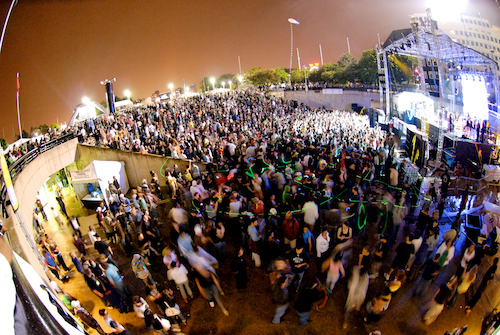 Photo courtesy of Matt Cohen Photography
If you look on the "Categories" sidebar, you'll see "DEMF 08", "DEMF 09", and "DEMF 10". Before those years when I covered DEMF for this blog, I attended every year from 03 on. Barring a drastic change in how the festival operates, that will be it for me moving into the future. I will still be going to Detroit this weekend: I'll be supporting parties with Detroit deejays playing at them, I'll be eating food at Detroit restaurants, I'll be supporting Detroit record stores, I'll be picking up freshly pressed records from a Detroit record pressing plant, and I will in general be giving my money to businesses and people in Detroit. But not Paxahau.
My beef with these guys is pretty long-standing at this point. I'm not going to rehash every single qualm I've had with their running of the festival over the years, but the last straws were last year when stagehands were prepping shit DIRECTLY IN FRONT of the Moritz Von Oswald Trio during their set and when the Detroit artists were once again relegated to the underground stage where sound and air quality are just not up to par. I've had enough.
There has been an argument that I've heard some people make for many years, the gist of it being that the festival is NOT about Detroit music, that it is only an electronic music festival taking place there. Looking back at the lineups from the jump-off through to 2005 or so, I couldn't agree with that assessment. If you take into account the lineups from 06-11, I now wholeheartedly AGREE with that point of view. I am not interested in going to some generic music festival just because it is in Detroit. Especially when the results are more like a crappy rave than anything else! I loved the festival because it used to be a celebration of Detroit music and culture. It has ceased being that, and I have spent more time sitting around being irritated at the low quality of the music and the hassle of leaving and re-entering if I want to avoid paying crazy money for crappy festival food.
My mind used to be blown regularly at the festival; that experience has been declining precipitously every year. It's not just me, either. My man Matt Cohen has a few words about his experiences photographing (for RA, XLR8R, and here!) and attending the festival that you can read here. Less and less of my people from all over the world have been attending the festival, including the dwindling Pittsburgh crew. It's sad to see it all go downhill like this, but that's what happens when the people in charge of the festival are more interested in being cool promoter guys than in the legacy of Detroit's music. Carl Craig's continuing association with them is yet another blemish on his already pockmarked recent track record. I hope that that money is awesome for all involved.
I do truly hope that this weekend remains a time when techno and house people worldwide can get together in the Midwest and hang out, even if it is primarily at afterparties instead of the festival itself. I can't even imagine how much shit has come into being as a direct result of the connections made on Memorial Day weekend every year. I know it has been wildly helpful for me and many of my friends who deejay, play live, own labels, put out music, etc. Having this die off would be even worse than the demise of the festival itself!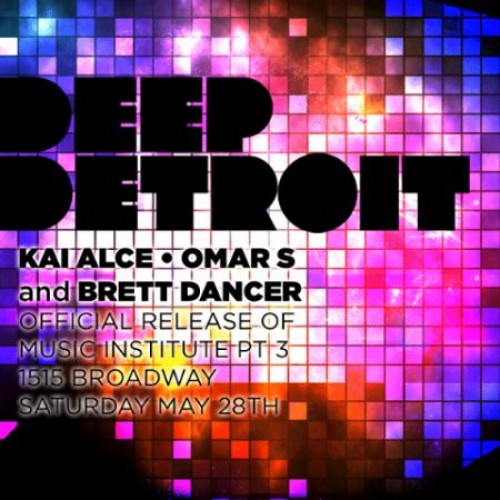 Many people have been asking me which afterparties I will be attending this year. The only one I am 100% sold on thus far is Deep Detroit Vol. 3, this year's edition of Kai Alce's party that has been one of the highlights of the previous two years. This party has had the best vibe, crowd, and music, and with Omar-S and Brett Dancer holding it down with Kai this year there should be no decline in quality! Sadly it appears there will be no Soul Skate this year, I guess that will have to wait till next time.
I haven't really done much research into other parties just yet, I'll see what flyers I find on Friday and talk to my people up there to see what's really happening before deciding. If you hit me up via email or txt message, I will let you know what I'm getting into on any given night! I'll try to report back here each day if I can with plenty of pictures of whatever I get into in Detroit during the day as well as the parties at night. Definitely check my Twitter page for the real-time business!
Keep an eye out for the Noleian Reusse record on Love What You Feel in the shops, and we'll also have copies if you need to pick one up. We may also have some other Pittsburgh Track Authority related goodies, as well as other projects we've been working on that will remain on the DL for now, so if you see me, ask!