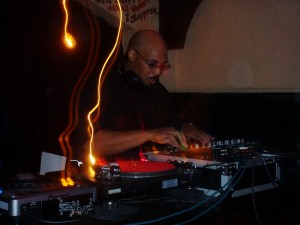 We've been pretty slack on the interview front here at ISM for quite some time. Don't think for a second that this post is a sign of us picking up the pace either as none of us had anything to do with it! My man in Tokyo, Andrew Hogan, recently caught up with Rick Wilhite and sat down for an informal chat with him when he was touring over there. He has very kindly given us the interview which we be delivering to you in audio format. Yup, I couldn't have been arsed transcribing it, but Andrew has edited it for us a little bit – mainly because I believe Rick is a very laid back chap, so this speeds it up a bit, though not much 😉
RIck came in for a bit of criticism for his interview on RA last year with some unimpressed by his old school stance on djing/producing and vinyl with some fools seeing him as a bit too negative and bitter, but there is no sign of that here, where he comes across as a softly spoken, polite dude talking about his history, his productions, and quite fitting for this time of year, the direction the DEMF has taken since it's inception.
Many thanks to Drew for this exclusive and also thanks to Erica Grainger for the photo from his Tokyo gig.
Grab it here.