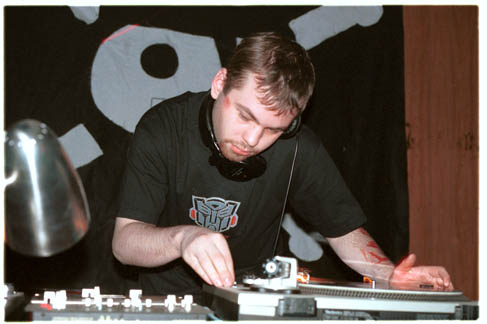 I mentioned Trevor Combee as one of the inspirations for my recent "Now THAT'S What I Call Techno" mix, but really he is as responsible for the music i listen to now as anyone else. Trevor owned and operated HyperVinyl Records in Pittsburgh starting back in 1997 and later started the label of the same name. I can remember the first time i met him: I was a 17 year old sporting an A.C. t-shirt coming into his record shop back on Atwood St. in the college neighborhood of Oakland checking out Deadly Systems and Aphrodite 12″s. When I asked him about where I could find turntables for sale, he gave me the typically angry sounding Trevor blowoff. I knew right away that he was alright.
I can't remember the first time I heard Trevor deejay, but I was immediately impressed. I knew little to nothing about techno at the time, but the of music he played was always good. My crew and I at the time were throwing parties of all sizes from house parties to 1000 person rave-esque events, and he played at every single one of them for us, always bringing crazy diverse shit to the table. The one set that really stood out though was a party we did at the legendary Irish Center in the Squirrel Hill neighborhood in December 1999. We had some weird time slot problems, so his initial 11 PM set time kept being pushed back. When we told him this, he said "It's no problem, just make sure we don't run out of beer." He finally went on…. at 8 AM. After drinking heavily ALL NIGHT LONG. He had to have killed a case of beer by himself, I can hardly believe he was still standing (well, wobbling). We were chilling outside when he dropped his first record, Walter Carlos' "Title Music From A Clockwork Orange". A bunch of us ran inside to find Trevor drunkenly grooving behind the decks to a room full of early morning dancers. He then proceeded to smash the place into bits with a ridiculous set featuring Dopplereffekt, John Selway's "New People", New Order's "The Beach", and Tone Loc's "Wild Thing" amongst many other ridiculous techno, electro, and synth pop jams. It was unquestionably one of the best sets I've ever had the pleasure of hearing live, and if I can find the mp3 of it I will post it up here!
He was a techno master, he could drop in tracks without using the headphones at all and use only the pitch fader to have it flawlessly in time within moments. He could bang it out, take it deep, throw in some disco, some house, some other weirdness. Whatever you can think of, really, he could do. He helped me buy my first techno records, Basic Channel's "Phylyps Trak II", Rhythm is Rhythim's "Nude Photo", Recloose's Spelunking EP, and many more. HyperVinyl is where I met nearly all of my friends, and some of the best deejays I've ever seen. It was the hub of Pittsburgh's dance scene during its most prosperous period. Now Trevor lives in Atlanta, and while music isn't his livelihood anymore, you can't take the kind of talent he possesses away from someone. A friend forwarded me a link earlier today to a mix he has online. It's not quite as insane as his live mixes were, but it has all the hallmarks of what I would like to think is the Pittsburgh style of playing this kind of music: a nice mix-up of deep house and techno sounds that cover many years but still sound fresh as hell. It is guys like Trevor who may never get their props and then disappear but without whom your local dance scene wouldn't be anything like it is today. Trevor Combee is a true Pittsburgh original. If anyone out there has any good Trevor stories, leave them in the comments section. I know I personally have enough that I could devote a post a day to them and it would take a long time to get through them all…..
Download the mix here. Edited on March 2, 2013 to add this rehosted mix link in memorial of Trevor. RIP my homie.