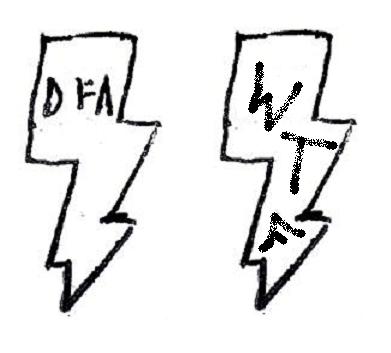 I can remember the first time I heard a record on DFA. It was Morgan Geist's remix of The Rapture's "House Of Jealous Lovers". My man Jwan played it for me at his house all the way back in 2002 when it dropped, and I was feeling it because Morgan is generally the man. So we flipped it over to check out the original, and I was horrified. What came out of the speakers was music so awful that I almost couldn't imagine how Morgan managed to turn it into such a gem. Since then, I have generally avoided DFA since everything they put out seemed to be into that same kind of hipster dance-rock thing that just grates on my nerves. I love New Wave, Post Punk, and that kind of stuff as much as the next guy, but the songs just were not there on the DFA records. I did buy the Carl Craig remix of Delia Gonzalez & Gavin Russom's "Relevee" but that was more of a testament to C2′s brilliance than anything done by the original artists.
Things seemed to change for DFA in the latter part of 2007. James Murphy put out a good Fabric mix CD (which I keep hoping to run into since I want to own a hard copy of it) that featured some great tracks and illegal edits that had been on vinyl only up until then. It also included the stunning "Still Going Theme" (which you can hear in my mix here) that was purely deep house music of the highest quality. Shortly thereafter, I heard the dope Chicago-inspired "Classique #2″ by Hercules & Love Affair which was also an essential house jam. At this point, I still considered this to be nothing but a blip on the radar.
Now, it seems odd to say it, but for me DFA has quickly become a must-check label. I just got in three new ones, and they are all stunning old school flavored house music. Syclops dropped the ridiculous "Where's Jason's K", which sounds like a drum machine and synthesizer gone haywire but is in all actuality a Maurice Fulton production! You can hear his italo, and electro roots in this one, but it is 100% 2008 vibes. The second Hercules & Love Affair 12″ "Blind" also dropped recently, and it is beautiful as well. They even enlisted Frankie Knuckles to do a mix! Probably the most surprising to me though was The Juan Maclean's "Happy House", the Lee Douglas mix of which Richard Carnage had included on his guest mix for us. That version was cool, but the original and Prince Language dub are even better. After hearing this one, I went back and checked Juan Maclean's older stuff, and I still hate it. He just managed to get it very, very right on this one.
Who knows if all of this is part of some renaissance of real house music, or if it is just a really good streak of awesome tunes. Either which way, despite a couple lackluster 12″s through the past couple months, DFA has my ear! Let's hope they can keep it up, I am really enjoying what they're doing right now.
P.S. I know you all love my MS Paint skillz!