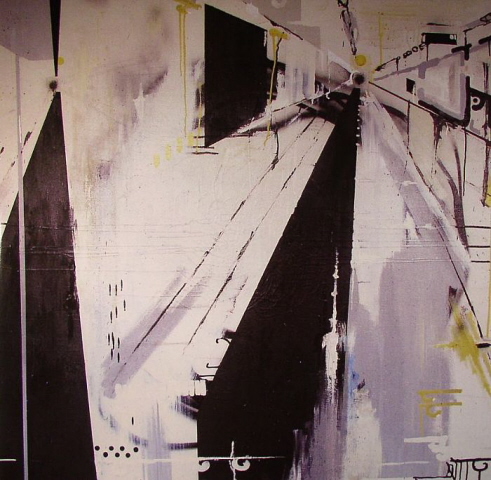 Going to DEMF is fun not only for seeing all the music, but for all the records and other paraphernalia you can get. As I mentioned in my other post about the festival, the lack of new records by Detroit artists in time for the festival was apparent even days before the festival began but the effects were felt the entire time. The only vendor selling vinyl at the festival itself was Ghostly. No Planet E tent this year, the Submerge tent was selling CDs and download cards, and there wasn't even a Twilight 76/Data Bass tent this year despite their showcase on Monday. This resulted in the first year that I didn't purchase a single t-shirt, record, or other item at the festival itself. In fact, the only t-shirt that I bought was the classic UR "Unexploitable" shirt with the puffy letters. Getting on to the records, this is what I scored…..

Melodies and Memories
The first place we went after checking into the hotel was M&M. I caught up with Gary and dug through their dance classics and pulled out:
Love Unlimited Orchestra featuring Webster Lewis "Night Life In The City" Unlimited Gold 12″
After pulling "Welcome Aboard" for $3 at Vibes last year, this year I lucked into another 12″ from the same album. This one is an instrumental jazz-funk type jam that is probably my favorite discovery of all the previously unknown jams I picked up this year.
Search "Like the Way (You Funk With Me)" Philly World Records 12″
Nice funky disco boogie jam.
Debbie Deb "When I Hear The Music" Jam Packed 12″
Classic Miami electro/freestyle business, produced by the man like Pretty Tony.
Lisa Lisa & Cult Jam "I Wonder If I Take You Home" Columbia 12″
Pop crossover freestyle joint, finally found a copy in good shape. Every other one I have seen in shops looked like a dog was chewing on it.
Barbara Joyce "Do It Till You're Satisfied" Salsoul 12″
Weird obscure slow boogie joint on Salsoul produced by Vaughn Mason.
Klein & MBO "Wonderful" Atlantic 12″
Classic italo jam.
Mellow disco jam with mix by Jim Burgess.
Bishop Edmund Griffin, Sr. "I'm Happy (Terrence Parker Remixes)" Chiba City 12″
Sweet piano house, it's all about the instrumental for me.
Carolyn Victorian "Sunshine" Whasdat 12″
Nice vocal house on Pirahnahead's label, I somehow missed this when it came out.
Vibes
As soon as I was done at the hospital on Friday, we jetted out to Vibes. I picked up some things I should have already had, and some new bits:
Seu Jorge "Cotidiano (Abicah Soul Remix)" Sudor 12″
Absolutely gorgeous summertime house music, this will be getting caned by me for the next 4 months.
DeepChord and Mike Huckaby "The Detroit Remixes" Cache 12″
Rod Modell brings it again on the remix tip with a housey beast. On the flip Huck takes on another Pacou track and makes gold with it.
Scott Grooves "Dark Blu" Natural MIDI 12″
Tracky house and techno music on blue wax.
Robert Owens & Ron Trent "Movin' On" Need 2 Soul 12″
This one is all about Ron Trent's instrumental which is super deep lushness, one of his best productions in a hot minute.
One I should have already had, abstract lo-fi broken electronics.
Jerome Derradji presents "The American Boogie Down" BBE 2xCD
Awesome disco/boogie compliation from the head of the Still Music label. I don't usually get too into comps of rare obscurities since most times the songs aren't as good as the records are rare, but this is a notable exception. All these jams are dope, I am not sure if this is out yet or not but it is worth tracking down. This one won't be leaving the car all summer long!
Record Time
Saturday morning I hit Record Time with enough time to go through some of their "Classic Dance" section to pull out some things for cheap, as well as some new things, a couple jazz bits, and some CDs for the ride:
Todd Osborn "Okinawa EP" Throw 12″
The man behind Osborne has been doing it for years, this is from '02 and it just rocks.
Billy Cobham "Crosswinds" Atlantic LP
Nice jazzy business, I've been looking for an original of this one for a second.
Dexter Gordon "A Swingin' Affair" Blue Note LP
Jazz from '62 on Blue Note. Lovely.
Bob James "Hands Down" Tappan Zee LP
Notable as "Spunky" is the sample source for the keys in Moodymann's classic "Shades of Jae".
Lex "14 Days" Flip 12″
Private Eye "Hot Girl/Dance Symphony" Fantasy 12″
Second copies of two of my jams, Lex brings the funk-punk thing while Private Eye does luscious boogie.
Lisa Lisa and Cult Jam "Head To Toe" Columbia 12″
Continuing the Lisa Lisa obsession, I finally picked this one up too!
The Jets "Crush On You" MCA 12″
More 80's shit, this is another that every time I saw it previously it was all jacked up.
Oliverwho Factory "Solitaire" Madd Chaise 12″
One step closed to having all the Madd Chaise records! Now I only need the J'David one…..
Erykah Badu "Soldier" Universal 12″
Promo 12″ of one of my favorite jams off her most recent album, this has the instrumental and the acapella.
BMG (?) on the edit tip, doing Duran Duran and Tom Tom Club.
Shake "The Unsterilized Sessions" Frictional 12″
"For The Lamented" is my shit, finally got a copy of this one. Shake is the man.
Rod Modell "Incense & Black Light" Plop CD
I have been enjoying this one a ton on MP3 so I had to pick up the full release. I like that the textures on this one are very different from the usual DeepChord pallette, this is definitely a winner.
V/A "Comin' From Tha D" Intuit-Solar CD
An older mix of hiphop, electro, and almost jungle sounding joints from various Detroit producers. I've been looking for a real copy of this one since I first DLed this comp on soulseek in 2001!
Starski & Clutch "Don't Stop Till You Jit Enough" Databass CD
Nice ghetto tech mix from Todd Osborn and Brian Gillespie.
Starski & Clutch "Detroit Hustle" ElectroBounce CD
Compilation of their 12″ singles on the Data Bass label. Many classics on this, plus some new joints.
Submerge
No stop in Detroit is complete without hitting Submerge. This trip was all about getting the joints I should have had already:
Underground Resistance "World 2 World" UR 12″
Underground Resistance "Living For The Night" UR 12″
Underground Resistance "Your Time Is Up" UR 12″
Underground Resistance "Windchime" UR 12″
I have no good excuse for not having owned these already.
Underground Resistance "Footwars" UR 12″
Mad Mike does jit.
Urban Tribe "Covert Action" Planet E 12″
Full side pressing of a Retroactive classic.
Vince Watson "Renaissance/Rendezvous" Planet E 12″
Beautiful melodic joints.
Secret Mixes Fixes Vol. 8 – The Bathhouse Etiquette EP
More BMG edits, this time Grace Jones, Shalamar, and Taana Gardner get the treatment.
Other
Finally, from the artists themselves I got:
DJ Clent "The Official DJ Clent Mix for DEMF" CD
Complete with misspellings on the track titles, plus it includes some of his own productions. Very nice stuff from one of the guys who had some of the last Dance Mania releases back in the late 90's.
Shawn Rudiman "Machine Soul Terminal" Finest Blend 2xLP
Pittsburgh cat dropping an album on a Swedish label with really beautiful artwork (pictured above). Very nice!
Matt Chester "Club Class Slaves" CDr
Nice house and techno mixup from the head of 11th Hour Recordings that you can DL here…..