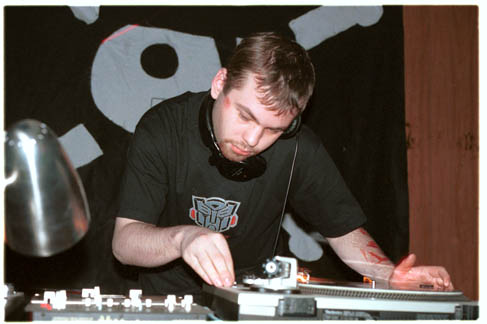 Early on in our site's existence, I made a post about a house mix from a Pittsburgh legend Trevor Combee, better known as The Instigator. In that post, I went on and on about this ridiculous set he played at a party my friends and I threw back in December '99. I will now cheekily quote from my own post:
My crew and I at the time were throwing parties of all sizes from house parties to 1000 person rave-esque events, and he played at every single one of them for us, always bringing crazy diverse shit to the table. The one set that really stood out though was a party we did at the legendary Irish Center in the Squirrel Hill neighborhood in December 1999. We had some weird time slot problems, so his initial 11 PM set time kept being pushed back. When we told him this, he said "It's no problem, just make sure we don't run out of beer." He finally went on…. at 8 AM. After drinking heavily ALL NIGHT LONG. He had to have killed a case of beer by himself, I can hardly believe he was still standing (well, wobbling). We were chilling outside when he dropped his first record, Walter Carlos' "Title Music From A Clockwork Orange". A bunch of us ran inside to find Trevor drunkenly grooving behind the decks to a room full of early morning dancers. He then procedded to smash the place into bits with a ridiculous set featuring Dopplereffekt, John Selway's "New People", New Order's "The Beach", and Tone Loc's "Wild Thing" amongst many other ridiculous techno, electro, and synth pop jams. It was unquestionably one of the best sets I've ever had the pleasure of hearing live, and if I can find the mp3 of it I will post it up here!
I've finally got ahold of that set for everyone to check out. It's only 128 kbps mp3, but that's how it got done back in the day. I'm not sure what party the pic at the top of the post is from, but that is my crew's PBS pirate flag behind him (ETA: Trevor confirmed for me that the pic is indeed from the set in question!). I think after listening to this set you will understand why I name checked Trevor in the post for my "Now THAT'S What I Call Techno" mix, and it will give you a better insight into what I guess can only be called the Pittsburgh deejaying style. This is the kind of shit that inspired damn near everyone I know to go buy record by cats like Drexciya and Basic Channel and start throwing them in the mix with any old funky electronic shit we could find. Without Trevor and Jwan Allen especially, I can't imagine what the last 10 years of my life would have been like. Big fucking ups to those guys and all other Pittsburgh techno heads who have represented for so long; this one's for you. Classic Pittsburgh techno.
Download the mix here.