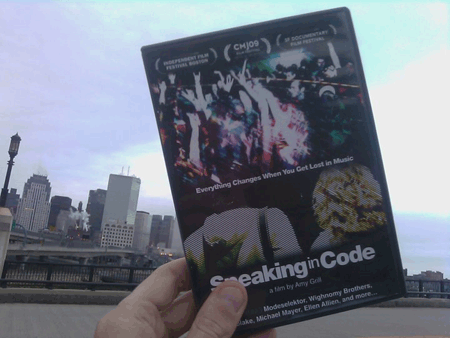 I assume some people might remember the initial post I made almost exactly a year ago regarding the trailer for the film "Speaking In Code". I will now pause to allow you to go back and rewatch the trailer, read the post and the comments, and then we can get to the heart of the discussion.

After having watched the entire film recently, I have to say that it was not exactly as portrayed in the trailer. That said, nearly every concern I initially had was for good reason!
This film really ends up being about the then-husband of the filmmaker, David Day, and the filmmaker herself, Amy Grill. At the time of filming, David was working at Forced Exposure distribution, throwing parties in Boston, and deejaying techno. In this way, I can certainly see Philip Sherburne's defense that "it's as much a film about the director's own journey as anything." However, the journey's starting place and premise was the cause of many meetings between my palm and my face, and was in fact everything I had assumed it would be.
In the very first few minutes of "Speaking in Code", the narrator (I believe it was Ms. Grill, though as I had to watch it via a Vimeo link I cannot go back to check) says, "a lot of people in the US love to hate techno… we set out to make a film that could break old stereotypes Americans have about electronic music." I'm not sure which stereotypes they meant to break, but they certainly reinforced many of mine!
In writing about how I thought the film's premise looked "Questionable", I was very concerned about how techno culture was going to represented due to the list of artists featured in the film. To me, it appeared that a very Eurocentric viewpoint would be taken, and after having watched it I cannot conclude otherwise. In and of itself, this is pretty problematic for me. Even more annoying, though, was exactly how it ended up: the film's main characters kept chasing the "techno lifestyle" that they could not live in Boston all over Europe, as though this was the only place it could be found.
If that wasn't frustrating enough, it was horrible watching everything in their lives become irreparably broken (including their marriage) as this unobtainable dream was pursued at any and all costs. I could have saved them all a whole bunch of time, energy, and money with this advice: if what you want is in Europe, move there. The jet-set, 24 hour techno party lifestyle is available to all if you just get on a plane. This is exactly what featured techno personalities like Richie Hawtin and Philip Sherburne did! Trying to recreate that in a country like the US that is spread out and as different culturally as it is, is just never going to work. When someone in the film (I believe it was David Day, but again I can't go back to check) says that techno is viewed in the US as "un-American", can I really be the only person who finds it deeply ironic that the filmmakers' method of disproving that is to focus completely on non-American artists and deejays?
What goes unspoken in the documentary, and in any of the reviews I have since read of it, is the alternative: actually taking time and energy to build something that is rooted in what exists in reality in the US today. I don't have to mention this for regular ISM readers, but there are people ALL OVER THE US making techno music. How many of those would benefit from getting gigs in cities like Boston? How many of them rely on bookings in other countries due to people continually looking to Europe when deciding what to book? How many US artists have broken out in the US (on what limited basis that is even possible) only after being forced to go all over the planet for gigs because promoters here are not holding it down properly?!
I know there is some perception of me as being anti-Europe or whatever. That really isn't the case (as I hope the fact that many of our readers and a bunch of our writers are from across the ocean makes clear!). I get frustrated by the way things are portrayed here in the US due to techno music's popularity in Europe, and that is because techno culture not only started here but also REMAINS here. One entity this film examines the collective based around the Wighnomy Brothers and their Freude Am Tanzen label, which is something that you just can't find in the US. Well, except for what goes on at Submerge. But this is exactly the problem! Because what happens in Europe is constantly glamorized over here, actual American techno music and culture is what suffers.
Even if American deejays and producers were exactly equal with Europeans in terms of quality, it's always going to be a losing situation for them in their own country if people are just going to ignore what they do. It isn't even just the promoters who are the problem. It's the journalists who cover the shit (who also move to Europe, of course), the deejays and producers who move to Europe to get paychecks, and every single fan of the music who isn't looking at what is going on in their own backyard. If you REALLY want to have techno culture be a more prominent subculture in the US and you are doing any of those things, you're going about it in the exact wrong way.
In the trailer, David Day talks about waiting for the artist to come along to break things out in the US. That artist might have come and gone already, but their music made no impression here because too many people in the "techno scene" ignored that shit until it got sold back to them 10 years down the line.
This film is almost essential if you want to understand the failings of techno to take off here in the United States. It is not explicitly about that, but you can see the attitudes that have caused it throughout in the choices the filmmakers make. I think an examination of the ACTUAL techno culture in the US would make an excellent counterpoint to this film. There are people in the US who live and breathe this shit 24/7. Trust me, though, when I tell you there ain't much glamor in it! There's no jet-setting with Sven Vath, there's no door policies that you have to be careful with just to get in the club, there isn't even a style of dress associated with the music. But I'll be damned if there aren't people who dedicate their lives to this techno shit without any possibility of living that idealized lifestyle. They have that serious obsession. I guess those people just aren't cool enough to be in a movie.
The fact that my initial worries were almost entirely justified, yet my comments were featured on a blog by the filmmakers filed under the complaint of "Why didn't you include my favorite artist in the movie?" shows exactly how uncritically this viewpoint is examined by participants in techno culture in the US. Shit, they could have interviewed someone I intensely dislike such as Frankie Bones and it would have had more to do with what I'm talking about than anything that actually ended up in the film.
That said, I found the movie entertaining simply because any films based on/about subcultures (even ones that aren't about my personal interests) is gonna be more engaging than most. Sure, it's a bit drawn out and the narrative is kind of sloppy due to the way the film ended up changing the lives of the people making it. To me, this is the most interesting aspect about it, and it would have been interesting no matter the style of music being examined. If you're looking for something honest about techno culture in the US, however, this is only useful as a manual for how not to go about being part of it.
Don't sleep!