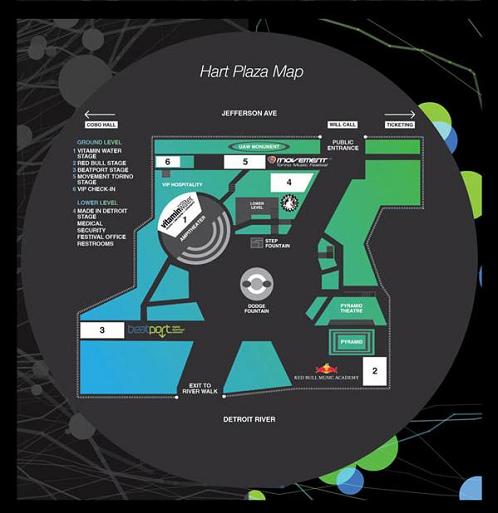 Despite widespread complaints from last year regarding the sound and set-up at the "Underground" stage at DEMF (including some scathing comments from yours truly), Paxahau has gone ahead and stuck the "Made in Detroit" lineup (which includes most of the Detroit based artists performing at the festival, of course many of those being the black local artists) back in the hell-hole again this year.
This is absolutely unacceptable, and we cannot stand for it any longer!
This goal of this post is to put pressure on Paxahau to change this. I don't want to hear, "Well, we've worked out a new stage design and have taken steps to fix the acoustics of the Underground." or anything like that. This is not just a problem isolated to last year. The underground is CONSISTENTLY bad sounding. This is what happens when you put a huge soundsystem into a concrete bunker. The horrible sound is only part of it, though. The underground stage also features the worst general setup with few nice places to sit and chill out, or to stand and observe what is going on. Completely aside from that, this is an outdoor festival. Why would I want to spend so much of my time inside?
Those are just the logistical problems, of course. The fact that so many great black Detroit artists are being hidden away is possibly even MORE disturbing. This is the second year in a row where this has occurred. Why can't Beatport get that stage this year? Since there were a few years (under Paxahau's guidance, no less) where the underground was NOT used, I can't believe that they MUST use it. But if they MUST, why does it have to be the black Detroit artists down there every time?!?!?! Sorry, but there is absolutely no good reason for this to be the case. If they have to get a tent and set it up like they did in '07, that's fine. They have almost a month to get it together!
Here's what I want people to do: comment here voicing your support for getting rid of the "Underground" area starting RIGHT NOW, as in this year. The more comments here, the better! Then, after commenting here, spread the word to every message board, blog, social networking site (that means post it on Facebook, Twitter, Myspace, etc.) so that more people can see it. And most importantly, go to Paxahau's website, their Myspace, their Facebook, their Youtube, whatever. You can find links to all their spots at the bottom of their web page. Go there, and either write you own message to them, or copy and paste the one below. And of course leave a link to this post. Let's see if we can get them to fix this absolutely horrible decision before it ruins yet another festival!
Dear Paxahau,
We sincerely appreciate the work you are doing and have done to keep DEMF/Movement happening every year. However, it is unacceptable to put the Detroit stage in the Underground where there are so many problems. Especially considering how many black Detroit artists are playing there, this seems like an odd way to throw a "Detroit" festival. We implore you to move that stage out of the concrete bunker permanently, beginning this year.
Dear Paxahau: This is NOT Okay. No More "Underground" Stage!!!
Thank you,