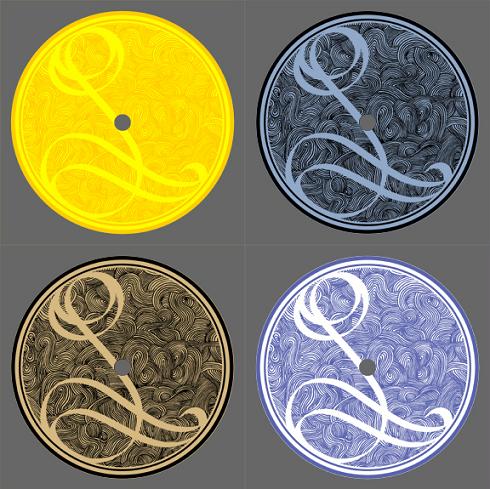 I know it took WAAAAAAAAAAAAAAYYYYYYYYYYY longer than I wanted it to, but the second release on my label Love What You Feel is going to be dropping very shortly. The test presses arrived last week and are currently making their way around the world to various hot deejays to bang out!
As hinted at here last summer, this release is by Noleian Reusse of Africans with Mainframes/Mathematics Recordings fame and it is called the Black Tekno EP, a reference to his Black Tekno concept (which includes three hot mixes for us from all the way back in early '08! 1 2 3 Grab them now if you missed them before!).
Initially, the concept for this release had been to take slices of the all-hardware live PAs he had been doing at Rodan in Chicago on Sunday nights last year, but instead Noleian borrowed a couple more synths and drum boxes and hit the studio earlier this year especially for this release. What came out is some funky, jacking, and abstract techno/house, along with an ambient interlude and a halftime joint that sounds like Trax Records doing dubstep! You can download a ZIP file containing short WAV file clips of the cuts from the new EP here. Be sure to hassle your local shops to get this in, it will be available soon through Crosstalk Distribution!
Here is an old video of Noleian deejaying on Chicago's Hot Wax TV, playing a set of the Black Tekno edits. Also, check out Noleian's ambient cut on the new Music for Mathematics Vol. 6!
In other LWYF related news, the Disco Nihilist will be making an appearance at Seattle's Decibel Music Festival later this month. He's playing alongside our man Kuri Kondrak (of the Energy Flash blog) on Thursday September 23rd: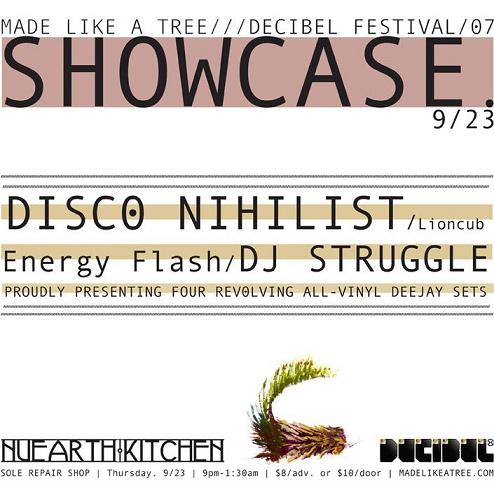 Should be a fun night (all vinyl!) and a good weekend, I wish I could make it. Maybe next year! Keep an eye out for a new EP by Disco Nihilist coming soon on Construction Paper entitled "It's Grim Up North"…
Sorry for the relative lack of recent posting, there have been lots of things going on for us in other music-related areas but we haven't forgotten about ISM! Expect an interview plus more fun secret stuff with Mike Huckaby, a new Lerosa mix later this week, all kinds of stuff in collaboration with Jamie 3:26, as well as our usual high quality record reviews (a massive one will be coming from me shortly!) and mixes by our own damn selves…