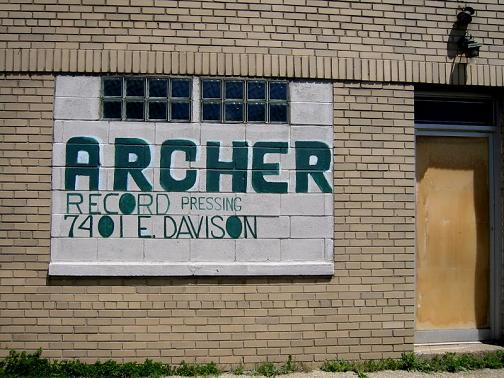 My label's first release is finishing its own tour of house and techno's birthplaces (mastering just outside Chicago at Prairie Cat, plating just outside NYC at Mastercraft) at Archer Record Pressing in Detroit. The plates were shipped to Archer, who then attatch them to the press. These plates act as stampers. A chunk of vinyl is then placed inbetween the plates which are then pushed together using powerful hydraulics with 100 tons of force to shape it into a record. The edges are then trimmed and the records are loaded into their sleeves. The Detroit News has a nice little video online showing what goes down at Archer, with narration by Mike Archer and Theo Parrish.
There are usually two runs done for a record, the initial white label test pressing and then the full label art pressing. The white label run of my record was completed over the weekend. Five test presses are in the mail on their way to me now to be checked for any pressing flaws. Flaws could come from a mistake in mastering, damage done to the acetate in shipping to the plating facility, damage done to the stampers, etc. The rest of the test presses are waiting for me at Archer, where I will pick them up on the way into Detroit next Thursday for DEMF. Once I approve the test presses, get the label art together, and pay Archer the final 50% of the pressing costs (ha!), the final pressing will be run.
Now all that is left to do is get those records into the hands of deejays and music heads around the world! That will be the subject of the next post in this series…..
Photo of Archer courtesy of Adam Ratana